GET Stock

Quotes


The 111-Year-Old Lingayat Seer Everyone Wants to Meet in Karnataka During Elections
A certificate of approval from Dr. Shivakumara Swamy, of Siddaganga Mutt, is much valued in Karnataka's public life and the powers that be rush to him when in trouble. Even at the age of 111, the seer listens to them and gives advice.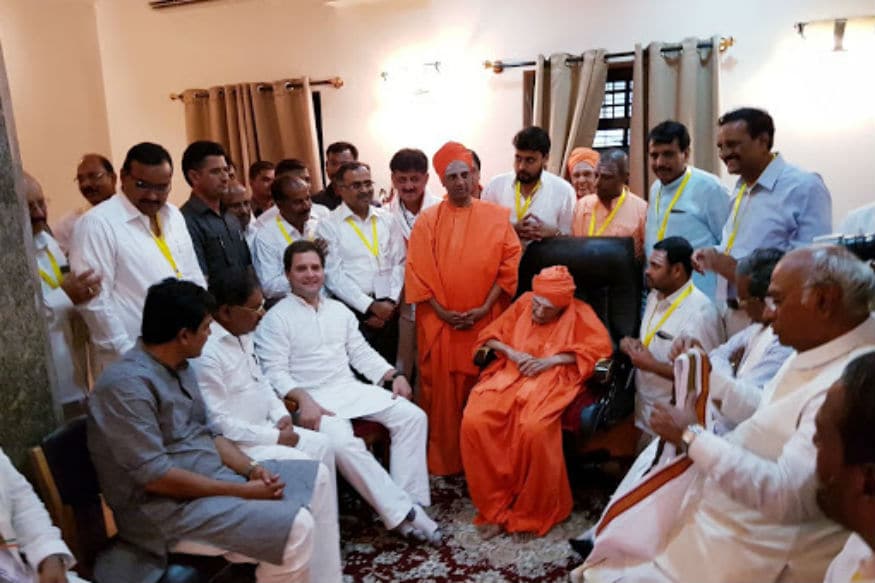 Congress president meeting Dr Shivakumara Swamy, seer of the Siddaganga Mutt in Tumkur, on April 4, 2018.
Bengaluru:
All Karnataka political leaders and even their bosses from New Delhi always make it a point to visit one religious leader in the state during every election.
The Prime Ministers to party presidents, Sonia Gandhi to Rahul Gandhi, Siddaramaiah to Yeddyurappa, Deve Gowda to Kumaraswamy and who's who of the political world stop at Siddaganga Mutt in Tumkur, 70 km from Bengaluru.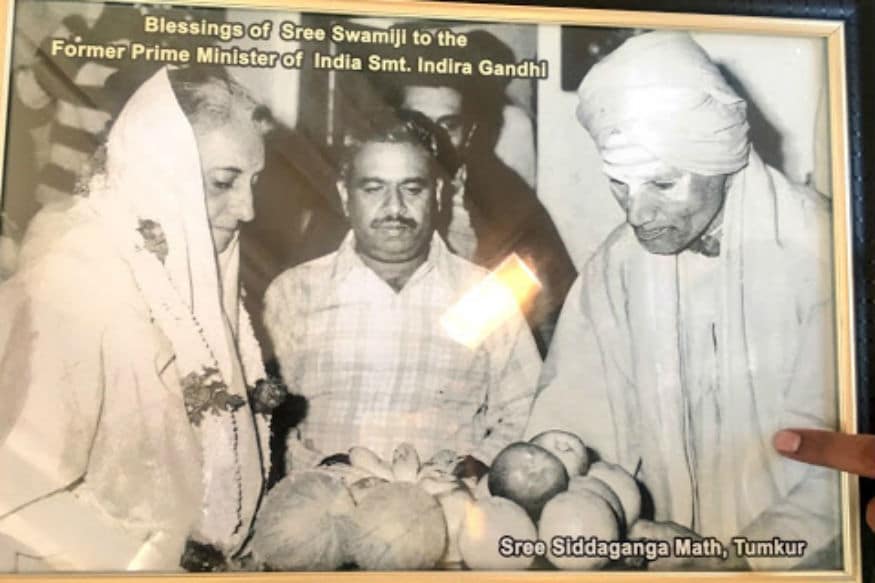 The seer of the mutt has just celebrated his 111th birthday. Yes Dr. Shivakumara Swamy, seer of the mutt is a constant in Karnataka politics even though he takes no political stand and welcomes everyone. He is the most revered and the followers call him a "walking god".
On Wednesday, Congress president Rahul Gandhi went to his mutt seeking the blessings. The seer was in a cheerful mood and showered blessing on Gandhi, who was flanked by Chief Minister Siddaramaiah and other Congress leaders.
A week before, BJP president Amit Shah was also there seeking his blessings. A few days ago Kumaraswamy was also there. Even Prime Minister Narendra Modi had visited him. The list goes on.
His influence is such that no one can skip Siddaganga mutt. It is a customary part of the itinerary of every politician.
Siddaganga Mutt is at least 600 years old and has played an important role in the socio-religious life of old Mysore region. Born on April 1, 1907 Shivakumara Swamy became a Lingayat monk in 1930. A well-educated seer opened a free boarding school for the poor children at the Mutt more than half a century ago. This Gurukul now houses over 8500 children in the age group of 5 – 15 irrespective of their caste, creed and religion. The devotees offer donations in cash and kind to the Gurukul. The Mutt also runs medical and engineering colleges.
Unlike many of his fellow Lingayat seers, he has kept himself away from politics and takes no side. During Yeddyurappa's previous stint as the chief minister, he used to visit the mutt almost every week seeking his guidance and interventions in political matters. But the seer took no side.
Former President Dr APJ Abdul Kalam was highly impressed by his social work and had visited the Mutt as the President of India. During the recent controversy over separate religion tag to Lingayats, the Seer stayed away from it. He refused to make his stand clear on the issue. But his junior pontiff openly backed state government's decision to accord separate religion tag to Lingayats. The Congress leaders maintain that senior pontiff is in agreement with the state government.
A certificate of approval from him is much valued in Karnataka's public life and the powers that be rush to him when in trouble. Even at the age of 111, the seer listens to them and gives advice.
According to Mutt staff, his mental faculties are still strong and he reads newspapers without using reading glasses to keep himself updated about current affairs. He has always been known for a progressive and secular approach.
A retired director of Door Darshan R Bharatadri, who is familiar with the Mutt, says the Seer demonstrates his secular credentials openly. Speaking to News18 he said: "After the demolition of disputed structure at Ayodhya, I was asked to interview the Seer. I went to him and requested for an interview. He readily agreed and condemned the demolition saying that no human being has the right to destroy other's place of worship. He has taken a stand on several important issues in the past. He is now too old and not in a position to talk much. We admire him for his clear thinking and humanity."
The state Congress president Dr G Parameshwara, who also hails from Tumkur, told News18 that Siddanganga swamy is a noble soul who commands the respect of all. He said, "All of us go to him. We seek his blessings, guidance, etc. He is always generous with his time. He won't discriminate on caste or religious lines. For him all are same. He is truly revered."
Even Siddaramaiah, who normally keeps religious leaders at an arm's length, echoes same sentiments about him.
Even though he is a Lingayat Swamy, all Hindus go to him irrespective of their caste and social status. A retired IAS officer C Somashekhar ,who is close to the Mutt, said that he was beyond caste, creed and religion. "He is a true humanist and a great secular leader. He believes in humanity. That's it", he said.
The Karnataka government has conferred the highest state honour Karnataka Ratna on him. The Siddaramaiah government has asked the Centre to confer India's highest civilian honour Bharat Ratna on him.
Political analysts in Karnataka say that a visit to Siddanganga mutt seeking the blessings of Shivakumara Swamy has a subtle meaning and the politicians know that.
| Edited by: Ashutosh Tripathi
Read full article