The lingering image of Jayalalithaa's final journey is the stoic presence of her companion of decades standing next to her mortal remains for hours on. Not only has she shadowed Jayalalithaa for all these years, Sasikala Natarajan was also a co-accused in all cases filed against the former Tamil Nadu Chief Minister besides being a subject of contempt of the worst kinds. Jayalalithaa was rather unabashed about her association with Sasikala, often seeking comfort in her presence. However, such camaraderie between two women is hardly seen among the women political leaders of the Hindi heartland.
So why is there no similar female favourite to a Mamata Banerjee or a Mayawati or a Vasundhara Raje? All three are strong women leaders, perhaps ruthless too, who have charted new paths for themselves and occupy an irreplaceable place in Indian polity.
During Parliament sessions, BSP chief Mayawati's arrival and departure is marked by the presence of 6 party MPs (all men) standing firmly in front of Gate 12 of the Parliament House. When Mamata Banerjee arrives in the central hall all her party MPs queue up to mark their attendance, which is similar to men and women prostrating before Jaya.
Mayawati's conscience keeper is SC Mishra and Mamata's trusted lieutenants are Mukul Roy, Derek O Brien and her nephew Abhishek. Not just in the company they keep but both these leaders including the current chief Minister of Rajasthan Vasundhara Raje have always preferred to surround themselves with men. Is this an attempt at disguising true nature of complex challenges before women across class, which forms the normal in our cultural boundaries? Why don't these women create 'a chain of sisterhood to nurture each other?'
Jayalalithaa's biographer Vaasanthi makes a sharp observation on why Jayalalithaa chose a woman to be her close confidante. "Jaya was a single woman. She was an actor before she became a leader. Because of the sexist society, women stars always had a woman chaperone. She needed someone to take care of her house, she found Sasikala as agreeable and smart," she says.
Political observer Neerja Chaudhury has a different take on Jayalalitha. She says it's wrong to just categorize her as a woman leader she cites a conversation she had with one of the senior national leaders in late 1990s who had then observed that Jayalalitha was amongst half a dozen people in India who could understand the intricacies of WTO. Chaudhury also says that the reason Tamil Nadu continued to rate high on various indices both economic and social was because the "bureaucrats couldn't get the better of her, she knew what she wanted out of them was always on the top of the subject, she made them accountable, she was an intelligent and bright woman."
A woman walks in front of a portrait of the late Tamil Nadu Chief Minister Jayalalithaa in Chennai /Reuters/File photo
Drawing a comparison between Jaya and other women leaders north of Vindhyas, Chaudhury places Mamata Banerjee above all her contemporaries. For one, Mamata didn't have anyone who initiated her into politics. "Jayalalithaa had a mentor in MGR, then her qualities and abilities made her. Mayawati came into politics because of Kanshi Ram who of course after a few years completely left Uttar Pradesh to her and didn't interfere. But Mamata made her way up without a prop," Chaudhury says.
Erudite Jayalalithaa was far ahead of her time. Economists have panned her policy of offering freebies. But they formed an intrinsic part of her electoral narrative and her politics. She became a powerful presence in the everyday life of the ordinary Tamilian as their mixer-grinders, fans, TVs had a smiling face of their benevolent Amma.
The range of household items offered on a platter by the state led by Amma helped her carve out women as a constituency. And this one segment remained loyal to her election after election. They wept as they felt orphaned after her demise. The cult of Jayalalitha as a redeemer emerged from the homes of Tamil Nadu.
Mayawati, Mamata, Vasundhara and Sheila may have won many polls, but they never managed to create this constituency. The one person who managed this in the north of the Vindhyas was a man: Nitish Kumar. He first offered peace of mind for the women of Bihar by ensuring the rule of law prevails. He offered bicycles for girls, and as perhaps a gift to the women of Bihar who has stood with him through thick and thin, he even took an axe and cut the state's revenues to make the state booze-free.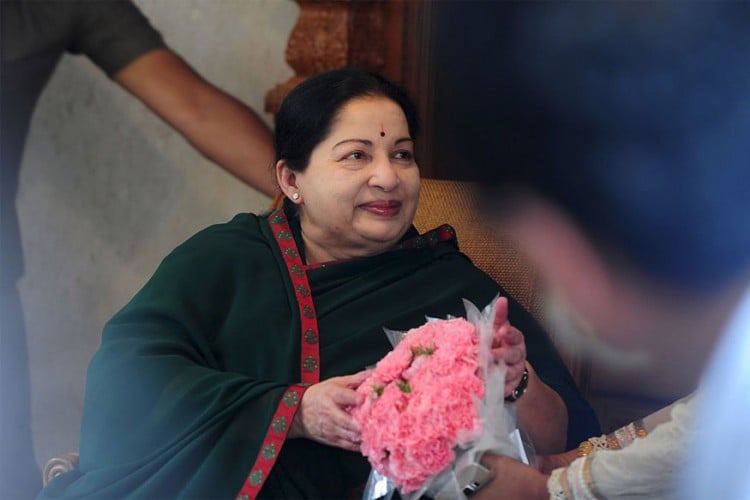 Image consultant Dilip Cherian says that women leaders in the North prefer to be seen as less women-centric themselves. "They don't want to narrow their appeal because every vote – male or female – counts and they can't usually take the risk of appealing to just one constituency alone," he says.
Yes, of course, one can't ignore the elephant in the room: Caste hierarchies are far more fundamental and entrenched in North India than the Southern states. More importantly, the Hindi heartland is much more patriarchal. People in Tamil Nadu are still ruled by hearts. That's why film stars who rule their hearts are always most acceptable as their rulers too. Hence Jayalalithaa, a Brahmin, could rule a Dravidan party with an iron fist.
Indira Gandhi, the original iron lady, managed a distinct connect with women and in turn earned their affection and undeterred loyalty. The 'gungi gudiya' also became 'Mother Indira.' Women, Dalits, and minorities – the constituency she cultivated – continue to be a major political asset for the Congress party even today.

However, India's longest serving Chief Minister, also a woman and from the Congress, Sheila Dikshit had a different strategy in Delhi. The social and cultural milieu of Delhi notwithstanding "she was a CM for all."

"Although she was tremendously popular among women, she deliberately didn't work towards it. She worked for everybody," says Pawan Khera, who was Dikshit's strategist for 15 years.
Dr Heena Gavit, a first time Member of Parliament of the BJP from Nandurbar in Maharashtra, feels literacy plays a big role in defining political leadership and that's why Tamil Nadu with women literacy rate of 73.4 percent doesn't face gender inequality – at least as much as in north India. "I come from a tribal background. In every decision, a woman takes, she gets support from her father and her husband. This male validation will slowly change. In a decade this trend will end as literacy increases among women," she says.
Among many things that make the politicians north of vindhyas different from the south are the iconography and cult status they achieve – especially true in Tamil Nadu and undivided Andhra Pradesh. They are often God-like, capable of superhuman, dealing with demons and delivering justice at ease.
Yet, there was no shortage of barbs coming the way of even a divine-like Amma – remember that iconic photograph of Jayalalithaa sitting with her hand on her head after the assault in state assembly? How did Jayalalithaa strike back with multiple victories after everybody blow of failures? She succeeded also because she deglamorized herself. In her incarnation as Amma, the mother, Jayalalithaa reinvented her identity. But then she wasn't leading any feminist movement. She desexualized herself for what's patriarchal manipulation of power, and in turn achieved her aim of championing a more inclusive politics. That generational shift of becoming a mother, not a sister or a daughter may also be the reason why she succeeded the way she did. Mamata is a didi, Mayawati is a behenji also a dalit ki beti.
It may not be fair to look at Jayaalalithaa's legacy as that of a woman leader alone. But there can be no denying that what made Jaya stand out in her life and death was also because she was a woman undeterred by the challenges: The one who guarded her kingdom like a lioness. Mamata Banerjee's appeal is without pretentions, Mayawati wears her pink with elan but a Jaya rebellion is missing in the North, and that matters to women. Let there be more.

@media only screen and (max-width:740px) {
.quote-box{font-size:18px; line-height:30px; color:#505050; margin-top:30px; padding:22px 20px 20px 70px; position:relative; font-style:italic; font-weight:bold}
.special-text{font-size:24px; line-height:32px; color:#505050; margin:20px 40px 20px 20px; border-left:8px solid #ee1b24; padding:10px 10px 10px 15px; font-style:italic; font-weight:bold}
.quote-box img{width:60px; left:6px}
.quote-box .quote-nam{font-size:16px; color:#5f5f5f; padding-top:30px; text-align:right; font-weight:normal}
.quote-box .quote-nam span{font-weight:bold; color:#ee1b24}
}