The TN Name Game: Why DMK's New Chief MK Stalin is Being Called 'Thalapathy'
Stalin's moniker is not exactly all new, he was given the title for the first time in 1982 at a public meeting in Trichy.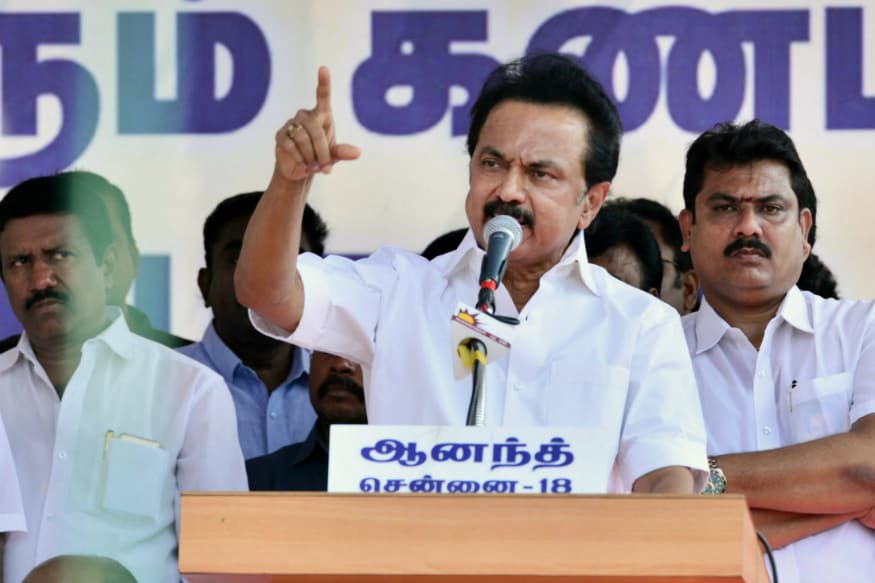 File photo of DMK president MK Stalin.
Chennai: Tamil Nadu politics on Tuesday welcomed its Thalapathy, the Commander. MK Stalin's moniker is in keeping with his new status as the chief of the DMK.
In Tamil Nadu, people give a title to most of the top politicians to show their love to the leader. So if Stalin is Thalapathy, his father and five-time CM Karunanidhi was popularly known as Thalaivar (leader) or Kalaignar (artist) for his screenwriting background.
Then there was the late M G Ramachandran, the actor-politician who was revered as Puratchi Thalaivar (revolutionary leader) and Makkal Thilagam (people's king). His protegee J Jayalalithaa, who also entered politics through films and was chief minister multiple times, took on the title Puratchi Thalaivi.
Stalin's moniker, however, is not exactly all new. He was given the title for the first time in 1982 at a public meeting in Trichy. It was also the period when Stalin was made the secretary of DMK's youth wing, a post he loved and held for 35 years.
Since then, the DMK cadre have used 'Thalalpathy' to refer to MK Stalin. Now, it will be more widely adopted.
Interestingly, 'Thalalpathy' was also the title of Mani Ratnam's movie in 1991 starring Mammootty and Rajinikanth. As fate would have it, the 'commander' in the film is Rajinikanth, who would now be a political foe of Stalin.
The title 'Thalapathy' was so famous that actor Vijay was given the title 'Ilaya Thalapathy', meaning youth commander, in the film 'Rasigan' in 1994. In Mersal, one of the characters played by Vijay was also called 'Thalapathy' Vetrimaaran. And now he is fondly referred to as 'Thalapathi' by his fans.
With Stalin becoming the president of DMK, cadre at party headquarters raised slogans of 'long live commander'.
Get the best of News18 delivered to your inbox - subscribe to News18 Daybreak. Follow News18.com on Twitter, Instagram, Facebook, Telegram, TikTok and on YouTube, and stay in the know with what's happening in the world around you – in real time.
| Edited by: Padmaja Venkataraman
Read full article