Tickets to Family in UP, Uttarakhand Raises Rebellion in BJP
Prime Minister Narendra Modi may have asked his party members to desist from nepotism, but the BJP, while releasing the second list of candidates for UP Assembly polls, seems to have done otherwise.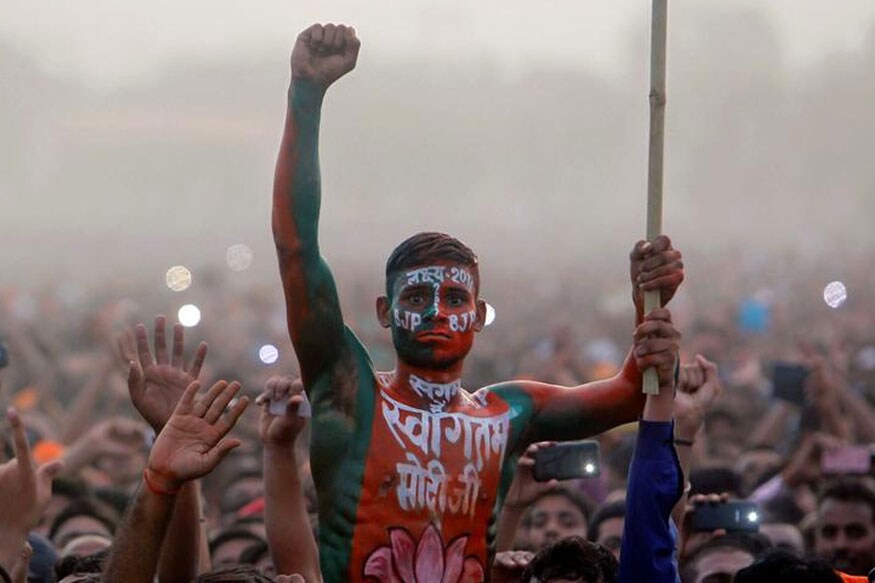 A supporter of India's ruling Bharatiya Janata Party (BJP) with his body painted in the party's colour attends a public rally after the party's national executive meeting in Allahabad, India June 13, 2016. (REUTERS/Jitendra Prakash) Representative Image)
New Delhi: Prime Minister Narendra Modi may have asked his party members to desist from nepotism, but the BJP, while releasing the second list of candidates for UP Assembly polls, seems to have done otherwise.
"Please don't put pressure for securing tickets for your family members, whether a brother, a sister or children. Party will do justice to all. We have to work unitedly to win all the five states," the PM had said during the BJP National Executive on Jan 7.
The party list of candidate for Assembly polls in UP and Uttarakhand feature many husbands, wives, sons and daughters sparking off rebellion from other ticket-hopefuls.
In Noida, Sanjay Bali, tipped to be close to Union Minister Mahesh Sharma, quit from his post as general secretary of the district BJP unit. In Kairana, supporters of BJP leader Anil Chauhan protested against the party on Sunday.
The most high-profile name on the list is that of Pankaj Singh, the son of Home Minister Rajnath Singh, who is contesting from the Noida seat on a BJP ticket. This prompted Sanjay Bali to lash out at the BJP for resorting to "dynastic politics" and said there was "no difference" left between the BJP and other parties.
Pankaj Singh later hit back by saying, "I have been working for the party and I am ready to work more. I'm not in politics just to be a candidate but also work for the society and the people. I have been associated with the BJP for the last 15 years and going forward with the same mentality of a worker in the coming election. "
Singh is not the only one from a political family to get a ticket. Gopal Tandon, son of BJP veteran Lalji Tandon, is contesting from Lucknow East, and Sunil Dutt Dwivedi, the son of Brahm Dutt Dwivedi, is contesting from the Farrukhabad seat.
Prateek Sharan Singh, son of Brij Bhusan Sharan Singh, will contest on a BJP ticket from Gonda and Nilima Katiyar, daughter of Prem Lata Katiyar from Kalyanpur. Sandeep Singh, the grandson of former chief minister Kalyan Singh, also received a party ticket from Atrauli.
Another controversial name on the list is that of Mriganka Singh, the daughter of Kairana MP Hukum Singh. In June last year, Singh had grabbed headlines after he claimed that 250 Hindu families had fled the town of Kairana in a "mass exodus".
The BJP leadership had thrown its weight behind Singh's claims. BJP sources said Singh had been lobbying for over a year for his daughter to get a BJP ticket.
In 2014, when Singh vacated the Kairana assembly seat after winning the Lok Sabha election, Anil Chauhan fought the bypoll and lost by less than 1,100 votes.
Chauhan, who will now fight from Kairana on a Rashtriya Lok Dal (RLD) ticket, said he blamed Hukum Singh for his 2014 loss.
"It is an open secret that Hukum Singh has wanted the seat for his daughter. He has been lobbying for it since he fought the Lok Sabha polls. He was let down when I got the ticket so he sabotaged my chances so that his daughter would get the ticket in 2017. I can assure you that far from winning the seat, she will not even be second. I knew about this sabotage for a while and that is why I decided to quit the party and contest from the RLD. I am the son of a farmer so my views are consistent with those of the RLD," Chauhan told News 18.
In Uttarakhand, while the BJP faces infighting over rebel Congress MLAs being given tickets, they are also coming under fire for giving tickets to children of politicians.
Rebel Congress leader Vijay Bahuguna's son Saurabh Bahuguna, a third-generation politician, has been given a BJP ticket from Sitarganj and former Uttarakhand CM BC Khanduri's daughter Ritu Khanduri Bhushan will contest from the Yamkeshwar seat.
Vinod Khandari, the son of former state cabinet minister Matuhar Singh, will contest from the Devprayag assembly constituency.
Congress, which has faced criticism for promoting nepotism in politics, wasted no time in hitting back at the BJP. All India Congress Committee (AICC) secretary Naseeb Singh said, "This has made it clear that there is a huge difference between the Kathni (words) and Karni (deeds) of the BJP. Theirs is a party full of liars. Besides, it is wrong to compare BJP's political families to the Gandhi family, which has sacrificed a lot for the country. The Gandhi family is in politics for national service while BJP leaders are in politics for personal gain."
The BJP, however, maintained that the family of a potential candidate can be "neither a qualification nor a disqualification".
Union minister Sanjeev Balyan said,"People have not been given tickets based on which family they belong to. Take Pankaj Singh, for example. He has been a party worker for the last 15 years and has worked hard. He is popular in Noida and his chances of winning are high. All these factors are looked into. While we cannot promote someone because they belong to a certain family, the opposite is also true. We can't disqualify someone on grounds of who their parents may be."
| Edited by: Huma Tabassum
Read full article