Tiwari's career: from CM, PM candidate to shame
Andhra Pradesh Governor quits after TV channel alleges sex scandal.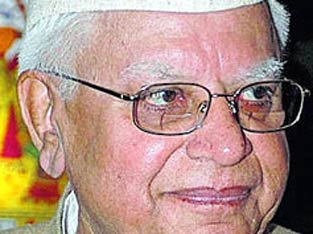 Andhra Pradesh Governor quits after TV channel alleges sex scandal.
New Delhi: It was a sorry end to an illustrious political career. Narayan Dutt Tiwari, who quit as governor of Andhra Pradesh on Saturday after being caught on video in an alleged sex romp with three women in the Hyderabad Raj Bhavan, has been one of the longest serving Congress leaders in the country.
A topper in law from Allahabad University, Tiwari has held several key positions in his political career spanning five decades.
He has been Chief Minister of two states and held important portfolios, including finance, external affairs, industries and defence, as a central minister. He has also been the deputy chairman of the Planning Commission.
After Rajiv Gandhi's assassination in 1991, Tiwari was one of the leading contenders for the Prime Minister's post, till he was upstaged by P V Narasimha Rao.
He was the last Congress Chief Minister of Uttar Pradesh in 1989 and occupied the post thrice earlier. He was the first elected Chief Minister of Uttarakhand in 2002 before being sent to Andhra Pradesh as a Governor in 2007 after the party lost the northern state to the Bharatiya Janata Party.
Born on October 18, 1925, Tiwari participated in the freedom struggle and was jailed at the age of 17. Tiwari started his political journey as a socialist in 1952 and joined the Congress in 1963.
He was elected nine times to the Uttar Pradesh assembly. Tiwari became president of Indian Youth Congress in 1965 and a minister in Uttar Pradesh in 1969.
He became a minister in Prime Minister Indira Gandhi's government in 1980 and later served in the cabinet of Prime Minister Rajiv Gandhi. He has been elected thrice to Lok Sabha and twice to the Rajya Sahha.
He formed the All India Indira Congress (Tiwari) following differences with Narasimha Rao but merged it with the Congress when Sonia Gandhi became the party president.
Senior Congress leaders including Arjun Singh, K Natwar Singh and Mohsina Kidwai were also part of the All India Indira Congress (Tiwari).
Polite and soft-spoken, Tiwari, has faced controversies about his personal life. He was in the news after 29-year old Rohit Shekhar petitioned the Delhi High Court claiming to be Tiwari's "natural son" and sought a paternity test to prove his claim.
The High Court, however, did not agree to the test.
Tiwari lists reading and music as his favourite pastime and recreation in his profile on the site of Andhra Pradesh governor. He has also worked as a journalist for the National Herald.
The Congress leadership has been sensitive to Tiwari's seniority concerns and gave charge of Uttarakhand to senior All India Congress Committee leader Motilal Vora during most of his tenure as the chief minister of the state.
For someone who had been four-time chief minister of India's most populous state of Uttar Pradesh, his assignment in Dehradun was considered light. Though a section of legislators in Uttarakhand made frequent demands for his replacement, the party's central leadership did not oblige.
Unlike other Congress chief ministers who paid visits to the central office to meet the concerned general secretary, Tiwari rarely did so.
Get the best of News18 delivered to your inbox - subscribe to News18 Daybreak. Follow News18.com on Twitter, Instagram, Facebook, Telegram, TikTok and on YouTube, and stay in the know with what's happening in the world around you – in real time.
Read full article