Too Many Cooks Set the Pot Boiling in Haryana Congress Year Before Assembly Polls
Bhupinder Singh Hooda, Ashok Tanwar, Randeep Surjewala, Kumari Selja and Kiran Choudhary are all contenders for the top post and have begun racing towards it.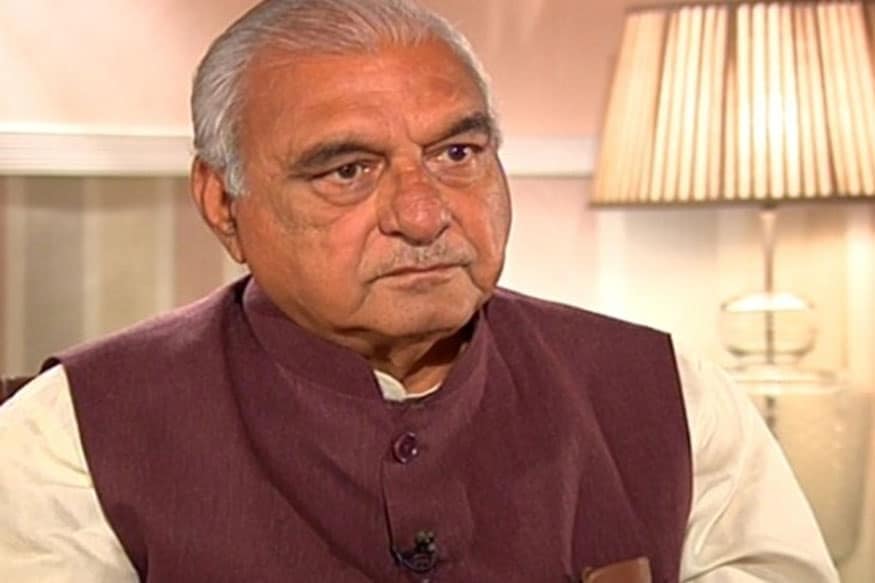 File photo of former Haryana chief minister Bhupinder Singh Hooda.
Chandigarh: Haryana Congress is a divided house. Former chief minister Bhupinder Singh Hooda is carrying out his Jankranti Yatra, state party president Ashok Tanwar has embarked upon his own cycle yatra, party spokesperson Randeep Surjewala is holding his own rallies, former Union minister Kumari Selja is busy garnering support for herself and CLP leader Kiran Choudhary, too, doesn't want to be left far behind.
Though Assembly elections in Haryana are almost a year away, these Congress leaders seem to be flexing their muscles to get the party high command on their side to eventually get the prized chief ministerial berth in case the Congress manages a victory.
Bhupinder Singh Hooda is reaching out to the masses with his Jankranti Yatra, though political pundits say that his main objective is to replace Ashok Tanwar ahead of the polls. Having completed his four-stage yatra, Hooda will soon begin another tour, which is intended to cover the whole of Haryana.
Ashok Tanwar, too, is carrying out his cycle yatra named 'Haryana Bachao, Parivartan Lao' and is touring all 90 Assembly constituencies in the state.
The rivalry between the two party big-wigs in not hidden from anyone. The two have desperately tried to put each other on the mat, frequently taking a jibe at each other's rallies. Senior party leaders have tried to iron out the differences between the two, but to no avail.
"In the larger interest of the party", Tanwar had even offered to bury the hatchet recently, but the way the two leaders are still going ahead with their respective rallies, the truce seems to be eluding in the near future.
In 2004, Bhupinder Singh Hooda enjoyed strong backing from the party and was successful even in edging out a seasoned politician like Bhajan Lal to grab the Chief Minister's chair.
After being at the helm for two consecutive terms, Hooda virtually went into political oblivion after 2014 rout. While many former chief ministers like Ashok Gehlot and Ashok Chavan were adjusted into the organisation, Hooda was left out. The latter is now again building his base in the party.
Tanwar, on the other hand, is a non-Jat leader, a Dalit face of the Congress in Haryana where the Scheduled Castes account for around 22 percent of the population. A JNU alumnus, Tanwar became MP for the first time in 2009 from Haryana. As president of the Youth Congress, he rose through the ranks within the party and boasts of close ties with party president Rahul Gandhi.
Jats comprise 29 percent of Haryana population. Hooda replaced Bhajan Lal in 2004 mainly because he was a Jat leader. In 2014, Congress vote percentage stood at 20 percent, but won only 15 seats, lending voice to his opponents who claimed that it was Om Prakash Chautala or the INLD for whom the Jats have always voted. Probably, this is what Tanwar might be thinking too.
It's not like Hooda is the sole Jat leader in Haryana Congress. AICC spokesperson Randeep Surjewala and CLP leader Kiran Choudhary, too, are Jat faces of the party. The three don't get along either. The other major Jat faces were Union minister Chaudhary Birendra Singh and Rao Inderjit Singh, both of whom had quit the Congress after a falling-out with Hooda.
The interesting strategy from the BJP has been to target only Hooda, indicating that he is the man to watch.
Get the best of News18 delivered to your inbox - subscribe to News18 Daybreak. Follow News18.com on Twitter, Instagram, Facebook, Telegram, TikTok and on YouTube, and stay in the know with what's happening in the world around you – in real time.
| Edited by: Nitya Thirumalai
Read full article