Trinamool is Now a Private Company, Not a Political Party: Mukul Roy
Roy, who was inducted into the BJP last week, also alleged that the much lauded 'Biswa Bangla' project is nothing but a private company owned by Mamata's nephew Abhishek Banerjee.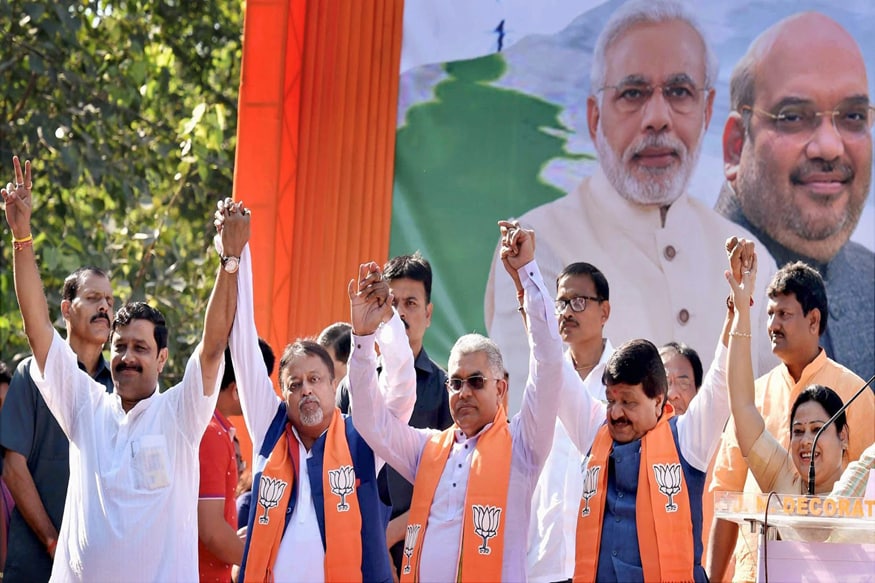 Kolkata: (L to R) Former BJP president of the West Bengal unit Rahul Sinha, current state president BJP Dilip Ghosh, Mukul Roy, who recently joined BJP, along with BJP leader Kailash Vijayvargiya join hands during a rally protesting against the ruling Trinamool Congress government in the state, in Kolkata on Friday. PTI Photo by Swapan Mahapatra Present State President Dilip Ghosh,Mukul Roy,who recently joined BJP,Kailash Bijoy borgiya join hands to gether during a rally in Kolkata on Friday to protest against the appesment politics of TMC and demands of restoration of democracy in the State. PTI Photo by Swapan Mahapatra(PTI11_10_2017_000118B)
Kolkata: Former Trinamool Congress MP Mukul Roy on Friday said that Mamata Banerjee is more of a private company than a political party.
Roy, who was inducted into the BJP last week, also alleged that the much lauded 'Biswa Bangla' project is nothing but a private company owned by Mamata's nephew Abhishek Banerjee.
In his first public rally in Central Kolkata after joining the BJP, Mukul said, "We all know that U-17 FIFA world football tournament was sponsored by Biswa Bangla. But many of you don't know that what is Biswa Bangla? I would like to reveal it today that it is not a government entity but a private company owned by Abhishek Banerjee (TMC MP). The company's address is 30B Harish Chatterjee Street."
Biswa Bangla Marketing Corporation was set up to improve the quality of life of Bengal's handloom weavers and others involved in the crafts sector. Its main objective was to take Bengal's art and craft to a global level through identification, documentation, conservation and revival of the traditional art forms.
"There is a need to go deep inside the Biswa Bangla theory. Not the least, the mouthpiece of TMC, 'Jago Bangla' is also a private company and it is owned by Abhishek. Going with the trend, Trinamool is now a private company. People are dying because of dengue but our Chief Minister is busy is celebrating film sestivals with stars and celebrities. This Mamata is different. She has changed and the people of Bengal did not vote for this Mamata," said Mukul, the once trusted lieutenant of the Bengal Chief Minister.
The BJP leader said during Singur movement Mamata raised slogan 'badla noi, badal chai' (no revenge but we need change) but now she instructs the police to take "revenge by arresting opposition leaders."
While hinting the involvement of artist Subhaprasanna Bhattacharya in Saradha chit fund scam, he said, "He (Subhaprasanna) met Saradha founder Sudipta Sen. He was present in a meeting at Delo in Kalimpong along with TMC MP Kunal Ghosh. They also met at Pratidin office and after series of meetings Sudipta Sen invested Rs 840 crore in healthcare, media and tourism."
Dragging state education minister Partha Chatterjee in the chit fund scam, he said, "Partha Chatterjee is the secretary of Naktala Udayan Sangha. It is a club which got several corporate sponsorship from chit fund companies like I Core and MPS. I would like to ask him why his club has taken money from the chit fund companies".
State BJP President Dilip Ghosh attacked Mamata over her recent meeting with Shiv Sena chief Uddhav Thackeray. "Mamata brings bad omen where ever she goes. She met Mulayam and Akhilesh and the result is in front of everyone. She met Lalu Yadav and his son. Nitish Kumar survived because he didn't meet her. Now, she met Uddhav Thackeray. God knows what will happen to him."
Get the best of News18 delivered to your inbox - subscribe to News18 Daybreak. Follow News18.com on Twitter, Instagram, Facebook, Telegram, TikTok and on YouTube, and stay in the know with what's happening in the world around you – in real time.
| Edited by: Mayur Borah
Read full article