'Uncertainty and Mixed Signals': The Political Future of Raje, Shivraj and Raman
A debate is has started on what to do with their three vanquished leaders – Vasundhara Raje, Shivraj Singh Chouhan and Raman Singh who were defeated in the recently concluded Assembly elections.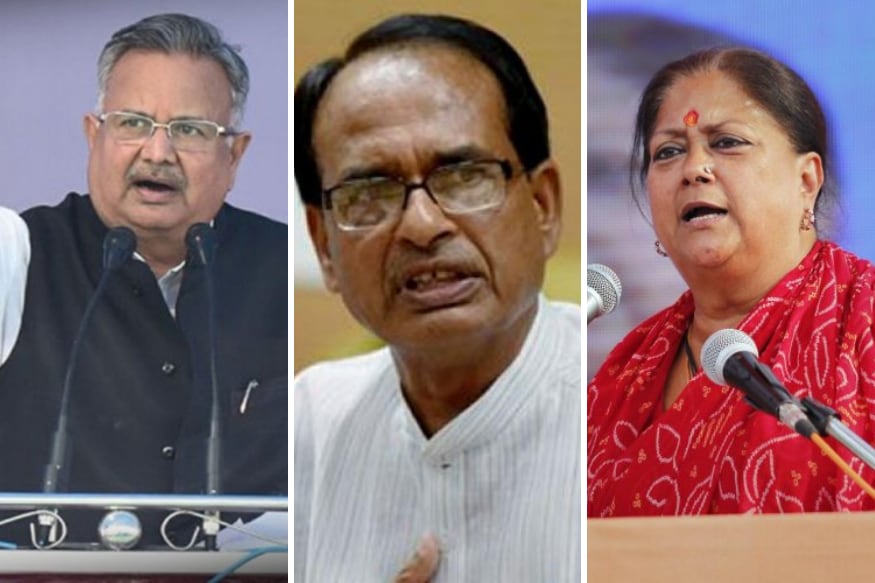 Raman Singh, Shivraj SIngh Chauhan and Vasundhara Raje. (PTI)
Exactly a week after results of Rajasthan, Madhya Pradesh and Chhattisgarh were announced, focus has now shifted to the three new Chief Ministers—Ashok Gehlot, Kamal Nath and Bhupesh Bhagel. What heading the three big states means to them and to their party – the Congress - in view of Lok Sabha polls due in four months. But more interesting political trajectories and intra-party politics may be unfolding elsewhere.
That's because within the BJP, a debate is has started on what to do with their three vanquished leaders – Vasundhara Raje, Shivraj Singh Chouhan and Raman Singh. Voices from within the party suggest that while some want all three to be shifted to the Centre, given their failure to guide their party to victory. Others don't want to disturb status-quo too much before THE 2019 Lok Sabha polls.
For the BJP each of these three leaders presents their own set of problems. Raje didn't have to fight the sort of anti-incumbency that Chouhan and Singh fought but she is still by far the party's tallest leader in the state. Also, it is quite clear that she's in no mood to be shifted out of Rajasthan.
"She will remain active in Rajasthan. She knows it as well as the party. She is right now the most powerful BJP leader in the state. Of course the central party leadership will want others to take the baton from her. But as things stand nobody's going to ask her to move," says Narayan Bareth, a veteran journalist and political analyst based in Jaipur.
The reason, Bareth says, is that most of BJP's elected representatives in the Assembly were given tickets by Raje. She commands a hold over the state party unit. And because there isn't at the moment a younger crop of leaders to take the party forward. "The BJP is looking at names like Gajendra Shekhawat and Rajyavardhan Singh Rathore, but handing over the reins to them is going to take time," Bareth adds.
While Raje was seen to be quite unpopular in her state, Chouhan emerged at the end of polling day almost unscathed. Even a hero, given the spirited battle he fought despite facing anti-incumbency after three terms as CM. Not one political commentator or BJP leader has held him responsible for his party's loss.
What's more, when Chouhan stepped up on the stage, where Kamal Nath was to swear-in as CM in front of a huge crowd of Congress supporters and opposition leaders on Monday, the audience cheered for him.
Clearly as a former CM and his party's face in the state, he has more political capital and acceptance than most other leaders in the country.
"Chauhaan haar ke bhi jeet gaya [Chauhan has won despite the loss]," says noted political commentator based out of Bhopal, Girija Shankar. That's because "the glamour around him is intact. He has utility. And he is willing to stay put and fight. Shivraj will be interested in playing the longer game. In making the voters repent for choosing Nath over him." But his wishes may not guarantee his presence in the state.
"As far as I can foresee, he will not be utilised in the state. At most he will be given Vidisha seat, from where Sushma Swaraj has decided to not contest anymore, and asked to focus just on his seat." This will serve two purposes, Shankar says, "unko Vidisha se ladaakar, unka kad bhi chota ho jayega aur BJP ko ek seat bhi mil jayegi [fielding him from there will cut him to size while guaranteeing BJP a seat]."
Of all the three CMs, Raman Singh is perhaps the leader whose political future hangs in precarious balance. That partly may have to do with the fact that it was he, among the three, who faced the most severe drubbing in the polls.
"They don't need him in the state for another five years. Elections are a few months' long business. Raman Singh, considering the political rout, will be most eager to return to New Delhi and seek a berth in the next government if BJP wins in 2019. What the BJP wants to do with him is another matter," says senior political analyst Deepak Tiwari.
Read full article
Countdown To
Elections Results
To Assembly Elections 2018 Results