Under Fire from Within the Community, BJP Dalit MPs Vent Their Anger in Letters to PM Narendra Modi
The first visible protest from a Dalit MP against their own party was held by Savitri Bai Phule, BJP MP from Bahraich. She held an independent rally in Lucknow on April 1 and provocatively titled it 'Sanvidhaan Bachao Aarakshan Bachao (Save Constitution Save Reservation)'.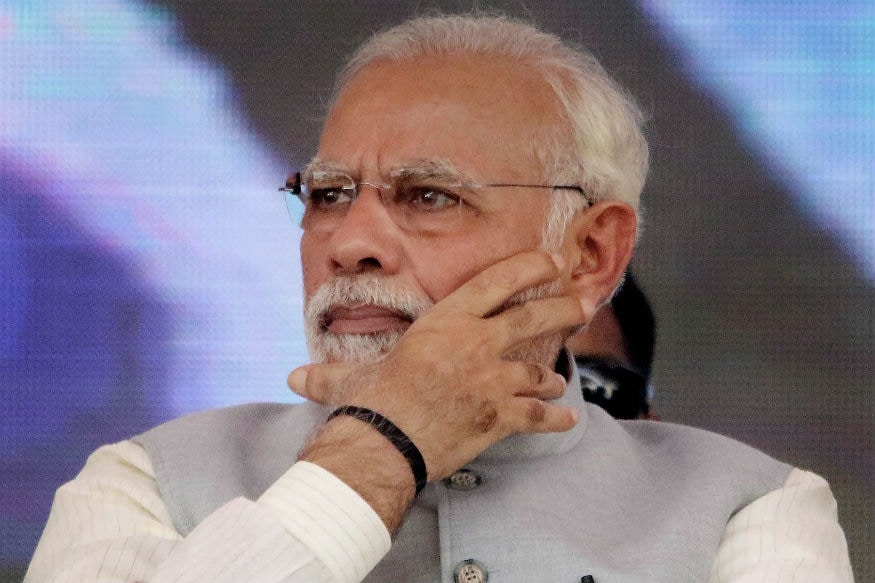 File photo of PM Narendra Modi. (PTI)
New Delhi:
Dalit anger from within the BJP is spiralling out at worrisome pace for the party. In the last one week, four BJP Dalit MPs from Uttar Pradesh have either resigned, threatened to resign or expressed dissent with the perceived anti-Dalit stance of the party.
The latest to do so is Dr Yashwant Singh, BJP MP from Nageen. In a letter addressed to Prime Minister Narendra Modi, issued on April 2, Singh says that for the past four years Modi government had done nothing for the Dalits. He also said that he became an MP because of reservation but his capabilities as a Dalit MP had not been utilised.
In his letter, Singh states that without reservation the Dalit community will be left helpless. "When I was elected, I met you and spoke about the need to implement reservation in promotions. I requested you to help pass a bill in this regards. Various sections of this society have been making requests like this day and night to us but for the last four years your government hasn't taken even one step for the 30 crore Dalits of the nation," wrote Singh.
Singh went on to state that BJP's Dalit MPs were being questioned and attacked by the community all the time. "
Humein jawab dena mushkil ho raha hai
(It's getting tough for us to give an answer."
BJP MP from Nageen Dr Yashwant Singh's letter to PM
The UP leader also stressed the need to undo the dilution of the SC/ST act by Supreme Court.
Only last week, India had witnessed a massive 'Bharat Bandh' protests across various parts of the country. The agitation led to the death of 11 people, most of whom were Dalits. The protest brought the country to a standstill and some Dalit activists have hailed it as 'historic'.
The first visible protest from a Dalit MP against their own party was held by Savitri Bai Phule, BJP MP from Bahraich. She held an independent rally in Lucknow on April 1, a day before the Bharat Bandh rallies and provocatively titled it 'Sanvidhaan Bachao Aarakshan Bachao (Save Constitution Save Reservation)'. Her podium was washed with blue, the colour that BSP has made into its synonym, and decorated with posters of BSP founder Kanshi Ram.
"
Main saansad rahun ya na rahun, aarakshan se chedchaad nahi hone dungi
(whether I continue to be an MP or not, I won't let anyone tinker with reservation)," she declared almost defiantly against her party high command.
Three days later, on April 5, reports of another Dalit MP – Chhote Lal Kharwar – writing to PM Modi expressing anger at being thrown out by chief minister Yogi Adityanath came out. Kharwar, who represents Robertsganj Parliamentary constituency, alleged that he was facing discrimination by the administration in his constituency and his complaints were not being heard by his own party. The MP also named state BJP chief Mahendra Nath Pandey and Sunil Bansal in his complaint. He called the CM 'casteist' and claimed to have made an official complaint to the National Commission for Scheduled Castes and Scheduled Tribes.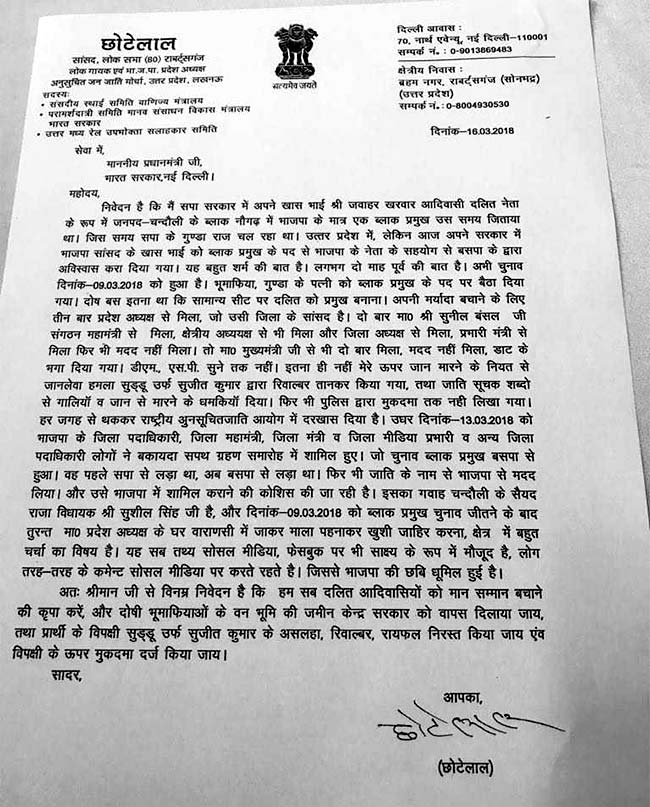 MP Chhote Lal Kharwar's letter to PM Modi
Not even a day had passed before dissent from another Dalit BJP MP – Ashok Dohrey – emerged. He was the third Dalit MP who wrote to the Prime Minister. In his letter, Dohrey alleged that in retaliation to the April 2 Bharat Bandh rally, state police was harassing Dalits and framing them in baseless cases for vengeance.
"Police is dragging Dalits out of their homes, beating them mercilessly, and abusing them. These actions by the Police are sending a message of insecurity among Dalits," Dohrey said in his letter.
In response to a query by News18, Dohrey tersely said that the PM had been made aware of the situation and the MP thought Modi would "take necessary action".
Dohrey's letter came just a day after the Adityanath government decided to add 'Ramji' to BR Ambedkar's name in all the official records prompting the opposition to allege charges of religious polarisation at BJP.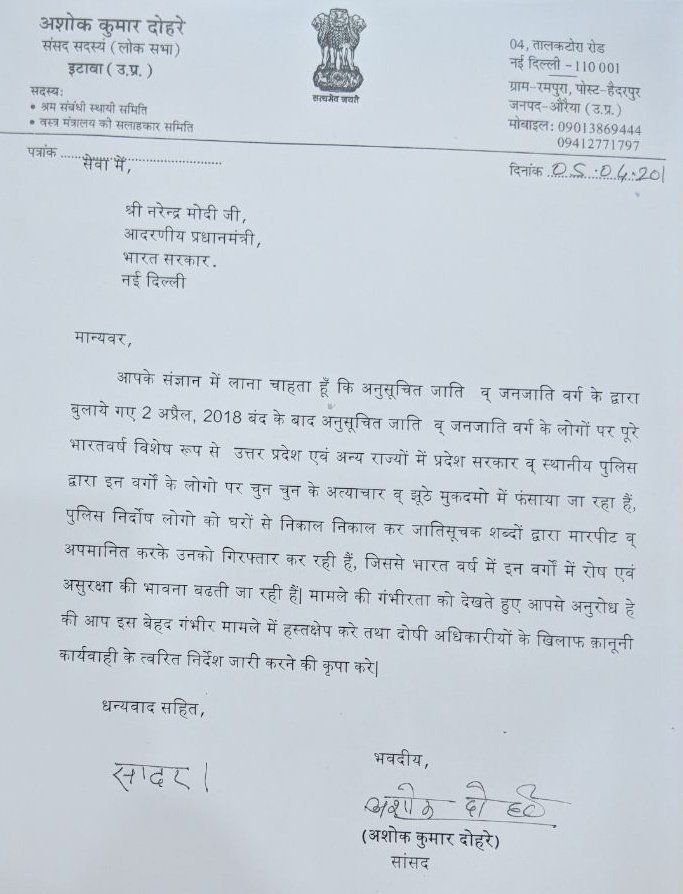 Ashok Dohrey's letter to PM Modi
Though he hasn't written to the PM yet, BJP MP Udit Raj, too, alleged that members of his Dalit community were being "tortured" in the wake of the violent protests during the 'Bharat Bandh'. "Reports are pouring in that those Dalits who participated in agitation on April 2 are being tortured and it must be stopped," he said in a tweet.
"Dalits are tortured at large scale after April 2 country-wide agitation. People from Barmer, Jalore, Jaipur, Gwalior, Meerut, Bulandshahr, Karoli and other parts calling that not only anti-reservationists but police also beating & slapping false cases," Raj, who represents North West Delhi in the Lok Sabha, said. All these places, incidentally are parts of states ruled by the BJP.
Dalits r tortured at large scale after 2ndApril country wide agitation . Peoplefrom badmer,jalore,jaipur,gwalior,meerut , bulandshahr,karoli &other parts calling that not only anti reservatists but police also beating &slapping false cases.

— Dr. Udit Raj, MP (@Dr_Uditraj) April 7, 2018
My confedetion worker in gwalior is being tortured whereas he had not done anything wrong . He is crying for help.

— Dr. Udit Raj, MP (@Dr_Uditraj) April 7, 2018
The party had secured huge victory margins in UP, during the 2014 general polls and 2017 assembly elections, owing to strong support from the 21% Dalits of the state.
Of the 84 reserved Dalit Lok Sabha seats, the BJP managed to win 40 and secure 28 percent votes in 2014 UP general elections. A survey by Centre for the Study of Developing Societies (CSDS) found that the BJP had never got as many Dalit votes as it did in 2014. The survey found that in 2014 elections, 24 % Dalits voted for the BJP, which was substantially higher than the percentage of Dalits who voted for Congress (19%) and BSP (14%).
In the 2017 assembly polls, BJP won 69 of the 85 reserved seats in UP.
Gearing up for the upcoming 2019 general elections, BJP will be mindful of not just the impact of Dalit votes but also the emerging distrust, as represented by the four UP MPs, among Dalit community.
It is in this context that all eyes will now be focused on the success of the party's massive outreach plan — a 22-day 'Gram Swaraj Abhiyan', in which senior leaders have been asked to eat at Dalit households and spread party's message to the community. Meanwhile, the top leadership, including PM Modi, gear up to celebrate Ambedkar Jayanti.
| Edited by: Aditya Nair
Read full article
Countdown To
Elections Results
To Assembly Elections 2018 Results