GET Stock

Quotes


RSS Leader Chandravat Booked, Sacked Over Rs 1 Crore 'Bounty' on Kerala CM
RSS leader Kundan Chandravat, who had announced a bounty of Rs 1 crore for beheading the Kerala Chief Minister, has retracted his statement after it drew condemnation from various quarters including the Sangh.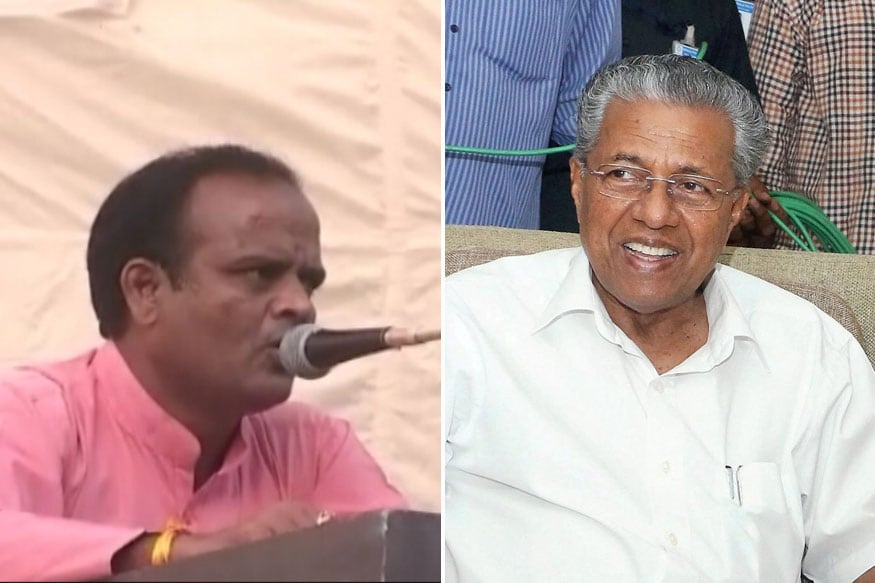 RSS activist Kundan Chandravat (L) and Kerala CM Pinarayi Vijayan (R)
New Delhi: The RSS on Friday sacked its functionary Kundan Chandravat who had sparked a controversy by announcing a Rs 1 crore 'bounty' on Kerala Chief Minister Pinarayi Vijayan.
Late on Friday, Chandravat was also booked for on charges of inciting violence under Section 505 of the IPC.
The developments came a day after Chandravat retracted his controversial statement.
"Chandravat's controversial statement has created a wrong impression about the Sangh. He has been removed from all posts," RSS's Madhya Pradesh state head Prakash Shastri said in a letter announcing his removal.
Kundan who made controversial statement at Ujjain protest mtg has been relieved of his responsibility in RSS: Dr MM Vaidya pic.twitter.com/4t1emJH5PT

— RSS (@RSSorg) March 3, 2017
Under fire, Chandravat was forced to retract the statement late on Thursday.
"I was pained on the issue of murders of Swayamsevaks and therefore made an emotional statement. I retract it (statement) and express my regret," Chandravat said in a statement late on Thursday.
"I also got some phone calls from Kerala in which an unidentified caller threatened to kill me," he claimed. Chandravat, in a meeting in Ujjain, had announced the bounty to avenge the killing of RSS workers in Kerala, allegedly by CPI(M) workers.
ALSO READ | After Crude Bomb Attack on RSS, CPM Office Burnt Down in Kerala
His speech had sparked an uproar, drawing condemnation from the RSS, the CPI(M) and the Congress.
In a video, which went viral, Chandravat is purportedly seen saying that Kerala Chief Minister Pinarayi Vijayan is behind the killing of RSS workers there and he will pay Rs 1 crore to anyone who beheads him.
The RSS was quick to condemn Chandravat's statement, stating the organisation did not believe in violence.
ALSO READ | Kerala CM Pinarayi Vijayan Laughs off RSS Leader's 'Bounty' on his Head
"The RSS strongly condemns such statement. The Sangh does not believe in violence. But we will continue to protest against attacks on our workers in Kerala in a democratic and peaceful manner," RSS national 'Sah Prachar Pramukh' (Joint Chief of Publicity) J Nandakumar had told PTI in Delhi.
Vijayan, however, dismissed the threat to his life, saying such calls would not prevent him from travelling around, while Kerala's ruling CPI(M) and Congress sought the arrest of Chandravat for his outrageous comments.
Kerala has been witnessing a series of political clashes between the cadres of BJP-RSS and the ruling CPI(M),especially in the northern Kannur district from where Vijayan hails, for a long time. Both parties have blamed each other for the cycle of violence which has claimed several lives on both sides.
Reacting to the controversy, actor Arvind Swami tweeted:
Open threat to behead someone, Another to burn down theatres..Will there be strict action taken against these guys for instigating violence? https://t.co/aKLHPQp17V

— arvind swami (@thearvindswami) March 3, 2017
(With agency inputs)
| Edited by: Mirza Arif Beg
Read full article
Countdown To
Elections Results
To Assembly Elections 2018 Results