From 'Don' to Darling of Masses: How Dinakaran Outsmarted EPS-OPS, BJP to Clinch Amma's Legacy
Both factions -- the merged EPS-OPS camp and the TTV camp -- are not averse to a merger of all camps and going back to the old AIADMK, where TTV had greater say in party affairs.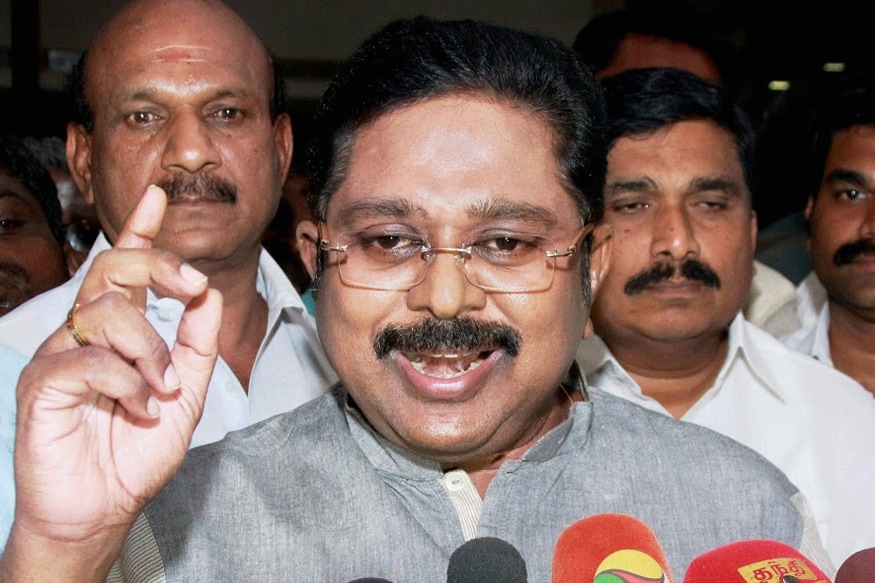 File photo of TTV Dinakaran. (PTI)
Chennai: It was a day before polling and just hours after a video of the late Jayalalithaa surfaced that we were doing the rounds of RK Nagar to feel the 'pulse' that we met a man who claimed to be a driver on election duty.
"Will you listen to what I have to say too?" asked a voice from behind some parked vehicles. We stopped.
"I am a government driver and for the past two days, I have been deputed to drive an IRS officer around the RK Nagar constituency. That officer is an election observer. I have observed that all the raids and alerts that they were working on were related to the 'cooker' symbol (TTV Dinakaran's election symbol as an Independent). Why don't they ever raid other parties, aren't the others giving money?" he asked in a hushed voice, adding, "I have stopped that duty. Do they take us 'Thevars' for granted?"
Thevar is the dominant community to which the Mannargudi family belongs and VK Sasikala, Jaya's close aide and Dinakaran's aunt was an influential voice in the community who feel targeted.
We didn't pay much heed to that interview at the time as we were more focussed as we were more concerned with the repercussions of the Jayalalithaa video.
But soon after the results and the angry voices that came forth on the counting day, it all made more sense.
"It's the money, not masses," said columnist S Gurumurthy, when asked what led to TTV's win but is that the only factor? This one line answer, however, doesn't explain the margin of over 50 percent of the 1.7 lakh votes polled in RK Nagar.
For some months, there has been an undercurrent in the AIADMK bastion that TTV Dinakaran is being unfairly targeted by many central agencies. He has faced charges of corruption, the wrath of the Enforcement Directorate, raids by the Income Tax department and had even spent a few weeks in jail.
All of these combined, Dinakaran has emerged a hero of sorts — a hero who is willing to face every test 'for his people'. Dinakaran's sympathisers see him as a hero who can keep his cool under the most trying circumstances and one who usually has an answer for most things.
He works quietly in the background to focus on getting what he wants and more importantly, Dinakaran has emerged as the one who has kept team EPS-OPS — despite their BJP support — on their toes with his taunts, threats and pressure tactics.
"He is a mass leader because he has been harassed and targeted time and again, but he still doesn't toe the lines of these central agencies. Look at the others, they are so willing to bow down to the diktats of the outsiders (hinting at the BJP) who want to meddle in the affairs of our state," reasoned a TTV supporter at the RK Nagar counting centre.
Another woman who had come to the counting centre had similar thoughts. "We don't know if he is the true heir to Amma, but he is so jovial all the time, even in the face of adversities," she said.
Is TTV's victory more of a rejection of the BJP and the EPS and OPS combine, rather than a vote for TTV himself? How did someone, who was until yesterday the 'Mannargudi mafia' (as the family has been infamously known) become the man of the moment, a darling of the masses?
Dinakaran himself believes this is a referendum on the EPS-OPS-led AIADMK government. "People standing up against the interference of some of the national parties in Tamil Nadu may be one of the factors, but the main reason behind the result is that the people wants this government to lose," he told News18 after the victory.
"When winning is the only aim, the path that one takes hardly matters, and by all counts, TTV's playbook had all the right strategies. The DMK's inexplicable disinterest in campaigning, TTV's high voltage, in-your-face campaign challenging the central and state governments helped him immensely. This was no free and fair poll rather a free-for-all poll in which the only rule was not to get caught. And TTV accomplished this in great style," says political analyst and senior journalist RK Radhakrishnan.
He single-handedly took on two of the biggest regional parties head-on and emerged triumphant in a historic win -- never before has an Independent won a by-poll. Also, never before has the DMK lost its deposit in an election in Chennai city since 1967.
Political analyst Sumanth Raman points at how Dinakaran comes across as a cool customer.
"He comes across as such a cool person -- so calm and composed, responsive to the media. He has been subjected to tremendous pressure. When there tax raids being conducted across 131 places connected to his family, he was seen smiling at a gau-puja at home. People were impressed by his calm demeanour," Raman says.
Raman feels Dinakaran gained a lot of sympathy after being hounded by the central agencies and it did influence the voters. Money, of course, was a factor, but the anti-incumbency was an even bigger factor.
Moreover, Tamil Nadu has been ruled by regional parties for decades – the state's voters don't easily endorse a national party. So, when the overwhelming feeling was that there was a 'betrayal' of the Tamilian's interests by the EPS-OPS camp, the support went to TTV.
"I think he has the quality of being decisive and that has endeared him to the voter -- every ounce of logic said he should not contest because if he would lose badly, his career as a politician would be finished. But he took that chance, just like Jayalalithaa herself. Once a decision is taken, it is taken. He showed tremendous guts to even contest this election, as this could have ended his political career," points out Raman.
This election establishes Dinakaran firmly in the Tamil Nadu Assembly -- indeed, the first from the Mannargudi family to be so. But that's not all. He already claims to have the support of 18 MLAs, and "many more sleeper cell MLAs," as he calls them -- MLAs who are in the EPS-OPS camp, but loyal to him instead.
These are MLAs who are just over a year and a half old in the Tamil Nadu Assembly. They are in power and can rule till 2021. Hints of instability could well bring them closer to each other -- after all, who wants to lose power much ahead of time when you are not sure if the Amma brand will take you through a mid-term election that may be forced upon you.
Both factions -- the merged EPS-OPS camp and the TTV camp -- are not averse to a merger of all camps and going back to the old AIADMK, where TTV had greater say in party affairs.
This has been indicated even by the conciliatory gestures of some TTV camp leaders who spoke out on Sunday. They said that EPS and OPS must not be disheartened by their defeat as after all, they were members of a family at one point. Whether such a combination is possible and how uneasy it can be, is anybody's guess.
However, the AIADMK is certainly wary of the power that Dinakaran wields over its party cadre and supporters and would want to make peace with him, rather than allowing the instability that Dinakaran promises to bring in.
Get the best of News18 delivered to your inbox - subscribe to News18 Daybreak. Follow News18.com on Twitter, Instagram, Facebook, Telegram, TikTok and on YouTube, and stay in the know with what's happening in the world around you – in real time.
| Edited by: Sanchari Chatterjee
Read full article