UP Civic Poll Results 2017: BJP's Sanyukta Bhatia Set to Become First Woman Mayor of Lucknow
The Yogi-Adityanath-led BJP forged ahead of its rivals, leading on 14 of the 16 mayoral seats in Uttar Pradesh where the civic bodies polls were held in three phases.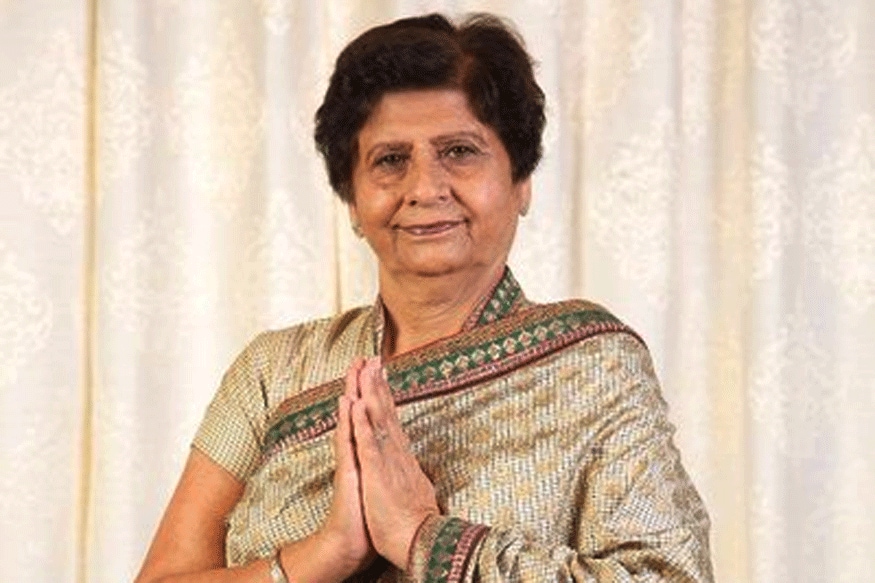 BJP's Lucknow candidate Sanyukta Bhatia. (File photo)
New Delhi: Sanyukta Bhatia of the ruling BJP in Uttar Pradesh is set to be the first woman mayor of Lucknow in 100 years. On November 5, the BJP had announced Sanyukta as its mayoral candidate for the city.
The Yogi-Adityanath-led BJP forged ahead of its rivals, leading on 14 of the 16 mayoral seats in Uttar Pradesh where the civic bodies polls were held in three phases.
However, the BSP is giving a tough fight to the BJP in the first three hours of counting of votes case in the mayoral elections in 16 municipal corporations, a Uttar Pradesh poll panel official said on Friday.
While the Bharatiya Janata Party has a slight edge in 12 places, the Bahujan Samaj Party, in a surprise development, was making considerable leads in the remaining four in the first round of counting.
Counting of ballots polled in three phases on November 22, 26 and 29 for the nagar nigams started at 8 am on Thursday under tight security cover and CCTV surveillance at 334 centres at district and tehsil headquarters, the state election commission said.
Polling was held for 16 nagar nigams, 198 nagar palika parishads and 438 nagar panchayats with an average turnout of all the three phases estimated at 52.5 percent of the 3.32 crore voters. The overall percentage recorded an improvement from 46.2 per cent in 2012 to 52.5 percent this time.
Agra: BJP candidate Rajeshwari Chaudhary has won from Agra Ward No. 61. He has got 1869 votes. Counting of votes for 100 wards of the Agra Municipal Corporation election began on Friday. Voting for Agra Municipal Corporation took place in the first phase of the Uttar Pradesh Urban Local Body Elections 2017 on November 22. A voter turnout of 40.06 percent was recorded in the Agra Nagar Nigam election. Arun Prakash is the current Commissioner of Agra Municipal Corporation.
Bareilly: BJP candidate Umesh Gautam leads by 500 votes. Bareilly is divided into 80 wards and has the population more than 1 million.
Kanpur: BJP's mayoral candidates Pramila Pandey is currently leading in Kanpur. The urban local body went to polls on November 22. Kanpur Municipal Corporation (KMC) consists of 112 wards and has a population is 4.16 crore.
Lucknow: BJP's Sanyukta Bhatia is currently leading the race to be the next mayor of Lucknow. Lucknow Municipal Corporation (LMC) consists of 110 wards and each ward has 10-12 localities under its formation. The present mayor of LMC is Suresh Awasthi while the present commissioner is Rakesh Kumar Singh.
Ghaziabad: As per the latest trends, BJP candidate Asha Sharma is leading. A total of 100 wards of Ghaziabad Nagar Nigam went to polls on November 26. The Ghaziabad mayor seat is reserved for woman. The present Mayor of Ghaziabad Municipal Corporation is Ashu Kumar Verma and C.P Singh is the Municipal Commissioner. According to officials, the city's population was 16.5 lakh (As per 2011 projections)
Varanasi: BJP candidate Mridula Jaiswal is leading in Varanasi. Voting for the Varanasi Municipal Corporation took place on November 26 in the second phase of Uttar Pradesh Urban Local Body Elections 2017. The total wards under Varanasi Nagar Nigam is 90. The BJP had won the mayoral election on Varanasi Municipal Corporation in 2012. Ram Gopal Mohle is the Mayor of Varanasi.
Meerut: BSP mayor candidate Sunita Verma is leading in Meerut Municipal Corporation (MMC) election. The MMC consists of 80 wards. MNC went to polls on November 22 in the first phase of elections to urban local bodies of Uttar Pradesh. The current Mayor of Meerut Municipal Corporation Harikant Ahluwalia while Manoj Kumar Chauhan is the Commissioner of the city.
Allahabad: Out of the 80 seats in Allahabad, BJP leading in 19 seats while the BSP is leading in 13. Allahabad Municipal Corporation has 73 wards. The current Mayor of Allahabad Municipal Corporation is Abhilasha Gupta (BJP) and Ashish Kumar Goel is the commissioner.
Aligarh: BSP candidate Furqan is leading by more than 250 votes in Aligarh Aligarh Municipal Corporation which has 70 wards. Santosh Kumar is the present Commissioner of Aligarh Municipal Corporation
Moradabad: BJP is leading in 9 Municipal Corporations of Moradabad Municipal Corporation (MMC). A total of 70 wards under MMC went to polls in the third phase of the UP urban local body elections (UP Nagar Nikay Chunav) on November 29. The current mayor of Moradabad Municipal Corporation is Vinod Agarwal (BJP) and Avnish Kumar Sharma is the Muncipal Commissioner.
Saharanpur: BJP's Sanjeev Walia is leading in Saharanpur Municipal Corporation which witnessed municipal polls take place for the first time. The Saharanpur city is divided into 86 wards and has population of 705,478 as per report released by Census India 2011.
Gorakhpur: BJP candidate Ajay Rai won elections from ward no 69 of Gorakhpur Municipal Corporation. The civic body went to polls on November 22 in the first phase of on November 22 in the first phase of elections. Gorakhpur, which is also known as Uttar Pradesh Chief Minister Yogi Adityanath's constituency, has 70 wards and a population of 673,446.
Firozabad: As of now the Samajwadi Party Candidate Savitri is leading for the mayoral post in the party stronghold of Firozabad. The BJP mayoral candidate in 2017 civic polls in Ferozabad is Nutan Rathore while The Samjwadi party's mayoral candidate is Savitri Gupta. The Firozabad Municipal Corporation is divided into 70 wards for which elections were held on November 29. Kamlesh Kumar Singh is the current Firozabad Municipal commissioner.
Mathura: BJP candidate Mukesh Arya has won the contest for the Mayor's seat in Mathura Municipal Corporation. Arya has defeted his rival and Congress candidate Mohan Singh. This is the first election for the recently merged Mathura and Vrindavan municipal boards which now constitute the Mathura Nagar Nigam.
Jhansi: BSP is currently leading in Jhansi Municipal Corporation. A total of 60 wards under Jhansi Nagar Nigam went to polls in the third phase of the UP urban local body elections on November 29. Kiran Verma is the current Mayor of Jhansi Municipal Corporation while Pratap Singh Bhadauria is the Commissioner.
Ayodhya: BJP's Mayor candidate Rishikesh Upadhyay is leading in Ayodhya Municipal elections. The Ayodhya city, which has been divided into 25 wards, went to polls in the first phase of election, which took place on November 22. The municipal corporation has 60 wards a population of 25 lakh people.
Get the best of News18 delivered to your inbox - subscribe to News18 Daybreak. Follow News18.com on Twitter, Instagram, Facebook, Telegram, TikTok and on YouTube, and stay in the know with what's happening in the world around you – in real time.
| Edited by: Bijaya Das
Read full article