GET Stock

Quotes


UP Polls 2017: A Social Coalition between Core Voters and One on Periphery
Elections, in many ways, are also akin to jostling between social blocks seeking their share in resources up for grab.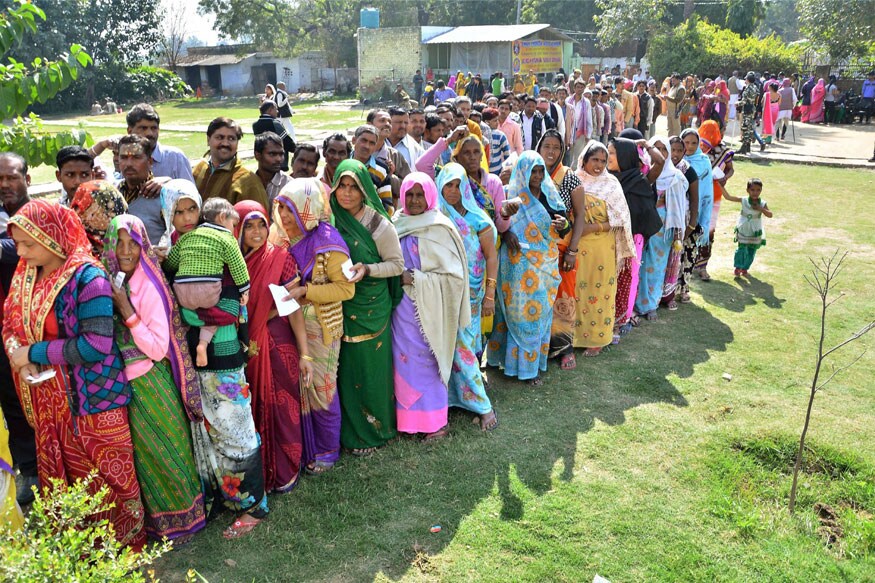 Voters standing in long queues to cast votes at a polling station during first phase of UP Assembly elections in UP (PTI Photo)
Elections, in many ways, are also akin to jostling between social blocks seeking their share in resources up for grab.
Political power vests authority to apportion the state largesse, and competing groups seek to install an authority that would take care of their socio-economic interests. Realignment of political forces in elections can also be seen as an attempt to rectify a perceived or real imbalance - if any - in power sharing.
In the last one month, voters' choice in UP, like any other election in modern day democracy, was determined by these broad factors.
UP polls - if it is not a demonstrably wave election - can at times be quite beguiling. The sheer size of the state's polity and diversity in its demography may vary in terms of social and political faultlines in different regions.
For example, it is humanly impossible to fathom how Robertsgunj in the last phase would poll when voters are standing in queue to cast their vote in the first phase in Ghaziabad.
Normalisation of inputs and feedback collected over a large domain remains another challenge. Some groups, though lesser in numbers, are more assertive in political articulation. A journalist relying primarily on qualitative analysis is less likely to hear a BSP voter bare his or her heart out.
Comparatively, the social profile of a BJP or an SP voter makes him more vocal.
Going back to our theory of elections being a jostling for political power, three political groups in UP this time have attempted to script a win by forming a social coalition between its core voter and the one at periphery. The voter has been lured with a promise of power sharing.
The outcome of these election would depend on broadly two factors - extent of mobilisation of the core vote by each group, how successful a particular party is in convincing and securing votes from those at the periphery.
Let us try understanding the SP-Congress gathbandhand. The grand alliance is placing its bets on Muslim-Yadav consolidation as the bedrock of its campaign in UP. The two communities put together would constitute a fraction less than the one third of the state electorate. Both are demonstrably aggressive and tenacious in voting.
Similarly, the upper caste which is close to 20 percent of the state's polity is the core BJP voter. The party, over the last one year, in UP has sought to build a coalition between upper castes and non-Yadav OBCs. And where ever possible a chunk of non-Yadav dalits. In some parts of the state like western UP but for Ajit Singh's RLD, the BJP has relied on intermediary agrarian communities like Jats to complete the ensemble.
And the BSP after the 2014 drubbing has sought to consolidate its core twenty odd percent Dalit votes. At the same time, Mayawati, by allocating almost a quarter of BSP tickets to Muslims, has also attempted to broaden this social base.
Here it should be clarified that near total mobilisation of a caste or a community is practically not possible. Even in the best of times 70 to 75 percent consolidation of a social group behind a party is considered reasonably high and impactful.
The challenge for the SP in these polls was to hold on to its core vote. One component of which - the minorities - was aggressively sought out by BSP. The internal family feud threatened to disrupt the Yadav mobilisation. Except for a few seats in and around Etawah and a couple in Balia and Ghazipur in Poorvanchal, this second factor doesn't seem to impact SP's prospects in these elections.
Gathbandhan's performance thus would depend on how aggressive and big is the mobilisation of Muslims and Yadavs behind SP; and what is the percentage of the votes it is able to muster outside its core constituency. In this regard, Congress's ability to wean away a chunk of urban and upper caste vote of the BJP would be put to test.
On the other hand, for the BJP, the real challenge lies in apportioning a large chunk of non-Yadav OBC votes to its kitty. This disparate and amorphous social group though together constitutes almost 30 percent of the total polity. In 2007, a large section of the Yadavs voted for BSP. Some at the lower rung of the socio-economic strata like Rajbhars, Mauryas and Kushwahas are natural allies of BSP's dalit vote bank. Others, like Lodhs in West UP and Kurmis in Rohelkhand, have traditionally voted for the BJP. While some others have gone along with the dominant OBC caste - the Yadavs.
In 2012, some of these OBC castes gravitated towards SP. The mobilisation was against Jatavs which were perceived to be the empowered community during Mayawati rule.
In 2017, the BJP has attempted to channelise the non-Yadav OBCs to build a coalition to tap in Yadav dominance during SP rule. BJP's chances in these elections would depend on the extent of mobilisation of the core upper caste votes and proportion of non-Yadav votes it gets. A large chuck of OBC votes can improve BJP's prospects exponentially. Conversely, a three-way split, suits SP.
If Gathbandhan is to drop seats from this tally, the question is how many, and the proportion of these seats picked up by the two claimants.
Had it been a bipolar fight, any loss to SP would be BJP's gain. But here we have a third force in BSP which is eyeing a section of both SP and BJP seats.
In terms of vote share, the proportion of division in minority votes between SP and BSP and that of non-Yadav OBCs among the three parties may finally determine the outcome of these elections. A small swing of two percent can translate into large gains in seats.
In the last two Assembly polls in UP, the scale of victory has been unexpectedly high.
Also Watch
| Edited by: Mirza Arif Beg
Read full article