Upendra Kushwaha Ups Political Stock with 'Luv-Kush' Social Engineering, Miffed Nitish Looks to BJP
While Upendra Kushwaha has chalked out his next steps, Bihar CM Nitish Kumar is looking to the BJP as he would prefer the RLSP leader to go out of the equation than losing his own ground.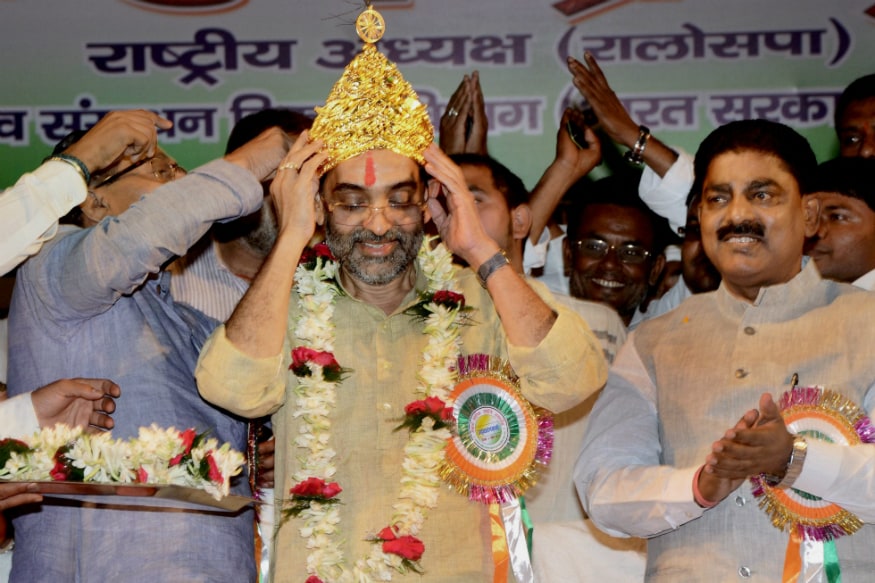 File photo of Upendra Kushwaha.
Patna: On July 8 this year, a JD(U) MLA from Vaishali, who belonged to the Kushwaha community, was tasked by the top party leadership to hold a grand feast for the community leaders cutting across the party line and take feedback from them about ally Upendra Kushwaha who leads Rashtriya Lok Samata (RLSP).
The feast was organised when Bihar's chief minister Nitish Kumar's lieutenant and party's general secretary Ramchandra Prasad Singh, an ex-bureaucrat belonging to Samaswar clan of Kurmi community, was busy on a state wide tour organising Other Backward Castes (OBC) conventions in all the districts. The target set for him by Nitish was to mobilise OBCs in the favour of the party. However, Singh got a lukewarm response from many districts and empty chairs in Hajipur and elsewhere made headlines.
On the basis of the feedback from the grand feast in Vaishali, Nitish himself decided to meet prominent Kushwaha leaders at his residence in Patna sometime in the first week of August. It was planned by JD(U)'s youth wing president Abhay Kushwaha but the meeting was cancelled at last minute due to 'some developments'.  Upendra Kushwaha camp asserts that handwritten notes of Kushwaha leaders, who attended earlier caste congregations, spoke about feeling of betrayal by the present dispensation hinting possible realignment with RLSP. It did not go down well with Nitish.
Nitish Kumar is considered a champion of the Kurmi community which traditionally associated with the Koeries — who are termed as 'Luv-Kush', the twin sons of Lord Rama.
Kushwahas or Koeris claim their lineage from Kush, while Luv represents the Kurmi community. The Luv-Kush axis has a good 10 to 12 per cent vote share and are considered the second-most dominant caste in the OBC category after Yadavs (15%), who along with Muslims (17%) have been supporting Lalu Prasad Yadav's Rashtriya Janata Dal (RJD).
Despite being a junior HRD minister, Upendra Kushwaha started to divide his time equally between New Delhi and Bihar after Nitish Kumar snapped alliance with Lalu Yadav's RJD and Congress, and made dramatic return to the NDA fold. He has been relentlessly fortifying his position not only as Koeri leader but expanding it beyond Luv-Kush axis with new experiments.
These developments have widened the chasm between Nitish and Kushwaha. After allying with the BJP before 2014 Lok Sabha polls, Upendra Kushwaha on all occasions openly opposed talks of Nitish Kumar's return to NDA. Just three months before overnight swapping of alliance by Nitish, Kushwaha had famously said, "Nitish is capable of sinking any boat he rides on.''
However, Dalit protests in April against the alleged dilution in SC/ST Act provided illusionary cover to the simmering chasm of the two leaders, as Kushwaha, along with LJP leader Ram Vials Paswan,  huddled around Nitish to keep an aggressive BJP at bay.
Kushwaha continued his tirade against Nitish, accusing him for destroying education system in Bihar and later attacked him regarding the law and order situation in the state.
But it is the social engineering of Kushwaha that has hit Nitish the most as the Bihar CM thinks the former was plotting to eat into his constituency.  With the state bracing for the next elections which, much like 2015 assembly polls,  would be fought on caste equations, Kushwaha's party is working on to unify Kurmi votes,  presently divided among clans - Awadhia, Samaswar, Jaswar.
Nitish belongs to Awadhia clan who is perceived to have gained the most during his chief ministership. Jaswars have a huge influence in Banka, Bhagalpur and Khagaira belt.
Jeetendra Nath, a former central committee member of Communist Party Of India, has joined Kushwaha and immediately tasked with uniting Kurmi-Kushwaha plus organising Dhanuk-Dalit conventions in Mokama Taal area, where Sushil Modi and Ram Vilas Paswan faced flak from the Paswan community on the occasion of Chauharmal, worshipped as their God, birth anniversary in March this year.
The Dhanuk community has its lineage from Jaswar clan of Kurmi community but is are kept in annexure -1, in EBC category and said to have more than five percent vote share in Bihar. Upendra Kushwaha's game plan is to add five small EBC castes - Dhunia (cotton wool workers), Kahar-Kumhar (potters), Barhi-Lohar (blacksmith), Mali (flower traders) and Mallah (fishermen) - in his strategy to fortify his position as the dominant political force. They are popularly called Panchforna, a mix of spices, which got mention in Kushawha's Kheer theory as Panchmewa.
However, taking a cue and as promised in 2015, Nitish very recently recommended to the central government to include Mallah in the Schedule Caste category.
RLSP spokesperson Jitendra Nath says Kurmi-Koeri in OBC category plus EBC Dhanuk can add up to 20 percent vote share and if united will be a dominant force to reckon with. "They are unhappy with Nitish. They compare what Lalu did for Yadavs and what Nitish did for them. They are now siding with Upendra Kushwaha," Nath claimed.
This social engineering has enraged JD(U) leaders and they see Upendra Kushwaha as a rival within the NDA camp. On the other hand, Kushwaha aruges that he allied with BJP when Nitish decided to go in 2013. This has precariously placed the BJP. While Kushwaha has chalked out his next steps, Nitish is looking to the BJP as he would prefer the RLSP leader to go out of the equation than losing his own ground.
Talking to News18, Kushwaha made it clear that two seats in Lok Sabha would be a complete 'no' from him and anyway he would prefer to take any decision on his chances in state politics, not at Centre. Some in the BJP think Kushwaha's social engineering will only be helpful for their party and his joining the RJD led Mahagathbandhan to lose at a time when Nitish's acceptance, among the masses cutting across party lines, as a no-nonsense administrator is waning.
Get the best of News18 delivered to your inbox - subscribe to News18 Daybreak. Follow News18.com on Twitter, Instagram, Facebook, Telegram, TikTok and on YouTube, and stay in the know with what's happening in the world around you – in real time.
Read full article