Venkaiah Naidu Top Contender for NDA's V-P Pick, But He is Not Too Keen: Report
Union Minister Venkaiah Naidu has neither confirmed nor denied speculations over his candidature.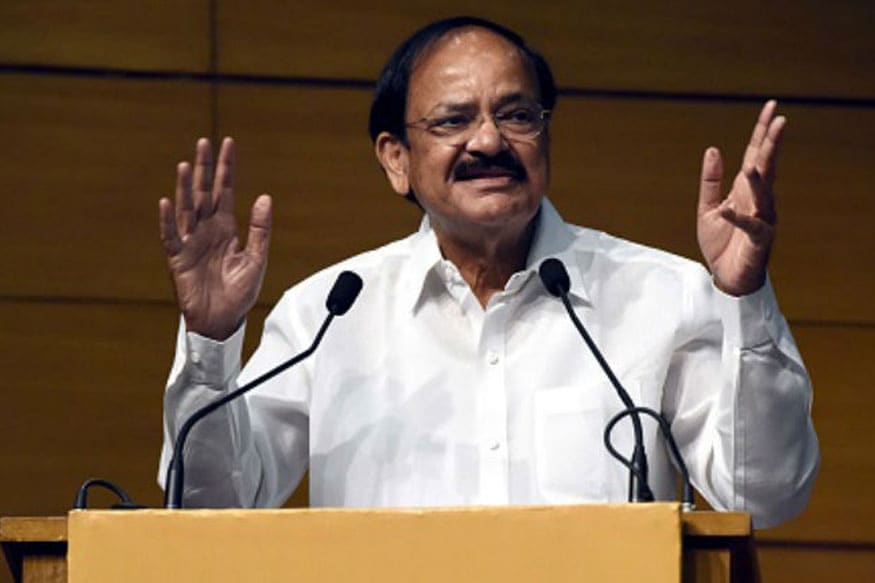 File photo of Vice President Venkaiah Naidu.
New Delhi: Union Minister Venkaiah Naidu has unexpectedly emerged the top contender ahead of the BJP parliamentary board meeting to pick its vice-presidential candidate, according to a newspaper report.
The former BJP president, who currently holds two portfolios in the Union Cabinet, though is more keen on continuing in active politics, a report in the prominent Telugu daily Eenadu said on Monday morning.
The report, quoting unnamed sources, said Naidu was sounded out on this by BJP chief Amit Shah, at which the Union minister replied that he wanted to continue to work under the leadership of Prime Minister Narendra Modi.
He also reportedly suggested other names — like Kerala's O Rajagopal, Tamil Nadu MP L Ganesan and Maharashtra Governor Vidyasagar Rao — if the party was keen on having its veep pick from the south.
Naidu has neither confirmed nor denied speculations over his candidature. "It's not good to drag a constitutional post into the realms of speculation. Wait for the official announcement," his statement said.
There are several reasons why the senior minister gets several ticks on the BJP's check list: He has the stature to be the vice chairman of the Rajya Sabha where the ruling benches are fewer; he is acceptable to many allies and even Opposition members; he is from the South, where the BJP now seems to be regaining the negative perception that it's only a Hindi belt party. As long-time parliamentarian and parliamentary affairs minister, he has a thorough understanding of rules of business and tricky House procedures.
The offer has apparently not enthused Naidu who, according to the Eenadu report, is set to present his own reasons before Modi at the parliamentary board meeting, with the rider that he is willing to accept any decision taken by the PM. But if Modi sticks to Naidu's name, Tuesday morning will see Naidu turn up at the election office to file his nomination papers.
Once he files his papers, it should be a cakewalk for Naidu. Only MPs are eligible to vote for electing the vice president. Of a total of 787 members from both Houses, according to NDA's calculations, 527 are already on its side. That number may even go up if it is Naidu. The BJP and allies have 426 members and parties like the AIADMK, BJD, TRS, YKP, PMK and AINR Congress together have 101.
Get the best of News18 delivered to your inbox - subscribe to News18 Daybreak. Follow News18.com on Twitter, Instagram, Facebook, TikTok and on YouTube, and stay in the know with what's happening in the world around you – in real time.
Read full article