GET Stock

Quotes


Vote Seekers Avoiding Selfie Seekers Like the Plague in Poll-Bound Karnataka
From CM Siddaramaiah to former prime minister HD Deve Gowda, Karnataka politicians are fed up of the selfie-seeking crowd.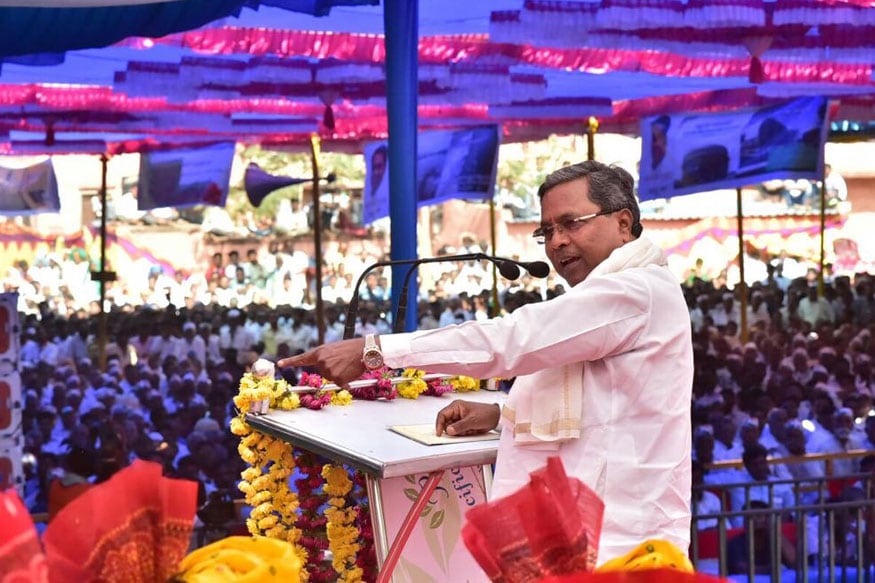 File photo of Karnataka CM Siddaramaiah. (Deepa Balakrishnan/CNN-News18)
Bengaluru:
Many top leaders of Karnataka politics are scared of selfies these days. They try to avoid selfie-seekers and head for the opposite direction the moment they see a smartphone.
And Chief Minister Siddaramaiah leads the pack. He does not like posing for selfies and has started distancing himself from people who rush towards him with a smartphone.
Speaking to the media, Siddaramaiah said, "These days it has become a big nuisance. All kinds of people want a selfie with me wherever I go. Even the women want selfie with me. It can be embarrassing sometimes. It is also a waste of time. The moment a meeting ends, selfie seekers surround me. They literally mob me. Many times, I can't say no out of courtesy and civility. But it is unbearable now."
The powerful power minister and Karnataka Congress campaign committee chairman DK Shivakumar is also averse to selfies. He has even smashed the smartphones of some selfie seekers when they refused to budge or go away without a photo. Sometimes, his rage made it to newspapers and TV headlines, generating a negative image.
"I understand that they like us and want to be photographed with us. But it happens all the time. We are at a public place like airport, mall, cinema theatre etc. They run towards us. We are holding some informal meetings in the corridors of our offices, they come there also with a smartphone in hand. It consumes a lot of time. Because of selfie, we get late for important meetings and events most of the time," says Shivakumar.
BJP MP and former minister Shobha Karandlaje claims that she has stopped going to shopping malls, cinema theatres and restaurants fearing a 'selfie attack'. Speaking to News18, she says, "The moment I go, they mob me. We can't have a cup of coffee or a meal quietly. Can't even go for a movie. People mob us there too."
During his just-concluded 90-day 'Parivarthana Yathre', the BJP's CM face BS Yeddyurappa also faced selfie problems. Sometimes, he even lost his cool and pushed them aside.
The selfie seekers have not spared even the 85-year-old former prime minister, HD Deve Gowda. Sometimes, hundreds of them mob him at public places. Speaking to News18, he says, "They even get jump inside the elevator with me and start clicking pictures. We can't say no."
His son and former chief minister HD Kumaraswamy also wants to avoid the selfie crowd. He says, "Sometimes, it goes on and on for hours. We have many other things to do. Recently, I had a complicated surgery and doctors have advised me to stay away from crowds for fear of infection. Selfie is a big nuisance these days."
The selfie craze has brought many embarrassing and funny moments for the netas too. A minister did not know what to do or say when people mobbed him for a selfie at a funeral.
With the election campaign picking up pace, these leaders know that there will be no escape from the selfie-seeking voters for some more time. Because no to selfie may cost them a vote later!
| Edited by: Nitya Thirumalai
Read full article