WB Panchayat Polls: Fresh Clashes in Several Districts
Bombs were hurled in Birbhum's Mohammad Bazar area following clash between BJP and TMC workers over filing of nominations for the panchayat polls, a distict police officer said.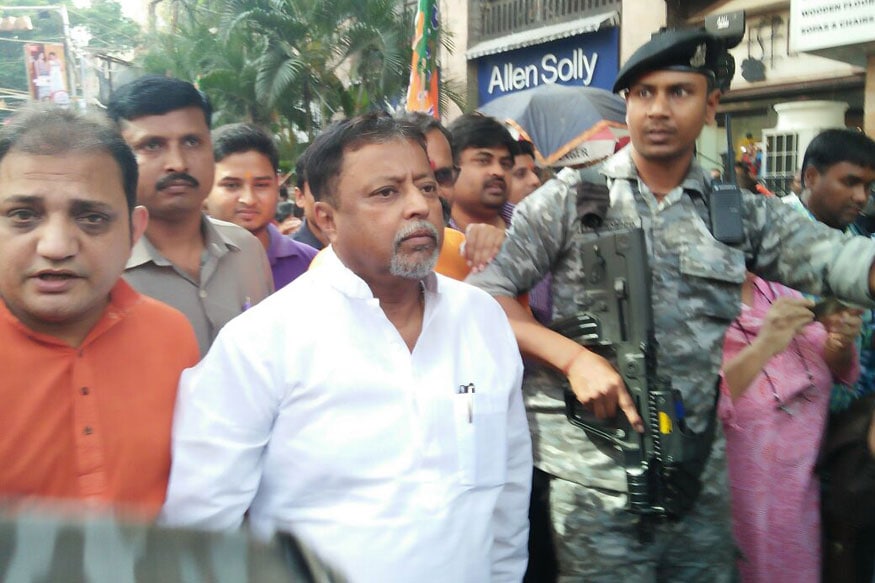 File photo of BJP leader Mukul Roy.
Kolkata:
Clashes broke out in several districts in West Bengal on Saturday between the TMC activists and opposition parties in continuing political violence during the filing of nominations for the May panchayat polls, police said, even as nearly 2,000 people have been held in the state.
The Congress alleged that ruling Trinamool Congress workers attacked a rally led by state Congress president Adhir Chowdhury in Murshidabad district, while bombs were hurled in Birbhum district following a clash between BJP and TMC workers.
In Purulia, septuagenarian CPI(M) leader and nine-time MP Basudeb Acharia was assaulted allegedly by TMC supporters near the block development office at Kashipur on Saturday, CPI(M) sources said. Acharia was accompanying CPI(M) candidates who were on their way to file nominations at the BDO office for the panchayat polls.
He was later admitted to Purulia sadar hospital with abdominal injuries, hospital sources said. The Trinamool Congress denied the allegations. State election commissioner (SEC) A K Singh told reporters that he received reports of violence from six places across the state.
The SEC, who held a meeting with poll observers, instructed them to perform their duties without any fear and intimidation. "Don't be afraid to perform your duties. If you face any sort of problem please feel free to call me. You are eyes and ears of SEC. You should work freely and fairly. I am there to help you," Singh told the poll observers.
Bombs were hurled in Birbhum's Mohammad Bazar area following clash between BJP and TMC workers over filing of nominations for the panchayat polls, a distict police officer said. ADGP (law and order) Anuj Sharma told reporters that additional police force were being rushed to Birbhum.
He claimed that outsiders from Jharkhand have sneaked into Birbhum to create trouble. He said that one person, identified as Biswanath Mahara, was injured during a clash and was admitted to Suri Hospital.
Sharma said that the number of check posts along the interstate border was being increased to prevent the entry of people from outside. "The superintendent of police in Birbhum district has talked to his counterpart in the neighbouring Dumka district of Jharkhand", he said.
Asked who could be behind the Mohammad Bazar clash, Sharma showed a video footage to the media and said "I can only show you this (footage) which we received." The footage showed a mob waving saffron flags. He said police were taking action wherever there is report of any untoward incident and additional forces were being sent to violence-hit areas.
Sharma said that eight arms were seized, nine rounds of ammunition recovered and 15 bombs were found during raids in the past 24 hours in the state. There have been 1732 preventive arrests, 199 arrests and 475 warrant executions till April 6 to curb panchayat poll-related violence, he said.
BJP leader Mukul Roy alleged that the outsiders brought by the TMC prevented his party candidates from filing nominations. "The police chased our party workers at many places when they went to file nominations", he alleged.
In Kandi area of Murshidabad district, a Congress stronghold, unidentified miscreants attacked a rally of Congress supporters led by state Congress president Adhir Chowdhury. Infuriated over the attacks, Chowdhury along with Congress supported gheraoed a local police station and demanded arrest of the culprits.
"The opposition is not allowed to file nominations, is this a sign of healthy democracy? Why are they so afraid of opposition filing nominations?" Chowdhury said. State BJP president Dilip Ghosh said the party will not "leave a single inch without putting up a fight".
"If we are attacked with bombs, guns and swords then TMC should not expect us to serve them sweets," Ghosh said. TMC secretary-general Partha Chatterjee accused the opposition BJP of trying to foment trouble in the state by "importing outsiders" from neighbouring states. The rural polls are scheduled to take place in the first week of May in three phases.
In Coochbehar, police used baton charge to disperse activists of the TMC and the BJP after clashes broke out between the groups over filing of nominations. BJP Coochbehar district president Nikhil Ranjan Dey claimed that the TMC had attacked BJP candidates and had tried to stop them from filing nominations during the day. TMC leader Binay Burman denied the allegations and accused the BJP of trying to destroy peace of the area.
| Edited by: Tarun Bhardwaj
Read full article
Countdown To
Elections Results
To Assembly Elections 2018 Results