'We Must Teach Modi Govt a Lesson': Stalin Targets BJP in First Speech as DMK Chief
Newly crowned DMK president MK Stalin, in his first speech to cadres, hit out at the Centre for destroying institutions and eroding basic federal spirit.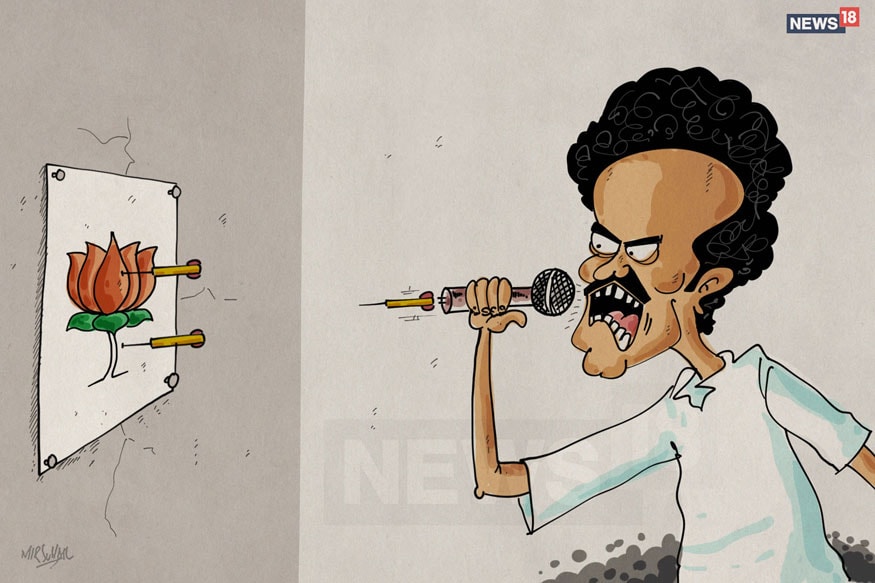 Illustration by Mir Suhail/News18.
Chennai: The newly crowned DMK president MK Stalin on Tuesday, in his first speech to the cadres, hit out at the Centre for destroying all institutions in the country and urged his party to teach a lesson to the Modi government.

"Today's political situation has come as a grave challenge. Education, art, literature, religion are under attack by authoritative and communal forces. Union government is trying to destabilise judiciary, selection of governors. All this has dealt a blow to the secular principles. Let's teach a lesson to the Modi government," said Stalin to cadres.

Chants hailing Stalin as 'Thalapathy' rented the Kalaignar Arangam where the meeting was underway even as the General Council members cheered with loud applause.

DMK Principal Secretary Durai Murugan was elected Treasurer, succeeding Stalin, a post he vacated recently in view of his proposed elevation.

Stalin remembered his father and party patriarch MK Karunanidhi on the occasion of his elevation to top party post.

"I have more pride in calling Karunanidhi as a leader than calling him as a father," said Stalin.

Congress president Rahul Gandhi hailed the beginning of a "new chapter" in Stalin's journey and congratulated him on the achievement.

"Congratulations to Shri M K Stalin on being elected President of the DMK. I wish him happiness & success as he begins a new chapter in his political journey," tweeted Rahul Gandhi.

Stalin's election, amid a rival claim for the position by brother and expelled leader Alagiri, triggered celebrations outside the DMK headquarters in Chennai.

With Stalin now firmly in the saddle, keeping the flock together and registering electoral victories are among his main challenges.

While Karunanidhi struggled to become a tall leader over a period of time, Stalin's journey in politics has been quite different. Having started campaigning for his father at the age of 14, he slowly emerged from the shadows of his larger-than-life father. It was Karunanidhi who created that space for Stalin in the DMK.



Read full article
Countdown To
Elections Results
To Assembly Elections 2018 Results