nda:
Needmore seats to Win

Needmore seats to Win
upa:
We Want Happiness. Lot of Butterflies, Bees and Happy Kids: Tasaduq Mufti
Another son is about to rise on the political horizon of Kashmir. Tasaduq Mufti, the son of the late Mufti Mohammad Sayeed is all set to plunge into active politics.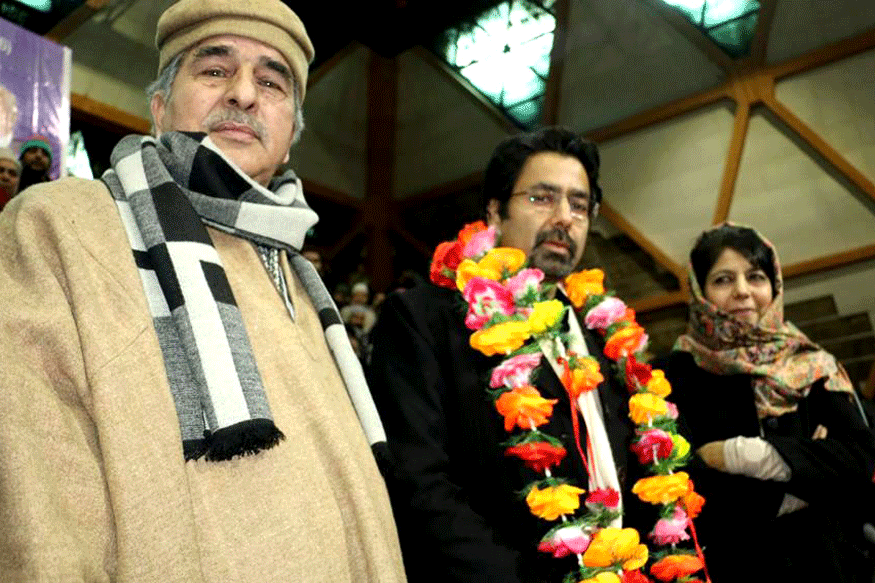 Tasaduq Mufti (Centre) and his sister and Jammu and Kashmir Chief Minister Mehbooba Mufti pose for a photograph. (Photo: Mufti Islah)
Another son is about to rise on the political horizon of Kashmir.
Tasaduq Mufti
, the son of the late Mufti Mohammad Sayeed is all set to plunge into active politics. Though reluctant to dabble into electoral politics initially, he says he will have to give in to family and party pressure.
An opportunity to test the electoral waters presents before him in the next month's parliamentary bypolls. There is pressure on him to contest from the family stronghold of Anantnag - the seat vacated by his sister Mehbooba Mufti.
Anantnag is making the family and party command go emotional. The party is also busy calculating the numbers because it wants the Mufti scion to make a successful political debut. If things fall in place, the 45-year-old cinematographer may take a shot soon. Or he won't.
In an exclusive interview to
Mufti Islah
of
CNN-News18
, the Mufti heir gives a decent account of himself, his family and the vision he has for Kashmir.
Q
:
What are your childhood memories of your father, your family and the politics he professed?
A
: It is like a regular son growing up, horse riding with him in Pahalgam, fishing and golf, following him up with a golf stick and going to Gangabal (a famous mountain trek) on horses. As a small boy then, I would often end up getting bored with his long speeches.
Q
:
Your formative years were spent away from Kashmir? You worked as a filmmaker and cinematographer. And then one day your father passed away? Your family now wants you into active politics. Is there any change in the script now
?
A
: I just do not know what it means to be an active politician. I am doing a few different things now. I developed interest in improving city infrastructure. It has started to take shape. Now, that we have a certain infrastructure in place, we can use different skills to make a difference. I think whatever I am doing is shaped by my own abilities or interest as an artist. It has moved on from purely seeing things and capturing it on lens to wanting to change and re-evaluate and renew certain things based on what my ideas are.
Q
:
What do you think of life as a politician? It seems to have come naturally to your dad and sister
?
A
: I am yet to start. I do not think I have his (dad) patience. He was a great politician, a statesman. I do not think I have the skill. I possibly need to control my inner voice more as I tend to speak my heart out. That cannot be the best thing in politics. I hope I would get more mature with time.
Tasaduq Mufti said he wants people's suggestions to make Kashmir clean and appealing
.
Q
:
You have ideas on garbage disposal and cleaning up the rivers besides taking keen interest on smart city proposed for Srinagar
?
A
: Unfortunately these things are less talked about. These things are of secondary importance in this part of world. Our city is historic yet very filthy. There is a system in the West to keep cities clean. But we are struggling here. We have knowledgeable city planners, but we still sit on piles of garbage. It does not make sense. That is why I am interested in urban renewal exercise. I want people's suggestions to make the city clean and appealing.
Q
Is there any pilot project you are working on
?
A
: Rambagh. The area outside the silk factory where this ill-conceived flyover is coming up. It needs intervention. The lives of people have been destroyed. They are dealing with a daily trauma. We have done a few sociological and demographic surveys and got important inputs from architects, landscape architects, conservation artists for creating a well-balanced living area. We are on it.
Q
:
Can you explain the proposed changes that the area will witness in future
?
A
: People's lives are intertwined with the city they live in. That is how social fabric works. If one makes an intervention, the space should be made more liveable in consonance with the resources and age-old architecture. We need to create little forests where we live. We have stopped getting birds in our localities... and bees and butterflies. How do you expect to make your children happy?
Q
:
When are you planning to hit streets as a hardcore political worker? I mean when you soil your shoes and take in the dirt in your nails
?
A
: I may have to do that. I would have ideally liked to take three to four years and get to know things better and contribute in a major way. Over here, people should be given more time to understand the dynamics of the place. Given my political lineage, for instance, whose son I am, I hope to draw lot of support.
Q
:
Is it happening because your family wants you to extend support to your sister, who has lost a father, mentor and political guru
?
A
: Yes. It may be the case.
Q
:
And you will still take a plunge given that 2016 has apparently weaned away a lot of support structure to PDP. Because people are very angry and agitated
?
A
: I have to take the plunge. Personally, I would like to take more time and understand the political landscape. But since I am going to do it, I will do it with integrity and hope I come good.
Q
:
Many party workers believe you could be the next tourism minister given your interest? But then it is between whether you choose to contest the April bypolls or join the government
?
A
: More than the ministry, I would like to utilise the generous funding to breathe life in the ideas I have. Using our age-old skills of handicrafts and architecture to create more opportunities. Tourism is about cultural exchange and conservation of heritage. In Ladakh, lot of old buildings are being preserved with modern techniques. That needs to be replicated.
Q
:
And where does tourism sector need intervention
?
A
: We need to have a clear idea of how we utilise beautiful spaces and who we are catering to. The tourist footfall needs to be respected. What kind of tourists we get, what place it is, what they would see from their windows and what their mornings would be like. It has to have that kind of sensitivity. There has to be capacity building and what do tourism players have to offer in terms of our history. It has to be a multi-pronged strategy. You need to involve community to make it sustainable. And you need to take into account your geography and topography while building. The age old architecture that the wise old men had brought should not be lost.
Q
:
In his political life, your father worked for good relations between India and Pakistan? But your party's ally - the BJP - is clearly not subscribing to tha
t?
A
: Before we start talking at that level, we also need to engage with our people inside the Valley. I should have a face-to-face conversation with the National Conference. But we are faced with so many civic problems. Let us fix them first. We should be clear what we want? What is the Kashmir that we want? My Dad used to say:
Aap ka wajood kya hai, aap kaun hain, aap ki zaban kya hai
? (What is your origin, who are you and what is your language)? I would say improve your living conditions. Work for better hospitals, civic amenities, jobs. And if we are able to fix that a whole lot of our problems would get over. And we are being told to talk to Pakistan. About what? What are we being talked about? Who are we? I don't know.
Q
:
Talk about the Kashmir issue? Don't you think India and Pakistan need to resolve it for peace to prosper here
?
A
: The stalemate is not only because of Pakistan but because of our neglect as well. How much we care about our people? I don't think we do.
Q
:
But people are asking for resolution of the issue? They say development can wait
?
A
: Kashmiris should be clear and need to find out where they want to go. Kashmiris needs to be happy about what they want. I tell Kashmiris that here you are independent. Now what do you want to do with it? Let us assume we get that little piece of autonomy or independence, what after that?
Q
:
So you are saying there is no need to involve Pakistan
?
A
: Dialogue must be held at all levels but not at the cost of ignoring ourselves.
Q
:
PDP and BJP alliance is full of contradictions? And yet your father gave a nod to it despite acknowledging it is a north pole and south pole coming together
?
A: It was a fair verdict. Without Jammu, the valley cannot exist in isolation. It should be called state of Jammu, Kashmir and Ladakh. It was the most logical way to go forward. I think that showed his statesmanship. There was no clear verdict then. The best you could do was to have clear agenda of alliance. And he spent a lot of time to iron out the intricacies and to have an agenda on ground. He ensured a clear roadmap. And I will have to ensure that those great ideas are taken forward.
Q
:
There have been a lot of bumps in the relations between BJP and PDP on issues like Pandit and Sainik colonies, Article 370, rehabilitation of West Pakistan refugees, talks with separatists and so on
?
A
: Of course, there would be bumps in relations. There are contradictions but you need to pull out the best of all the possibilities. Contradictions and contrast are part of politics. You cannot move forward without that.
Q
:
Has Mehbooba Mufti mellowed as a chief minister and is no longer the tough party president she was known to be
?
A
: There is a point of view. I will wait and watch how things move in the next coming months. Everything will get clear. True, she has mellowed down. She is more cautious now. There are some obvious reasons. I can't comment on what her strategies are. We do not talk about these things.
Q
:
What is your vision for Kashmir
?
A: It is a paradise on earth. We want happiness for all. Lot of bees and butterflies. Happy kids. No one wants miseries.
Q
:
Your father was a strong advocate of soft-borders between India and Pakistan, making divided Kashmir a free economic zone? Do you support his ideas
?
A: Borders need to be made irrelevant within the valley as well. Borders within parties, bureaucracy. There are too many borders within ourselves. South Kashmir-North Kashmir. We must address these borders. Foremost is we secure the identity of the state. We are in a mess. We are apathetic to our own situation, our own resources.
Q
:
The Army chief and Jammu and Kashmir director general of police are favouring tougher action against people who hinder operations? Do your fear such actions would fuel another bout of violence in the Valley
?
A
: All I can say is that they have to exercise extreme caution. They have to exercise sensitivity in dealing with people because we cannot afford to go back to six or eight months of stalemate. Anyone making these statements has to be very cautious. People have to be handled with care. We cannot afford another cycle of violence.
Q
:
Do you think Prime Minister Narendra Modi is the best thing to have happened to the country
?
A
: For me, imagine the kind of challenges the prime minister has to face on daily basis. PM Modi has put forward great set of ideas. That is a good start. That is most important thing. We now need to see how these ideas are set in motion. The Congress did not do amazing things and in the end had to lose power.
Q
:
When will you start to canvass? Would it be a struggle given that you had a rather cushy life
?
A: I will take one step at a time. It is a difficult time ahead. A month should be long enough to discover a new part of myself. More than anything else, I will see what the challenges are and hopefully I will keep my cool. To the other half of your question whether I had a cushy life, I would decline politely. I am still a wanderer, a struggler like my dad and that is why he was proud of me. In fact, once I told him why you don't help me and he said do it yourself and be proud of yourself and I am. Tomorrow or the day after I will start a new innings and I am looking forward to it.
ALSO READ
:
Mehbooba Mufti's brother Tassaduq, the real scion of Mufti Sayeed?
(Get detailed and live results of each and every seat in the Lok Sabha elections and state Assembly elections in Andhra Pradesh, Odisha, Arunachal Pradesh and Sikkim to know which candidate/party is leading or trailing and to know who has won and who has lost and by what margin. Our one-of-its-kind Election Analytics Centre lets you don a psephologist's hat and turn into an election expert. Know interesting facts and trivia about the elections and see our informative graphics. Elections = News18)
| Edited by: Bijaya Das
Read full article
Countdown To
Elections Results
To Assembly Elections 2018 Results