GET Stock

Quotes



West Bengal Civic Polls Result: Mamata Makes Inroads in Hills With 4 Wins
The Trinamool Congress was all smiles after storming to power in four of the seven municipal bodies where counting was held on Wednesday, with the Gorkha Janmukti Morcha winning the rest.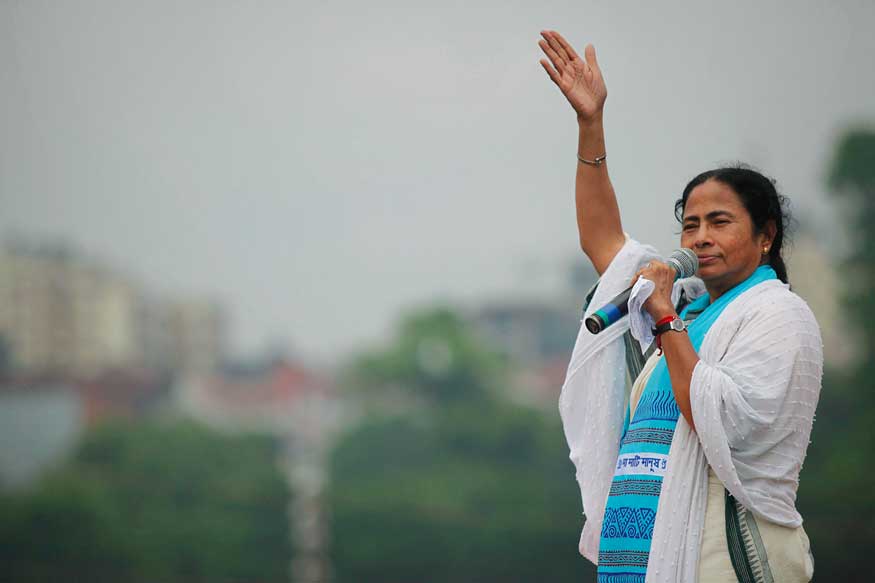 TMC won the elections in Mirik, Domkal, Pujali and Raiganj with six, 18, 12 and 24 wards, respectively. (Image: Reuters)
Kolkata: Trinamool Congress emerged victorious in four out of the seven municipalities in the Bengal civic polls, while Gorkha Janmukti Morcha (GJM) managed to secure the remaining three.
Making major inroads in the hills, Trinamool registered a historic win in Mirik municipality. For the first time in 30 years, Trinamool (a party from the plains) managed to win a municipality in the hills.
Also, Congress, for the first time since Independence, lost the Raigunj municipality to TMC.
GJM won in Darjeeling, Kurseong and Kalimpong. TMC won one ward in Darjeeling, rest 31 wards were wrested by the GJM. In Mirik, Domkal, Pujali and in Raiganj TMC won with six (out of nine wards), 18 (out of 21 wards), 12 (out of 16 wards) and 24 wards (out of 27 wards), respectively.
ALSO READ | Mamata Won Mirik, but People Want Separate Gorkhaland: GJM Gen Secy
The GJM won Darjeeling, Kurseong and Kalimpong with 31 (out of 32 wards), 17 (out of 20 wards) and 19 wards (out of 23), respectively.
Soon after the results, West Bengal Chief Minister Mamata Banerjee tweeted, "Congratulations to Ma Mati Manush for again & again putting their trust in us. We are honored, privileged & humbled. Congratulations to my brothers and sisters in hill areas of Darjeeling, Kurseong, Kalimpong and Mirik for participating in the democratic process."
"Special thanks to Mirik for reposing faith in us. We will work sincerely for you. After so many decades we begin a new era in the hills. The hills are smiling," she tweeted.
Once a close aide of GJM chief Bimal Gurung, Harka Bahadur Chhetri who formed his own party Jana Andolan Party (JAP) managed to win only 2 wards in Kalimpong. TMC got two wards, while one ward went to an independent candidate.
The Left Front once again performed poorly. It managed to win only two wards as compared to the Congress and the BJP (won in only four and three wards respectively in Domkal, Pujali and Raigunj).
"Despite massive law and order problem during the polls, we managed to win 2 seats in Pujali and one in Raigunj. The results show that people want the BJP to run this state but our supporters are scared of TMC goons," said state BJP secretary Sayantan Basu.
Expressing happiness after his party's victory, Trinamool general secretary Partha Chatterjee said, "I don't have words to express my happiness. During Left regime, the party leaders used to avoid visiting Hills but we pledged to serve the people and therefore the people in Mirik supported us."
A TMC statement said, "For the first time in decades, a party which is not based in the hills has won majority in a municipality of the hills. Trinamool won Mirik municipality and won several seats in Kurseong, Darjeeling and Kalimpong. The people of Bengal have yet again rejected the opposition forces and ploys to play divisive politics."
Speaking to News18, GJM chief Bimal Gurung, said, "Mamata played land ownership rights strategy to win Mirik. People in the hills are not fools that they will forget our fight for Gorkhaland. I would like to thank people for reposing faith on us."
Chief Minister Mamata Banerjee had in March declared Mirik as a new sub-division of the Darjeeling district. Mirik was earlier a block under the Darjeeling district. The party had promised to fulfil the long-standing demand of land rights to people in Mirik, which is a popular tourist destination.
TMC leader Gautam Deb, however, said, "GJM leaders are now panicking because now it won't be an easy task for them to be involved in malpractice and misuse of official positions. Mirik results shows that people in the hills now understand that they were cheated by the GJM."
BJP state president Dilip Ghosh said the party had emerged as the main opposition in Pujali. "Now, there will be a direct contest between the BJP and the TMC."
Soon after the results were declared in Mirik, Trinamool Congress leaders began celebrations with state leaders Mukul Roy and Partha Chatterjee conveying their wishes to local leaders.
In Mirik, the party leaders are planning to a have a grand celebration tonight and in coming few days Mamata is planning to visit the hills to congratulate the people for their support.
Also Watch
Read full article