When a Call Recorder App Became Congress' Biggest Weapon in Karnataka Challenge
In election after election, Congress was only seen following the trends set by the BJP in terms of use of the technology, but this decision was a clear winner for the party.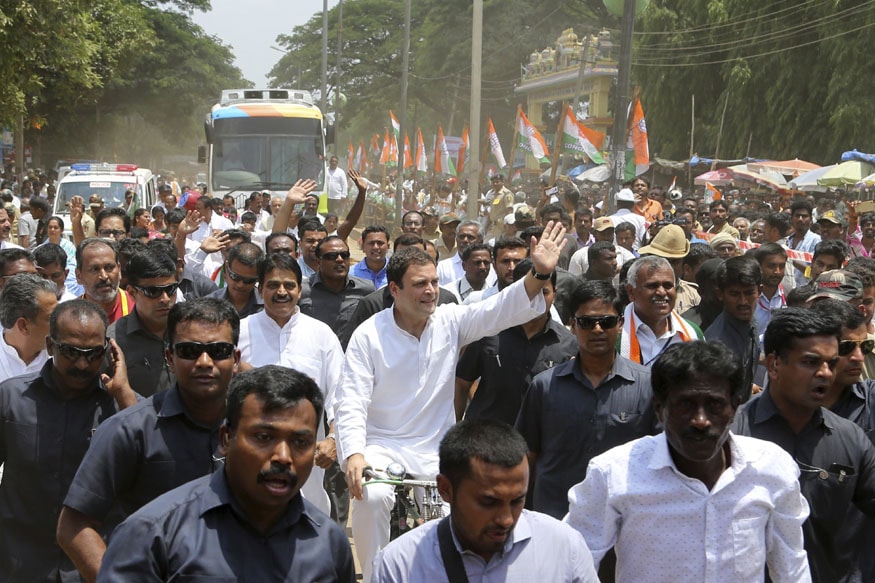 Congress party president Rahul Gandhi, center, rides a bicycle during Karnataka election campaign. (PTI Photo)
New Delhi: As soon as the Congress MLAs collected their winning certificate, they were asked to come down to Bengaluru. By next day they were all taken together in a bus to the, now famous, Eagleton Resort. This is not the first time that parties have hoarded their MLAs together, to prevent them from being poached.
However, a cardinal difference this time was that no one confiscated the mobile phones from the MLAs. The MLAs kept their phones and even interacted with all, including the journalists, during the entire period.
This is where Congress leadership played the game. They made all the MLAs download an automatic call recorder which recorded each and every call that was made or received by them. This helped them track the calls allegedly coming from BJP leaders asking them to jump ships.
By Friday, Congress began releasing the audio tapes of these alleged calls, which helped them build a perception about BJP's attempt at buying out the Congress members of legislative Assembly. First, was a sensational audio clip in which it appeared that mining baron Janardhana Reddy was trying to lure a Congress MLA by offering to make him a minister so that he "can make 100 times more money".
In the audio clip, Reddy, who is close to BS Yeddyurappa, speaks to Raichur Rural MLA Basangouda Daddal, a prominent leader of the Valmiki community. Daddal was previously a member of the Badavara Shramikara Raithara (BSR) Congress, the party floated by Reddy aide B Sriramulu in 2011 after the split in BJP over the mining scam.
On Saturday, it released yet another audio clip of alleged poaching attempt by the BJP, this time accusing Chief Minister BS Yeddyurappa of trying to lure Hirekerur MLA BC Patil by offering him a cabinet berth. The audio clip surfaced just hours before Yeddyurappa was to face a floor test in the Karnataka Assembly.
These releases were smartly produced in a media friendly format, thus they were put out very fast and helped the Congress propaganda machinery.
In election after election, Congress was only seen following the trends set by the BJP in terms of use of the technology but this decision was a clear winner for the party.
Kumaraswamy was the first one to raise the Rs 100 crore bogey. On Wednesday, he alleged that some JD(S) legislators had been approached with offers of Rs 100 crore in cash and cabinet berth if they switched sides.
BJP, however, denied all the charges levelled by the Congress and JD(S), though Yeddyurappa did concede in his resignation speech that he tried to contact some of the Congress MLAs.
Get the best of News18 delivered to your inbox - subscribe to News18 Daybreak. Follow News18.com on Twitter, Instagram, Facebook, Telegram, TikTok and on YouTube, and stay in the know with what's happening in the world around you – in real time.
Read full article