Who Was Sardar Patel's Father? Arun Jaitley Hits Out at Congress for Dig at PM Modi's Parentage
The PM had also attacked the Congress and said that they dragged his mother's name because they didn't have the strength to fight him.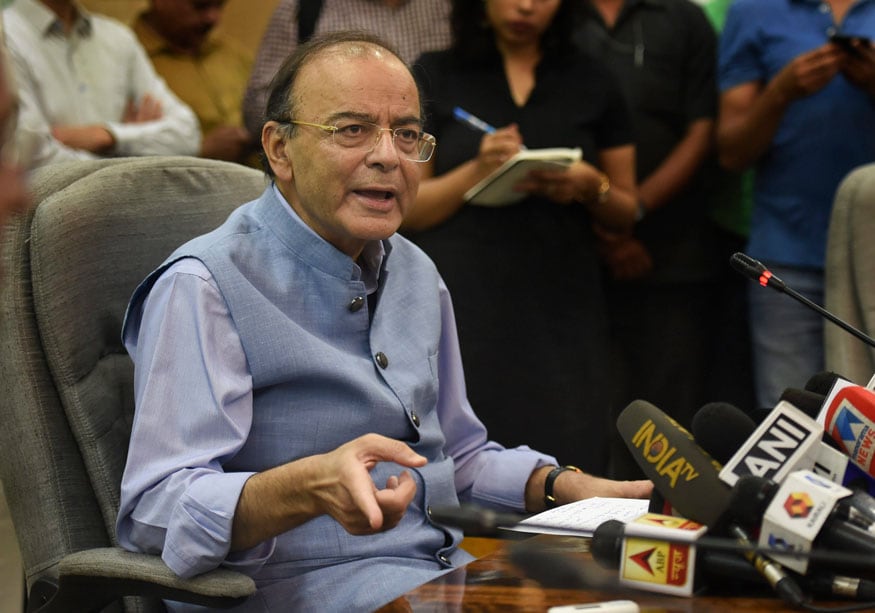 File photo of Finance Minister Arun Jaitley (PTI)
New Delhi: Days after Congress leader Raj Babbar kicked up a row by launching a personal attack at Prime Minister Narendra Modi and comparing the devaluation of rupee to his mother's age, Finance Minister Arun Jaitley has waded into the debate and said that it would be ideal for India if the "charisma" of political dynasties were "completely shattered".
Responding to the charges of another Congress leader, Vilas Muttemwar, that "no one knows about PM Modi's father", Jaitley said in a Facebook post that he posed three questions to his acquaintances but never got a definite answer to any. His questions were: "What is the name of Gandhiji's father; What is the name of Sardar Patel's father; What is the name of Sardar Patel's wife?"
Jaitley said the India of 2019 was very different from the India of 1971. "The debate whether India should be a dynastic democracy has been ignited by a self-goal of the Congress. The Prime Minister's mother's age was made a subject matter of the electoral debate. His father's anonymity was commented upon as an inadequate credential of the PM. The argument given was that if you represent the legacy of a well-known family, it is a political point in your favour. Millions of talented political workers who come from modest family backgrounds would fail by the Congress test of leadership. Merit, talent, ability to inspire and lead would not be a virtue. The Congress considers only a great surname as a political brand," Jaitley wrote on Tuesday.
The FM stressed that the real strength of Indian democracy would be when the charismas of some families is completely shattered and parties, through a democratic process, throw up leaders of merit and competence.
"This was more than adequately proved in 2014 where most dynastic parties lost miserably. India of 2019 is different from India of 1971. If the Congress Party wants the 2019 elections to be between Prime Minister Modi, who is the son of lesser known parents and someone who is known only for his parentage rather than capacity, merit and competence, the BJP would gladly accept the challenge. Let this be the agenda for 2019," he added.
PM Modi had hit back at the Congress for dragging his mother into the political slugfest ahead of assembly elections and said Babbar's remark was completely unacceptable.
Addressing a rally in Madhya Pradesh, the Prime Minister said attacking his mother was the last resort for Congress. "When one doesn't have issues to talk about, he resorts to abusing somebody else's mother. They dragged my mother into the muck. It shows that the Congress is helpless and cannot fight Narendra Modi. Since last 17 years, I have challenged Congress and have defeated them."
Get the best of News18 delivered to your inbox - subscribe to News18 Daybreak. Follow News18.com on Twitter, Instagram, Facebook, Telegram, TikTok and on YouTube, and stay in the know with what's happening in the world around you – in real time.
| Edited by: Mayur Borah
Read full article