The Mystery of 106 Bank Accounts Opened 'Unofficially' by Officials
The Karnataka Government has been taken to task for serious mishandling of funds under the National Rural Drinking Water Project – wherein 106 bank accounts were opened by officials without authorisation to park Rs 622 crores.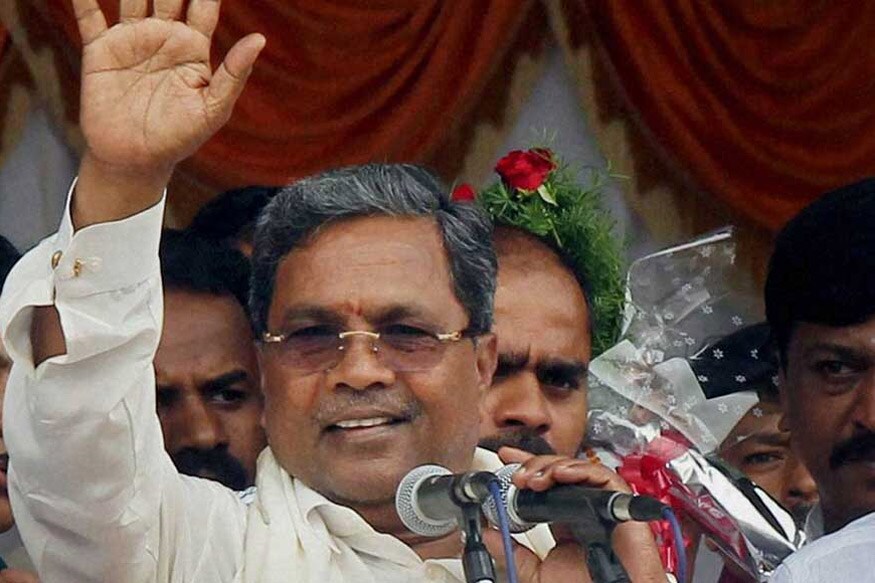 File photo of Karnataka Chief Minister Siddaramaiah. (PTI)
Bengaluru: The Karnataka Government has been taken to task for serious mishandling of funds under the National Rural Drinking Water Project – wherein 106 bank accounts were opened by officials without authorisation to park Rs 622 crores. There is a trail of suspect transactions that the Comptroller and Auditor General (CAG)'s office has red-flagged.
The CAG report that was tabled in the State Assembly last week states: "Funds were parked in various bank accounts and transactions made without authorisation… the department also failed to monitor the requirement of transferring unutilised funds back to the government from zilla panchayats.. two of the text checked panchayats did not exhibit details of five accounts… resulting in concealment of facts."
The drinking water project has been getting funds since 2011 – the year in which 106 unauthorised accounts were opened – under the previous BJP regime. While the irregular opening of accounts had been taken up for an enquiry by the State government, there is a mismatch in bank balances as shown by bank pass-books and those shown by the government's audit reports, the CAG report states.
Net effect – the government has been able to meet just 14 percent of providing adequate water to villages – as against its target of reaching 50 per cent of the rural population by now. Besides, only 62 percent of water purification units have been commissioned so far.
"We had noticed about 106 accounts opened by various officials (of the Rural Development Department), plus the premium accounts. There is a lot to be done regarding reconciliation, which the government is not looking into. And, I hope, after doing a thorough investigation, they will come out with a clear picture," Principal Accountant General for Karnataka L Angum Chand Singh told News18.
Significant sums of money were lying parked without utilisation. Utilisation details of the money spent have not been made available, and 97 of these accounts were opened at the same branch of the same bank. The CAG report seeks a detailed and speedy investigation so that persons who have caused losses to the government can be brought to the book. It also wants reforms in functioning – so that something as basic as unauthorised officials opening an account could be prohibited.
The government, which put the blame squarely on the previous regime for the dubious transactions, insisted that the Rs 622 crore have been "recovered," and there is an ongoing enquiry.
"What big lapses the earlier government made... the money was kept without people in government... that money is now brought in the record by the CAG... This programme is a spillover of old time. That money is brought back and now deposited in the treasury; other than that also, there is some money which we are trying to find out," said Rural Development Minister H K Patil.
Pressed further for why accounts are not tallying between government records and bank balances as of March 2016 (three years after the Congress came to power), and why no satisfactory responses were given to the CAG officials that sought answers, Patil said, "That is the type of wrongs our officers have committed that time."
That the fund-juggling has survived, and flourished, over two governments, led by two rival political parties, is clear in the opening statement of the CAG report itself – which speaks of hidden transactions, mismatch in balances, and above all, that there may be many more than just the 106 accounts it has found.
Officials in the CMO confirmed that no criminal complaint has been lodged against any officials suspected to be involved in the wrongful transactions – nor has anyone been identified and suspended. In fact, so far, the department has been unable to prove any official's wrongdoing.
Yet, as late as March 2016, there is a difference of 840 crores in the account balances as shown in bank pass-books as against the figures furnished by the government CA!
"Non-furnishing of full information needs to be investigated, especially since... (there is) incorrect reporting of the financial status to Government of India," the CAG report states.
"HK Patil had promised (to clean up) but nothing has happened till now. The big question, therefore, is why is the government hiding, or shielding some officials? Now that CAG has brought it up, it is more serious," said Basavaraj Bommai, MLA from the Opposition BJP.
The biggest impact is in that drinking water schemes have not been completed and people in rural areas continue to suffer because of this, he said.
"There is a mismatch between amounts in bank passbook and that given by government chartered accountants. In fact, the CAs are not honest in giving a right picture, their professional ethics are also under a cloud now. So all the more, we need the government to come out transparently on these accounts, otherwise, we will have to conclude that it is also hand-in-glove in this misappropriation," Bommai said.
Get the best of News18 delivered to your inbox - subscribe to News18 Daybreak. Follow News18.com on Twitter, Instagram, Facebook, TikTok and on YouTube, and stay in the know with what's happening in the world around you – in real time.
Subscribe to Moneycontrol Pro and gain access to curated markets data, trading recommendations, equity analysis, investment ideas, insights from market gurus and much more. Get Moneycontrol PRO for 1 year at price of 3 months. Use code FREEDOM.
| Edited by: Mirza Arif Beg
Read full article