GET Stock

Quotes


Why Kabristan-Shamshan Talk Resonates with Masses
Politicians accusing each other of discrimination on the basis of religion, caste or ethnic identities during election season would hardly attract anyone's attention.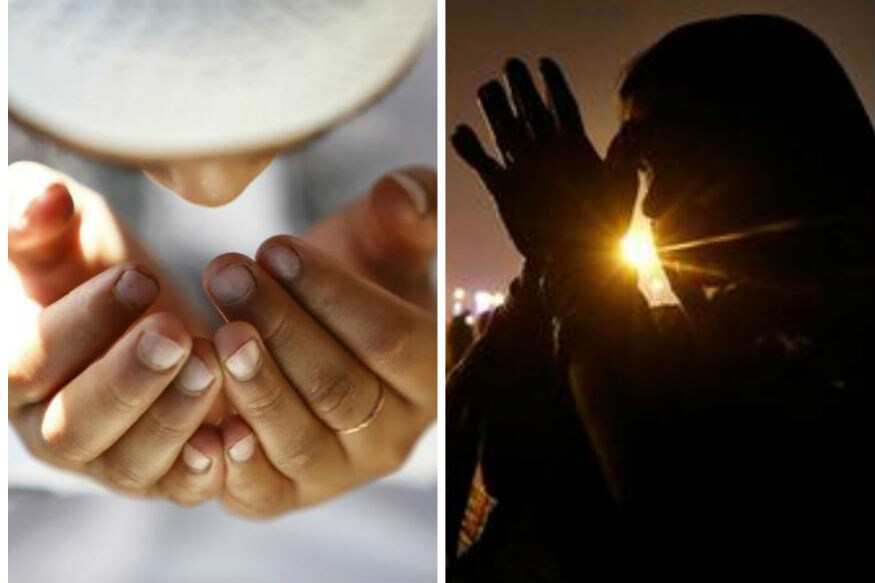 Muslim boy offers prayer (L) and a Hindu pilgrim praying after taking a dip in the Ganges river (R). (Image: Reuters)
New Delhi/Meerut: Politicians accusing each other of discrimination on the basis of religion, caste or ethnic identities during election season would hardly attract anyone's attention. But a month ago, on February 21, in middle of assembly election campaign in Uttar Pradesh, Prime Minister Narendra Modi's choice of example to highlight "bhedbhaav" by erstwhile Akhilesh Yadav government raised many eyebrows. Modi said if there is a kabristan (graveyard) in a village, then it must have a shamshan ghat (cremation ground) too.
The statement led to protests by other political parties, which were quick to term it an attempt to polarise the voters. Newspaper editorials also said the remark was "troubling" and in "poor taste" for the prime minister.
A month down the line, when dust has begun to settle in UP, a closer look reveals that Modi's speech evoked an everyday issue among ordinary people in the hinterland. A graveyard or a cremation ground is as much a part of civic life as other public utilities.
Regardless of whether the alleged discrimination took place or not, the issue has an immediate connect with the people.
Shivnagar Katai Mill, ten kilometres from Meerut city, derives its name from a textile mill inaugurated by Prime Minister Indira Gandhi in 1977. For the past twenty years, the mill has remained shut and the village's fortunes have plummeted. Drains here are choked and locals are susceptible to diseases. Electricity supply is patchy at best. Yet, Sandeep Kumar, a resident, believes the biggest problem here is a lack of space to cremate the dead.
"While we never had a formal cremation ground, there was a lot of unused land in the vicinity earlier. Now there is only a small patch of vacant land which is being used as a makeshift cremation ground. The land belongs to a Muslim farmer from a nearby village. He has been objecting to the practice," said Sandeep. While rich and upper caste villagers prefer travelling to the banks of Ganga for cremation, most can't afford it.
Gilles Vernier from the department of political science at Ashoka University says, "By mixing signals to the Hindu base with a generalist discourse on development, the Prime Minister creates a perception that certain groups, defined by their religion or by their association with other parties, have unduly benefited from the state attention and generosity. Thus, the communalisation of the campaign becomes part of the whole development discourse. Social justice gets, in the process, equated with the exclusion of those who benefited from the system in place, regardless of whether this assertion is borne by facts or not".
The popularity of the issue can also be understood by the budgetary allocations of the UP government. In 2016-17, Akhilesh Yadav government allocated Rs 400 crore to construct boundary walls around graveyards. However, it could not spend the entire amount. Between 2012 and 2017, the UP government's expenditure on graveyards went up by Rs 200 crore. Similarly, in neighbouring Bihar, Nitish Kumar government allocated Rs 400 crore in 2013 to erect fences around 8,000 graveyards.
In West Bengal, Mohammed Salim of the Communist Party of India (Marxist) spends lakhs of rupees every year from his Members of Parliament Local Area Development (MPLAD) funds to construct amenities in crematoriums and graveyards across the Raiganj constituency. "Building walls around graveyards and crematoriums is a civic service to be rendered by the municipality and panchayat. After death, a citizen's last rites should be done peacefully and graciously. In some cases, it becomes a necessity to prevent skirmishes. For example, one shamshan ghat in my constituency is next to a playground," he said.
Salim, however, said the Prime Minister should not have raised the issue of kabristan and shamshan. "It should be left to the village heads. In rural areas, communal violence is usually stoked over land rights disputes or access. Even in parts of rural Bengal, the BJP raised this issue. For centuries, people have had shared ownership of land," he added.
A Trinamool Congress MP from a predominantly Muslim area in West Bengal supported Salim's views. "This issue is very important to people. I get requests from my constituents to use some of the money from my MPLAD funds for construction of boundary walls."
When asked, BJP MP Jagdambika Pal said the politicisation of death in UP was started by the Samajwadi Party-led government. "As far as development is concerned, the priorities should be roads, electrification, schools, institutions, drinking water, solar lights etc. Graveyards and crematoriums are managed by communities. However, the UP government started giving money for graveyards."
In some cases, two sides of the same community are at loggerheads over the right to property. For example, two groups clashed after a land dispute at Karbala in Delhi's Jor Bagh area in November 2016. According to Mahmood Pracha, a senior lawyer who is fighting the case, nobody should object to boundary walls being constructed. "Often, a simple land rights issue and law and order issue is conflated into a communal issue. That does not mean the issue is not genuine. In my opinion, nobody should have any objection to boundary walls being constructed around either the kabristan or the shamshan. In Karbala, the dispute over the land is not communal in nature. It is the fight of local people against a corrupt politician who is trying to usurp land worth thousands of crores of rupees. The purpose of boundary walls and fences is to prevent encroachment of land."
Also Watch
Read full article