Why Kejriwal Went Out of His Way to Retain Kumar Vishwas
When the crisis deepened and it looked like Kumar Vishwas would not buckle, the Delhi Chief Minister Arvind Kejriwal had to go to Vishwas's residence to pacify him.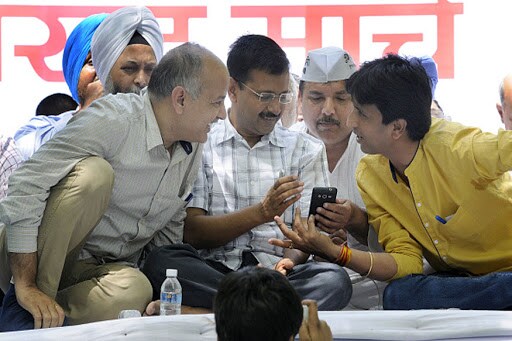 File photo of AAP leaders Arvind Kejriwal (centre), Kumar Vishwas (right) and Manish Sisodia (left). (Photo: Getty Images)
New Delhi: Since the exit of founding members Yogendra Yadav and Prashant Bhushan, the space for dissent seemingly shrunk in the Aam Aadmi Party (AAP).
Arvind Kejriwal, with iron-clad grip over both the party and the government, has become the AAP's undisputed leader. When there was no solution in sight during the rift with Yadav and Bhushan, Kejriwal refused to bend and the two were shown the door. But this month, another founding member challenged Kejriwal's hegemony over the party.
Following a string of losses in Punjab, Goa and Delhi, AAP leader Kumar Vishwas said the party needed to learn from its mistakes. A few days later, he even hinted at his possible exit from the AAP. Instead of cracking down, Arvind Kejriwal handed an olive branch to Kumar Vishwas.
After reports emerged of a rift between the two, Kejriwal took to Twitter to write, "Kumar is my younger brother. Some people are trying to create a rift between us. Such people are enemies of the party. They better mend their ways. No one can separate us."
When the crisis deepened and it looked like Vishwas would not buckle, the Delhi Chief Minister had to go to Vishwas's residence to pacify him. "Naraz hai, milne ke liye aaya hoon,(He is upset, I have come to meet him)" Kejriwal told reporters outside Kumar Vishwas's house before he went in for a dramatic midnight meeting.
ALSO READ | Brothers With Big Egos: Uneasy Relationship of Kejriwal And Vishwas
'Kaviraj' is popular with volunteers
'Kaviraj', as Vishwas is referred to by his fans, has emerged as a popular figure for the party's volunteer force. "He is someone who knows how to rile the troops up before battle. He is a good asset to have, especially if the volunteers are in low spirits. He is charismatic and has even earned admirers thanks to his poetry. Yadav and Bhushan were not mass leaders like Vishwas," a source said.
ALSO READ: Sisodia Warns Vishwas Against Making Public Statements, Says it Benefits BJP
'Wouldn't take much to pacify him'
According to sources, a public confrontation was inevitable. Kejriwal and Vishwas, a source said, had not been on talking terms for the last 5 months. Known to be an emotional leader, Vishwas was unhappy at being pushed out of the party boss's inner circle. But it would not take a lot to pacify Vishwas.
"This image of Vishwas as someone who has been scheming and plotting to take over Kejriwal's throne is incorrect. Even Arvind knows this. He is an emotional poet who was acting out and throwing a tantrum. If he was plotting, Vishwas would not settle for anything less than National Convener. He agreed to come back after just getting the post of Rajasthan state-in-charge," the source said, adding, "You need to understand that Kumar has a massive ego. Kumar is in love with Kumar. The fact that the National Convener came to his house to apologize must have been enough to pacify him."
Does AAP need a 'nationalist' face?
In April, Kumar Vishwas released a video on his official YouTube channel in which he spoke on nationalism and chided all those who follow cults of personality. He mentioned PM Narendra Modi, Kejriwal and Rahul Gandhi by name. During an emotional address to the press on Tuesday, Vishwas claimed that he was being asked to apologize for the video.
The party, however, denied that he was ever asked to do so. Interestingly, however, Kejriwal himself had shared the video and wrote, "Bahut shaandar video. Andar tak hila deta hai. Zaroor dekhen. (Fantastic video. Shakes you from within. Must watch)."
ALSO READ: Kumar Vishwas Hints at Breakup With Kejriwal After Amanatullah's Allegations
Over the last four years, Vishwas has positioned himself as a non-BJP champion of "nationalist" causes. His positions have often given rise to speculation that he was flirting with the BJP. Sources said that Vishwas placed three conditions before the PAC meeting on Tuesday. One of the conditions was "no compromise on nationalism". The party is reportedly keen on wresting the "nationalism" narrative from the BJP.
'Arvind hasn't changed, the situation has'
Another view, however, is that Kumar Vishwas brings nothing unique to the table. With the party in doldrums after three successive losses, Kejriwal could not afford to let the AAP be a house divided. "Arvind doesn't bend for anyone. Had they won Punjab, Kumar would have been booted out of the party the very next day. Arvind hasn't changed, the situation has," a former AAP leader said, on condition of anonymity.
ALSO READ: Kejriwal to Launch 'Movement' If MCD Exit Poll Results Prove True
Get the best of News18 delivered to your inbox - subscribe to News18 Daybreak. Follow News18.com on Twitter, Instagram, Facebook, Telegram, TikTok and on YouTube, and stay in the know with what's happening in the world around you – in real time.
| Edited by: Bijaya Das
Read full article