Why Arvind Kejriwal's AAP is Mirroring Mahanta's AGP in Its Race to Irrelevance
This is not the first instance of a movement which caught people's imagination failing to become a success story after transiting to being a political party.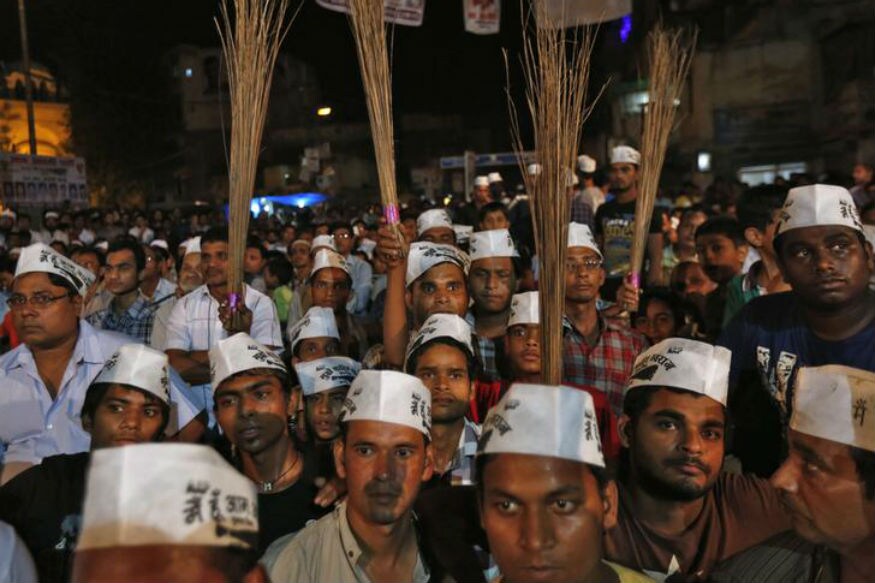 Photo for representation only. (Reuters)
Consider an imaginary situation: Arvind Kejriwal, very much resembling the 'nutty' scientist from a hit sci-fi comedy film (you will soon know which one) who develops havoc-causing electronic machines, returns home with a morose look on his face. The wifey looks up with concern, the question remaining unvoiced.
"Honey," Kejriwal whispers in reply, "I shrunk the party."
A moment's pause and she realises what he means. After all, she too watches television even if she's not on it.
"But dear," she begins, "you never had a party. It was a movement. So go back and revive it..."
"It's too late," he says. "The party has become my albatross."
Both turn quiet…
Everybody in India with no interest in the Congress party's longevity accuse its leaders of being power-hungry for not accepting Mahatma Gandhi's suggestion after Independence — disband the party and establish a new outfit. The Mahatma's logic was uncomplicated: the Indian National Congress was formed to liberate the country not to govern it. His advice was rejected and the result? The Congress became the System.
ALSO READ |
From Kejriwal's Confidant to 'BJP Stooge': Kapil Mishra's Journey in AAP
India Against Corruption was formed to fight corruption and campaign for probity in public life. Like the Congress, it was an umbrella organisation. Everyone from left-of-centre activists to centrists and right-wingers were part of the bandwagon. Much against the wishes of the 21st century's avatar of Jaya Prakash Narayan, Anna Hazare, several important functionaries decided to harvest the movement politically. The IAC metamorphosed into Aam Aadmi Party. It got the symbolism to the T. The name and the symbol projected the idea of alternates.
The middle chapters of the narrative, spanning 2013-2015 are well too known. Soon its blemishes became evident. AAP's leaders proved no different from others. The party too justified the way others did when it circumvented morality.
When the party was accused of wrongdoings, like appointing parliamentary secretaries, leaders cited instances of other parties having done the same. They were silent when reminded that they pledged to act differently, not become a replica of those they wished to replace.
ALSO READ |
Kejriwal Under Attack: AAP Claims Spike in Funding, Former Party Leaders Laugh it Off
It didn't take long for people to realise that the crusader had reverted to being street fighter. Or rather, he never graduated for even a short while. The conclusion of people began to be displayed in elections. Soon Kejriwal and his loyalists began imploding. Today a big question mark hangs over the party's future.
This is not the first instance of a movement which caught people's imagination failing to become a success story after transiting to being a political party.
In the late 1970s and early 1980s, the All Assam Students' Union launched a hugely successful movement against 'foreign' settlers. The agitation resulted in widespread social conflict, brutal killings and paralysed state machinery. At the end of the violent chapter, the leaders forced the State on its knees and an accord, one of the many that Rajiv Gandhi signed after becoming prime minister, was agreed upon.
The AASU became a political party (AGP), contested and swept the assembly elections held in the wake of the Assam Agreement. From being supremo of AASU, Prafulla Kumar Mahanta became chief minister. Similarities between his fairytale rise and Kejriwal's emergence abound. Sadly for the latter, Part II of Mahanta's story too appears to be heading for an encore. This raises an important question — are political parties that evolve from social and political movements doomed to fail?
ALSO READ |
Satyendar Jain: Arvind Kejriwal's Man Friday or Tainted Politician?
Globally, there are two kinds of parties that have emerged from movements. The first category of these, Congress like, are those that had their genesis in national movements. Most important among these include the African National Congress and similar organisations in other colonised nations. Most often, because of goodwill stemming from its past role in nation-building, these parties stayed in power in the initial years. Like the Congress which weathered several challenges from 1967, till its unprecedented rout in 2014, the ANC too is now facing public frustration and severe challenge to its dominance.
The second category of political parties that were once movements are those that have either a sectarian past, like AASU, or those that were non-ideological, single-agenda movements — like AAP which was driven by the anti-corruption sentiment.
There have also been instances, especially in Latin America, of indigenous peoples' movements evolving into viable political parties in the 1990s in Bolivia, Colombia, Ecuador, and Venezuela. Similar movements in Argentina and Peru, however, failed.
There is a long tradition of indigenous tribal movements in India and many evolved into political parties, especially in Jharkhand. But once these were co-opted, they were alienated from people and lost power. Whether this too is the future of left-wing insurgency, especially in Chhattisgarh, is a matter of debate.
ALSO READ |
ACB Under Pressure to Book Kejriwal, Kapil Mishra Wrote in 2016 Letter
It is not always that political parties which grew out of movements or agitations have failed. Take the case of Telugu Desam, launched by NT Rama Rao to protest Indira Gandhi's snub to regional pride by changing four chief ministers in two years and two months. The reason why the party has survived for almost three and a half decades and even after the founder was dumped by his son-in-law, N Chandrababu Naidu, is because it has evolved into an umbrella regional party appealing to every section of Andhra society. In contrast, efforts like Hardik Patel's Akhil Bharatiya Patel Navnirman Sena, has little future because its support is highly restrictive.
Clearly, it is up to the leadership to pave the party's future ensuring that while it doesn't get stuck to its past, the core value of its USP should not be abandoned. Kejriwal failed by hastening the 'local to national' transition.
He became chief minister knowing the limited powers of the state government. Attempts to hide failure to perform and deliver on his promises by spinning a yarn of conspiracy against his government, has not been bought by the people. AAP and Kejriwal will have to win back support of Delhiites before looking at other horizons. But before that he has to fortify his party against further desertions.
Otherwise, both party and movement will become history much to the BJP's delight.
The author is a Delhi-based writer and journalist. He authored 'Narendra Modi: The Man, The Times', and 'Sikhs: The Untold Agony of 1984.' He is @NilanjanUdwin on Twitter. Views are personal.
| Edited by: Nitya Thirumalai
Read full article
Countdown To
Elections Results
To Assembly Elections 2018 Results