Why Mohan Bhagwat is Trying to Undo Rahul Gandhi's Hyphenation of RSS-BJP Ties
In clubbing the BJP and the RSS, Rahul Gandhi is aiming to mobilse the constituency that voted for the BJP in 2014 as an alternative to the Congress but not for ideological reasons.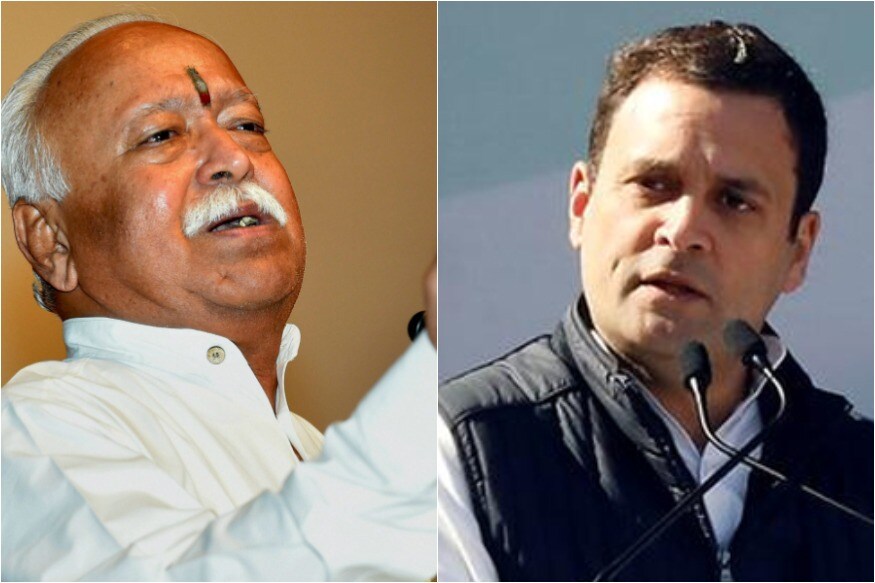 File photos of Mohan Bhagwat (L) and Rahul Gandhi. (News18)
"Whatever Sarsanghchalak says is a policy statement".
That's how Bajrang Lal Gupta sought to underscore the import of RSS chief Mohan Bhagwat's three-day lecture series in Delhi this week.
In his introductory intervention, the Uttar Chhetra Sanghchalak and retired professor of Economics from Delhi University attempted to delink this unprecedented outreach by the RSS to any 'extraneous factors'.
But the timing of conclave in Delhi looks interesting as it comes just weeks after Congress President Rahul Gandhi's trenchant attack on the Sangh from foreign soil. Especially RSS' comparison with the Egyptian Islamic radical outfit- the Muslim Brotherhood.
That may be one factor which might have triggered an elaborate reaction from the RSS.
However, the event at the plenary hall of the Vigyan Bhawan in Delhi may be analysed for its timing on another account as they unfold four and a half years after first BJP-led full majority government came to power at the center.
Juxtapose it with Modi government's first year in office when the entire top leadership of the BJP in government - including Prime Minister Narendra Modi- drove down to the RSS brass and its affiliates for a coordination meeting in South Delhi.
Interestingly, as the central government completes its term, RSS is trying to bring people from disparate and diverse ideological background to explain their position on key issues.
After that first grand coordination committee meeting in full media glare sometime in 2014, both the ideological fount and the political executive realised the downside of the entire exercise and shelved it in earnest.
But that one grand interaction right at the beginning of Modi government's five-year term, if anything, reinforced the perception that RSS remote controls the BJP. Only this time, Nagpur had moved to Delhi to assert itself.
In his political tirade against the BJP, Congress president Rahul Gandhi has only underscored this link. He has repeatedly hyphenated BJP and the RSS - and he has done it with a purpose.
BJP as a political party with RSS as an ideological fount has a certain mass of vote base which would want to see it in power and pursue a certain policy in governance. Congress as it exists today cannot boast of any such cadre.
But there is a certain constituency in the country which may not be Congress' vote base; but is ideologically adversarial to the Indian right.
Then there is a class which may have voted for the BJP in 2014 as an alternative to the Congress but not for ideological reasons. In clubbing the BJP and the RSS, Rahul Gandhi is aiming to mobilse this constituency to build a vote base for the 2019 polls.
In the first part of his lecture on Monday thus, Bhagwat delved into the life and times of RSS founder Keshav Balram Hegdewar.
He sought to clear sangh's stand on half a dozen issues which have haunted the RSS all these years - from sangh's role in the freedom movement to its acceptance of the national flag. In the process, the RSS chief addressed the larger political point of sangh's history and willingness to work with outfits with diverse ideological moorings - from Communist to Congress on national issues.
This is a step further from Bhagwat's earlier pronouncements that Congress-mukt Bharat is not on Sangh's agenda.
An organization like the RSS learns from the history and works with a long term perspective of at least a decade or more. RSS existed and worked even when BJP was Jana Sangh. It existed and expanded when BJP was reduced to two seats in the Lok Sabha in 1984.
It fought with the Communists against Indira Gandhi's Emergency. And it continues to carry on its activity when the BJP has a clear majority in the Lok Sabha and controls an over-whelming majority of governments in provinces.
In re-iterating RSS' past, especially its ability to co-exist and willingness to work with diverse set of groups, Bhagwat is only pressing to de-hyphenate BJP from the sangh.
Academics Walter Anderson and Sridhar Damle in their recent book on sangh talk about RSS having put its entire might behind the BJP (erstwhile Jana Sangh) on only two occasions - 1977 and 2014. On both occasions, its political affiliate seems to have gained from the active intervention. And the sangh may not do that in the upcoming polls.
Theoretically the argument looks convincing. But political battles are enslaved to circumstances (that includes leadership) and events - both extraneous and internal. Conversely, if one were to ask if RSS had put in its entire might in 2009 general elections, would the outcome had been any different?
"It is the general public mood and enthusiasm among the workers which is critical in political mobilisation. Other factors add up in to create a larger wave in given favourable circumstances," says a BJP leader.
Political power has attracted people to the BJP from all walks of life. Would all of them remain with the party past the heydays?
Power is transitory. Organisations which aim to remain relevant beyond the five-year cycle of elections have to think and evolve differently. Like ways and means to co-exist without compromising on the basic tenants of ideology.
Get the best of News18 delivered to your inbox - subscribe to News18 Daybreak. Follow News18.com on Twitter, Instagram, Facebook, TikTok and on YouTube, and stay in the know with what's happening in the world around you – in real time.
Subscribe to Moneycontrol Pro and gain access to curated markets data, trading recommendations, equity analysis, investment ideas, insights from market gurus and much more. Get Moneycontrol PRO for 1 year at price of 3 months. Use code FREEDOM.
| Edited by: Aakarshuk Sarna
Read full article