Why Nitish Kumar Should Worry About the BJP-backed Kurmi Rally
The state BJP unit has already chalked out plans to strengthen its position at booth levels and is eagerly waiting for national president Amit Shah's visit next month.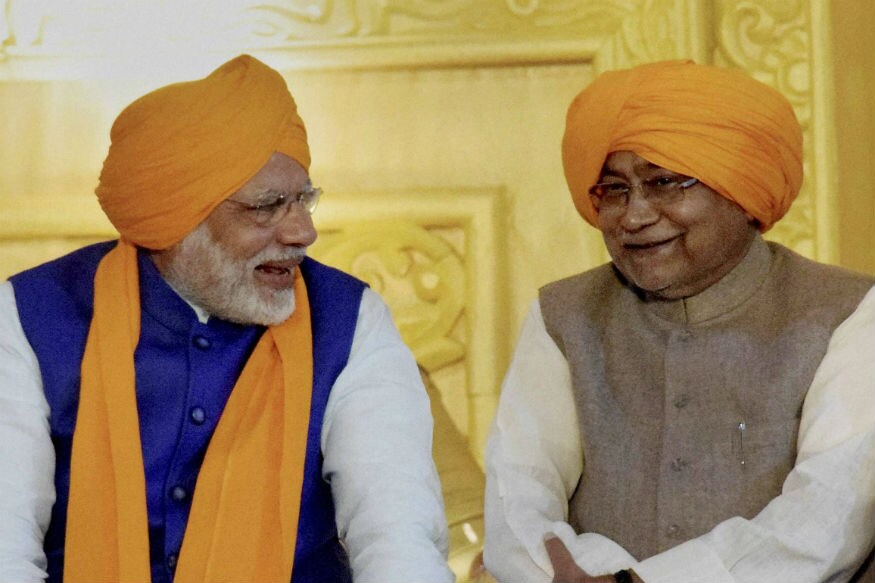 File photo of Prime Minister Narendra Modi and Bihar Chief Minister Nitish Kumar in Patna. (PTI Photo)
Patna: Nitish Kumar's return to the National Democratic Alliance (NDA) has ensured that he continues as the Bihar chief minister. However, the recent turn of events over the past two months amply show that the Janata Dal (United) is losing its previous dominant position vis-a-vis Bhartiya Janata Party.
BJP is in no mood to depend on Nitish to win an election and the party has already started focusing more on the 2019 general election, which is one-and-a-half years away.
The state BJP unit has already chalked out plans to strengthen its position at booth levels and is eagerly waiting for national president Amit Shah's visit next month.
Apart from a Padyatra, that was called off due to the floods, the party is mulling a Kurmi rally with Rajeev Ranjan, who was once very close to Nitish Kumar, but soon changed ranks and joined the BJP due to differences in opinion.
Nitish Kumar is considered a champion of the Kurmi community, that is traditionally associated with the Koeries, and are termed as Luv-Kush, the twin sons of Lord Rama.
Kushwahas or Koeris claim their lineage from Kush, while Luv represents the Kurmi community. The Luv-Kush axis has a good 10 to 12% vote share and are considered the second-most dominant caste in the OBC category after Yadavs (15%), who along with Muslims (17%) have been supporting Lalu Prasad Yadav's Rashtriya Janata Dal (RJD).
However, the 2014 Lok Sabha election was an exception when the Yadavs also voted went for the BJP.
Rashtriya Lok Samata Party (RLSP) leader and Union minister Upendra Kushwaha claims to be a representative of the Kushwahas and Koeries. Kushwaha, as an alliance partner of the BJP has been successful in transferring the Kushwaha votes to BJP in the last general elections.
This was perhaps the first time that the Kushwahas and Kurmis chose a different path. However, Nitish was able to turn the table in the 2015 Assembly elections, when both the communities voted for the Mahagathbandhan of JD(U), RJD and Congress. Upendra Kushwaha's party got only two seats in the 243-member Bihar Assembly.
BJP contested the 2014 Lok Sabha elections on its own after Nitish Kumar pulled out of the NDA and managed to get 31 out of 40 seats with other alliance partners Lok Jan Shakti Party (LJP) and RLSP. The JD(U) was reduced to two seats.
Now, after Nitish's return to the NDA fold, things have further complicated as Amit Shah and team are trying to get the most number of seats in 2019.
Earlier, JD(U) being the dominant partner fought on 25 seats out of 40. However, that scenario is completely ruled out now, says Shaibal Gupta of Asian Development Research Institute who has been advising Nitish on economic issues.
Challenge for Nitish to Retain His Vote Base
Rajeev Ranjan is organizing a Kurmi rally on November 5, which would be attended by other BJP leaders. "The first time a Kurmi Ekta Sammelan was organized on Februray 12, 1994. Now I feel the need to unite the community as they are fragmented in Dhanuk, Awadhia and so on. My party has nothing to do with it but I will invite the party leaders," he said.
Shaibal Gupta said the BJP no longer wants to be dependent on Upendra Kushwaha or Nitish Kumar and they are vying for the 12% vote share within the OBC, with Baniyas or Vaishyas already in their favour.
"The JD(U) will play the role of a second fiddle in the Lok Sabha elections. In fact he himself seems to be embracing the situation and it must have been on his mind before he broke off the Mahagathbandhan," he said.
Being an astute politician, Nitish must have bargained for 2019. In all possibilities, Nitish's JD(U) will have an upper edge in the 2020 Assembly election.
"This is a possible compromise formula, in which Nitish might lead in the state and allow the BJP to boost his popularity in Lok Sabha election," Shaibal argues.
However, he disagrees that any other leader can replace Nitish as the representative of the Luv-Kush community.
"Rajeev Ranjan is Nitish's school friend but political compulsions made him join BJP. He is trying to establish himself in Nalanda, Barh, Biharshareef region where Luv-Kush play a decisive role. This is more of a personal turf war," he said.
Nitish - A Product of Kurmi Mahasabha
The emergence of Nitish Kumar as a mass leader dates back to 1994, when he was with the Janta Dal, the ruling party in Bihar led by Lalu Prasad Yadav. After three years of Lalu's tenure as the chief minister, a new social formation was in sight with Mandal unity starting to crumble and the state witnessing mass murder on caste lines.
Satish Kumar, a prominent CPI leader who supported the Lalu government, sounded the alarm as the Kurmis and Kushwahas, strong agricultural communities in central and south Bihar, felt the burn of caste-based violence.
Lalu's MY (Muslim-Yadav) equation threatened other smaller castes within the OBC and Satish Kumar, himself a Kurmi, decided to unite the Luv-Kush fraternity.
Satish told News18 that Nitish himself was against the idea of calling a caste rally but he along with Brhamnand Mandal and others persuaded Nitish. Former Lok Sabha Speaker Rabi Ray along with Ramtahal Chaudhary, Urmila Ben Patel and hundreds of other Kurmi leaders attended the February 12, 1994 rally.
"Nitish tried to defend Lalu in his speech and the crowd at Gandhi Maidan went berserk. The crowd hurled stones. Then I appealed and announced that Nitish was like my younger brother and a leader of the community. He must be allowed to speak. This was the emergence of Nitish," Satish recalls.
Just eight months after the rally, George Fernandes, Bashishtha Narayan Singh, Shakuni Chaudhary and Nitish broke ranks with Lalu and formed the Samata Party.
"Samata Party progressed steadily and a large chunk of OBC votes and upper caste population, who had started to feel restless with Lalu Yadav. Nitish joined NDA later and joined the Atal Bihari Vajpayee government," he added.
However, Satish Kumar and Bholanath Singh, once considered the mentors of Nitish, are no longer associated with him.
Satish Kumar rues Nitish's opportunism and lust for power. "Nitish has completed his cycle with the NDA-UPA-NDA move. Now, he has lost the faith of the Luv-Kush community. He is dependent on BJP and unable to win even two seats on his own."
However, Shaibal Gupta has a different take. He believes the developmental agenda pursued by Nitish has changed the caste narratives over the past two decades and now he enjoys the support of all castes in Bihar.
| Edited by: Sanchari Chatterjee
Read full article
Countdown To
Elections Results
To Assembly Elections 2018 Results