GET Stock

Quotes


Why Rahul Gandhi Has Chosen the Dusty Roads of Bellary to Launch the Karnataka Poll Campaign
On Saturday morning, Rahul Gandhi will land at the Jindal airstrip near Bellary city and will take a helicopter ride to nearby Vijayanagara. In 1999, his mother had landed at the same airstrip to file the nomination papers.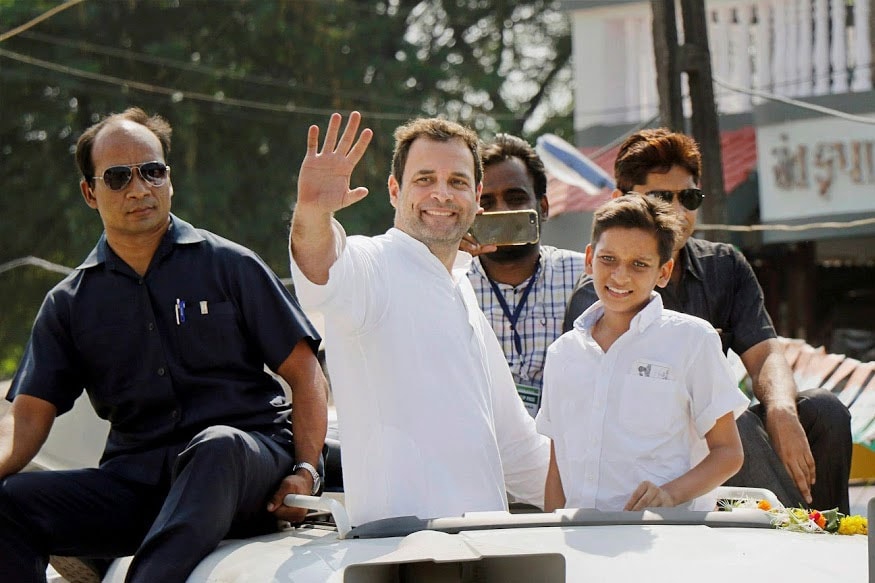 File photo of Congress president Rahul Gandhi waving during a road show. (PTI photo)
Bengaluru:
Congress president Rahul Gandhi will officially launch the party's Karnataka election campaign from Vijayanagara assembly seat in Bellary district on Saturday. He will crisscross the Hyderabad–Karnataka region for the next four days before concluding it in the northern most district of Bidar.
His choice of place to launch the campaign is interesting. In 1999, his mother, the newly elected Congress president Sonia Gandhi, had contested her maiden election from Bellary Lok Sabha seat. After defeating BJP's Sushma Swaraj, she opted for Amethi and quit Bellary. It was Rahul Gandhi's first exposure to a big election.
Rahul, then 29, and Priyanka, 27, had extensively campaigned with their mother across Bellary for a week.
The same Bellary had also played a major role in bringing the Congress back to power in 2013 Assembly elections after seven years in opposition. In 2010, then leader of opposition Siddaramaiah had led a 350 km
padayathra
from Bengaluru to Bellary against the alleged "mining mafia of Reddy brothers", which, he alleged, was "controlling" the BS Yeddyurappa-led BJP government.
That "walk to Bellary" turned the public mood in favour of the Congress and the BJP had to suffer a humiliating defeat at the hands of Siddaramaiah.
When Sonia Gandhi made her entry into Bellary, she had, unknowingly, helped lesser-known Reddy brothers to rise in state politics overnight. The children of a police constable, Janardhana Reddy, Karunakara Reddy and Somashekhara Reddy were unknown even to many people from Bellary before that. Sensing an opportunity, they sided with Sonia's opponent Sushma Swaraj and became famous overnight. The rest is history.
When Rahul Gandhi hits the dusty roads of Bellary district, there will be no Reddys to challenge him. After coming out of jail on bail in a billion-dollar mega mining scam, Janardhana Reddy has been barred by the Supreme Court from entering his home district. Most of his followers have deserted him and the remaining few are keeping a low profile.
Even though his own right-hand man, B Sri Ramulu, is BJP MP from Bellary, the saffron party is maintaining a safe distance from the Reddys. Reddy still claims that he is with the BJP and will fight for Yeddyurappa. But the party is not amused.
The Congress has recaptured the district and many BJP workers have also joined it. Bellary is no longer the main focus of Karnataka elections. But there is another aspect to it. More than 500 years ago, Vijayanagara empire ruled from here in what is Hampi today.
Considered the last Hindu empire, Vijayanagara kings had prevented the advance of pre-Mughal and later Mughal armies into southern India for two centuries before the fall of the empire in 1565. Even though the Congress is not admitting that it is the main reason for launching the campaign from Vijayanagara, it is fully aware of its symbolism.
On Saturday morning, Rahul Gandhi will land at the Jindal airstrip near Bellary city and will take a helicopter ride to nearby Vijayanagara. In 1999, his mother had landed at the same airstrip to file the nomination papers.
After launching the Congress poll campaign at a public meeting in Hospet near Hampi, he will cross the river Thungabhadra to enter neighbouring Koppal district. On Sunday evening, he will reach Raichur district.
On Monday, Rahul Gandhi will cross the mighty river Krishna to land in Congress stalwart Mallikarjuna Kharge's stronghold Gulbarga (Kalburgi) and Yadagiri districts. After addressing a few public meetings in Bidar district on Tuesday, Rahul Gandhi will fly back to New Delhi.
He will be visiting Huligamma temple, Gavi Siddeshwara Mutt, Kwaja Bande Nawaz Dargah and conclude his temple hopping at Anubhava Mantapa, established by the 12th century great social reformer Basaveshwara or Basavanna in Basava Kalyana near Bidar.
The state Congress, led by Siddaramaiah, has decided to make it a show of unity and strength. The top brass of the party will accompany Rahul Gandhi in his bus tour of six districts for four days. Five days later, BJP chief Amit Shah is scheduled to tour coastal Karnataka and Hubli-Dharwad.
The poll bugles have already been sounded by both the parties and the only thing left is announcement of poll schedule by the Election Commission of India.
Also Watch
| Edited by: Huma Tabassum
Read full article