nda:
Needmore seats to Win

Needmore seats to Win
upa:
Punjab Elections: Will AAP be Able to Oust Bikram Majithia?
The AAP has appointed 400 volunteers here in an effort to topple the mighty Majithia in his home ground.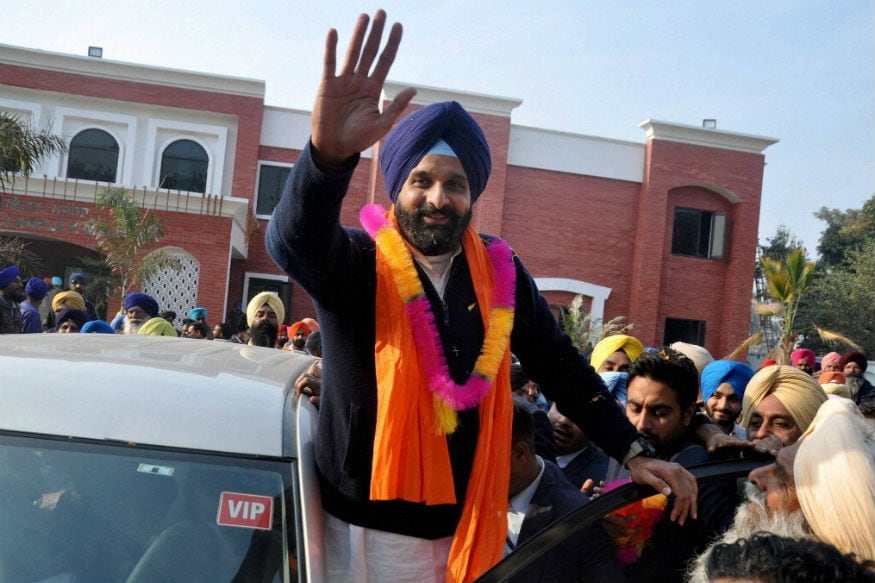 File image of SAD leader and Punjab minister Bikram Singh Majithia (PTI)
Majitha (Amritsar)
: The first thing one notices when approaching the town of Majitha, just 16 kms away from Amritsar, is the rows of houses on either side of the highway with Shiromani Akali Dal (SAD) flags atop their roofs. This is Majitha, the constituency and home town of Punjab cabinet minister Bikram Singh Majithia. After a sea of saffron flags with the SAD symbol – the scales of justice – is an island of white flags as we approach the Aam Aadmi Party's (AAP) Majitha office. Inside the AAP war room, a batch of 20-somethings sit huddled around laptops, coordinating with volunteers who have hit the ground for the door-to-door campaign.
Over the last year, AAP chief Arvind Kejriwal has tried to project most of the anger at the drug menace against Punjab Cabinet Minister Bikram Singh Majithia, who is also the brother-in-law of Deputy CM Sukhbir Singh Badal. Kejriwal has gone as far as to publically call Majithia a "drug lord". Recently, the Delhi CM vowed to "send Majithia to jail" if elected to power.
The AAP has appointed 400 volunteers here in an effort to topple the mighty Majithia in his home ground. Volunteers are asked to assembly every morning at 8:30 sharp, before they head out to campaign.
"There are 134 villages in Halka (constituency) Majitha. We have covered almost the entire constituency and by Friday, we will have knocked on every single door in Majitha. In the final stretch of the campaign, we plan to redouble our efforts. Some of our volunteers have prepared a street play, depicting the problems of Punjab and how the AAP manifesto will solve these problems. These have received an overwhelming response from the people. Everywhere they perform, people turn up in droves to watch," says Harsh Kalra, the AAP joint secretary who has been tasked with heading the campaign in Majitha.
The campaign effort, however, has not been without its troubles. Kalra adds, "Akali goons have been threatening us since we arrived here. They are baffled by AAP's popularity. Just recently, one of our volunteers was chased away by Majithia's men with swords. Sometimes we complain, but there is no point in that either because they control the police. Bikram Singh Majithia operates like a Bollywood villain, striking fear into the hearts of the people. They force people to put SAD flags on top of their houses and they are threatened if they try to remove them. In fact, the house next tour office has SAD flags. The funny thing is, the AAP uses that house as a storeroom! The family that stays there will vote AAP this year. People here either hate Majithia or fear him. There is no other emotion."
Just 500 meters down the road, the Congress office bears an earthier look. There are no groups huddled around laptops. Instead, Congress candidate Sukhjinder Raja Singh 'Lali' is sitting with his team and planning his campaign from his own house, which is the campaign headquarters. "Majithia has spread his terror across the region. This time, when he loses, he will meet the same fate as Qaddafi did in Libya. He has ruled Majitha like a dictator. There is a slogan going around in the town – Jhande Akali de, vote Lali de (The flags belong to the Akali, the votes will go to Lali). They can't win the seat by forcing people to mount flags. People aren't scared anymore because they know the AKalis are on their way out," Singh says.
Sure enough, a Majitha resident with Akali flags on his shop echoed the sentiments. The shopkeeper, who does not wish to be identified, says, "Lokkan nu dabbeya hoya ae. (The people have been scared). That is why they are putting Akali flags. I can't dare to say no. The problem is not Majithia, the problem is his goons. Every family in rural Majitha has at least one drug addict and nobody does anything about it because they are scared of Majithia's men. People in the villages are voting for AAP but those in the town are voting for Congress. I fear that this will split the vote. I haven't yet decided who to vote for. I don't want to waste my vote."
Balbir Singh (name changed), another Majitha resident, adds, "I voted for SAD in 2012 because my brother is in government service in Amritsar. The last time, they found out who voted against them and got them all transferred."
Balbir stops short of mentioning who he will vote for when a mustachioed man casually walks up to his shop. "Mantri hi jittuga, paaji! (The minister will win, brother!). He has done a lot of work for us," he says. Balbir nervously chimes in, "Haanji, saddkan taan badi changi banaatti (Yes, the roads have been constructed so well)."
The Akali Dal, meanwhile, vehemently denies all these charges. Rajesh Kumar, who is managing the campaign from the SAD office in Majitha, says, "All our opponents are spreading lies about Bikram Singh Majithia. They say these people have been frightened. Punjabis can't be scared so easily. The people have put flags on their houses because they think of Bikram as one of them. He has stood with them in happiness and sorrow. He turns up for weddings, funerals and even helps people financially from his own pocket. He is so loved in Majithia that even if Captain Amarinder Singh himself contests from here, he will not be able to win. The SAD is not a party of Maharajas. Our leaders are sons of the soil."
Majithia's team has been using the 'son of the soil' image of the minister and claiming that he is a part of people's everyday lives. On this front, AAP has an uphill climb. A senior AAP functionary said, "Our candidate, Himmat Singh Shergill, is not from Majha. He is, in fact, from far away Mohali. Many people fear that it will work against him. But if he manages to capitalize on the anger of the people and win, he will even be considered for the chief minister's post. The party appreciates that he left a safe seat in Mohali to take on Majithia."
Sukhjinder Singh, however, claims that he alone is the 'insider' here. "Himmat is from Mohali and he can't name five problems that people face here. Bikram calls himself an insider but he hardly visits Majitha. He and his wife spend most of their time in Delhi and run Punjab by proxy. If you look at the cars lined outside our office, the number plates all read 'PB 02'. All our people are from Amritsar and Majitha. SAD and AAP have brought in outsiders to campaign for them. In this race, I am the only isider."
Meanwhile, back at Balbir's shop, the moustachioed man has still not left. An Akali Dal flag flutters above his shop on a rainy day as an AAP campaign van passes. The voice on the loudspeaker speaks of the AAP's campaign promises – an end to the drug menace, a Dalit deputy chief minister etc. Balbir silently looks on as the loudspeaker blares, "Jhaadu waala button dabadeyo, Punjabiyon!"
(Get detailed and live results of each and every seat in the Lok Sabha elections and state Assembly elections in Andhra Pradesh, Odisha, Arunachal Pradesh and Sikkim to know which candidate/party is leading or trailing and to know who has won and who has lost and by what margin. Our one-of-its-kind Election Analytics Centre lets you don a psephologist's hat and turn into an election expert. Know interesting facts and trivia about the elections and see our informative graphics. Elections = News18)
| Edited by: Smrithin Satishan
Read full article
Countdown To
Elections Results
To Assembly Elections 2018 Results