Will Campaign for BJP in 2019 if Centre Grants Full Statehood to Delhi, Claims Arvind Kejriwal
Delhi CM Arvind Kejriwal has taken his passionate appeal to another level by claiming that he will go all out to campaign for arch-rival Bharatiya Janata Party to get the job done.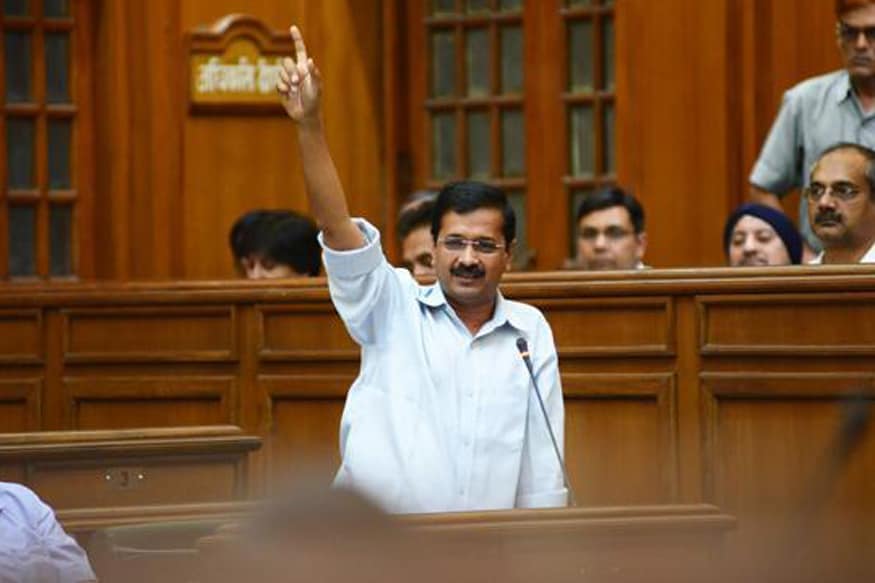 File photo of Arvind Kejriwal at the Delhi Assembly. (Image: AAP/Twitter)
New Delhi: In a startling claim to push his call for full statehood to Delhi, Chief Minister Arvind Kejriwal on Monday said that he will campaign for the BJP in 2019 and make sure that the party wins from here if the Centre grants him his wish for the national capital.
"I want to tell the BJP that if before the 2019 General Elections, Delhi is granted statehood, we will make sure that each and every vote from Delhi goes in your favour. We will campaign for you. However, if you don't do so, Delhi residents will put up boards saying 'BJP Leave Delhi'," Kejriwal said at the Delhi Assembly on Monday.
He added, "PM Modi had promised full statehood for Delhi during his election campaign. So what happened to that promise?"
He urged the people to fight for their "rights, future and development" and demand full state status for Delhi.
A resolution moved by Deputy CM Manish Sisodia was passed in the House without any opposition.
During his speech, Kejriwal recalled the history of the city and recounted the names of the rulers who ruled over Delhi, and the last two names he took were of the present and the former Lt. Governors of Delhi.
"Between 2013-2016, Najeeb Jung ruled over Delhi and since then Anil Baijal is ruling. The nation got freedom, but Delhi is still ruled by the LG," he said.
After a brief lull, Kejriwal is back with his demand and in a clarion call on Sunday, he exhorted party workers with the slogan 'L-G, Delhi Chodo' as the ruling Aam Aadmi Party announced a city-wide campaign for full statehood.
However, a day later, Kejriwal has taken his passionate appeal to another level by claiming that he will go all out to campaign for arch-rival Bharatiya Janata Party to get the job done.
AAP had routed BJP and Congress out of the Delhi region in the 2015 Assembly elections with a spectacular tally of 67 out of 70 seats. While BJP was reduced to just 3 seats from its earlier count of 32, Congress was brought down to 0.
With such massive voter base, AAP now plans to up its ante with the statehood demand ahead of the 2019 elections.
"We would ask people (during meetings) whether there should be people's rule or L-G's rule in Delhi. L-G creates hurdles in our every project, be it the CCTV project or doorstep delivery of ration," Kejriwal had said earlier.
The government has called a special session of the Delhi Assembly to press its demand for full statehood to Delhi.
AAP has time and again pitched for full statehood to Delhi as the party claims that the administrative work of the Delhi government is largely disrupted due to its structure of a Union Territory.
AAP leader Saurabh Bharadwaj had said earlier, "The elected government has very little power under the current structure. The Central Government has been run by the BJP for the last four years and they have all the authority to grant full statehood to Delhi. We believe government departments in Delhi should be answerable to the elected government of Delhi."
Kejriwal had even said that in terms of revenue distribution, people of Delhi receive far less than what they contribute to income tax revenues and at the heart of this problem was Delhi's identity of neither an UT nor a full state.
Get the best of News18 delivered to your inbox - subscribe to News18 Daybreak. Follow News18.com on Twitter, Instagram, Facebook, Telegram, TikTok and on YouTube, and stay in the know with what's happening in the world around you – in real time.
| Edited by: Sanchari Chatterjee
Read full article