Will go to 'Pataal' to Hunt Down Killers of RSS Workers if Voted to Power, Says Amit Shah in Karnataka
Accusing the Congress of playing religious politics, BJP president Amit Shah lashed out at the Congress government of Chief Minister Siddaramaiah of withdrawing cases against those accused of killing RSS workers.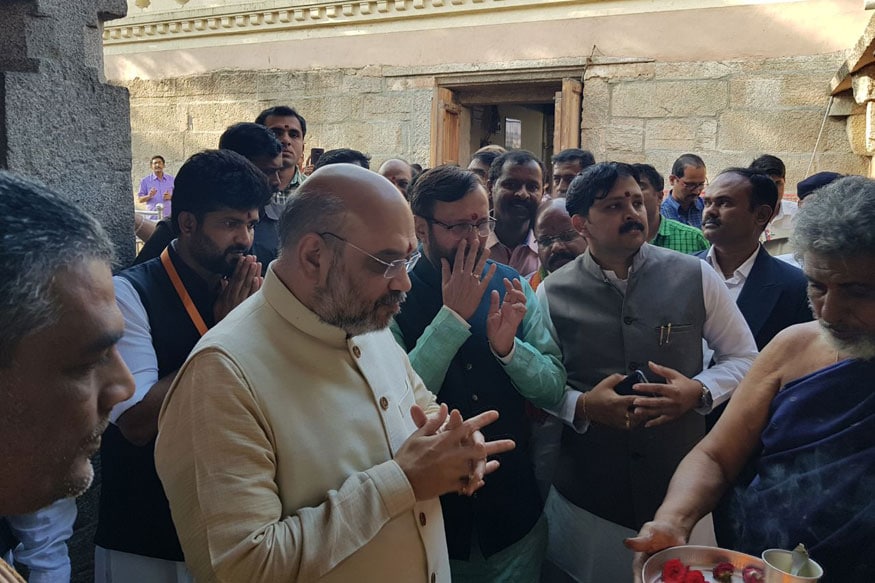 BJP president Amit Shah at the Chamundeshwari temple during his visit to Karnataka on Thursday. (Special arrangement)
Bengaluru:
BJP president Amit Shah on Thursday lashed out at the Congress government in Karnataka for withdrawing cases against those accused of killing 20 RSS workers in the state.
"More than 20 workers of the RSS have been killed but the Siddaramaiah government has withdrawn cases against the SDPI. I ask Siddaramaiah, do you endorse SDPI?" he said at a rally.
"I assure you, our 20 workers' sacrifice won't go in vain. Once we come to power, we will hunt down the killers, even if they are in pataal and send them to jail," he added.
The BJP has been persistently been accusing the Congress of supporting controversial outfit Popular Front of India and its affiliated political organization the Social Democratic Party of India (SDPI), who they claim are Islamic radicals, involved in cases of terrorism and murder.
According to the chargesheet, PFI and SDPI planned to target two RSS workers in uniform "to strike terror among the members of that organisation."
Accusing the Congress of playing religious politics, he said that while the state government refused give permission to celebrate Hindu festivals but approval was immediately given to certain communities to celebrate their festivals.
Shah's rally as part of the "Parivarthana Yatra" by the state BJP came amid the bandh called by pro-Kannada outfits seeking Prime Minister Narendra Modi's intervention on the Mahadayi water sharing issue.
Pro-Kannada outfits have also called a Bengaluru Bandh on February 4, when Modi will be here to address a rally, with the BJP seeing the shutdown as a "politically motivated" move instigated by the ruling Congress to synchronise with the visits of the prime minister and BJP chief.
"Congress is even now behaving like it did during the emergency by deploying police to hold off supporters and by organising Mahadayi bandhs matching my and Prime Minister Narendra Modiji's Parivartana Yatra address," he said.
Saying that Chief Minister Siddaramaiah and corruption were two faces of the same coin, Shah asked the crowd, "There are 40,000 people here…does any of you own a watch worth Rs 70 lakh?"
He went on to accuse the state government of effecting various land scams in the state, saying they illegally acquired 500 acres of land and denotified land worth hundreds of crores of rupees. He further said that the state government was behind a massive mining scam.
Dubbing the Siddaramaiah government as "a corrupt, malicious and oppressive" regime, he asked the people to "root it out" in the upcoming assembly polls.
Shah said he had proof of many land scams in the state, including one case of a state minister encroaching land.
"Even in schemes for buying blankets and rice for poor, there has been a scam," he said, adding, "If I start counting cases of corruption of the Siddaramaiah government, I won't be able to go from here – seven days you will have to be here to list out everything."
| Edited by: Ashish Yechury
Read full article
Countdown To
Elections Results
To Assembly Elections 2018 Results