Will Jettisoning 'Hindutva' for 'Corruption' Work for BJP in Karnataka?
The BJP knows that fighting Karnataka Assembly elections on corruption plank may be difficult, given the dubious record of its own state leaders. The party has instead decided to focus more on Hindutva.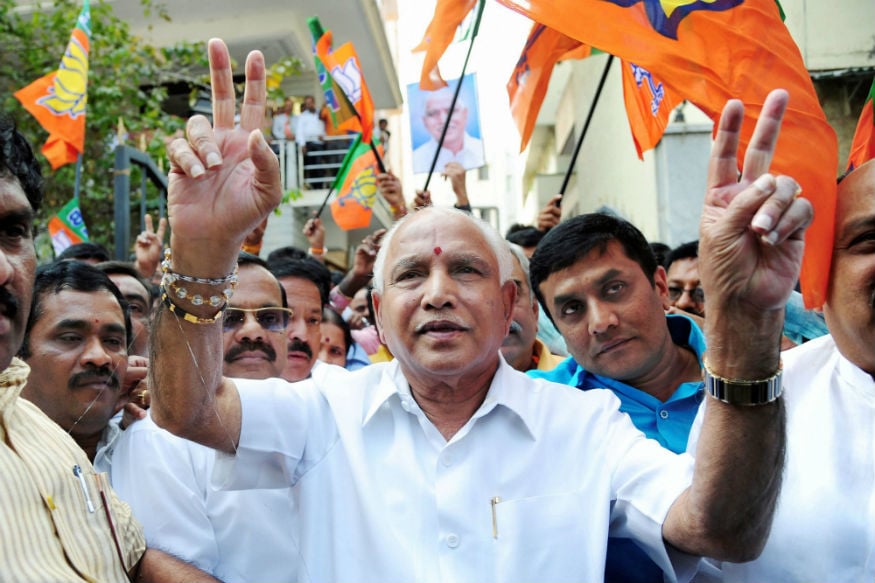 Karnataka BJP chief BS Yeddyurappa flashes victory sign along with the party members in Bengaluru (File Photo: PTI)
Bengaluru: By calling the Karnataka government "most corrupt", Prime Minister Narendra Modi has shifted the poll agenda from 'Hindutva' to development. But most BJP leaders in Karnataka are wondering whether this will work in the poll-bound state.
The ruling Congress government, led by Chief Minister Siddaramaiah, is having a field day attacking the BJP, led by in the state by BS Yeddyurappa, calling it the "most corrupt" in the history of Karnataka.
Siddaramaiah who doesn't take to personal affronts kindly has lashed out at both Prime Minister Narendra Modi and Yeddyurappa in a series of tweets. He has dared Modi to "walk the talk" by naming a clean person as BJP's chief ministerial candidate in the state. He has also asked Modi to clarify on several issues, including not appointing a Lokpal at the Centre even after four years in office.
I am glad PM @narendramodi is talking about corruption. I now invite him to #WalktheTalk . For a start can you1. Appoint Lok Pal2. Investigate #JudgeLoya 's death3. Investigate the astronomical rise of #Jayshah 4. Appoint an untainted person as your CM candidate ?

— Siddaramaiah (@siddaramaiah) February 6, 2018
The state BJP leaders are trying their best to defend Modi. But they are not showing the same enthusiasm in defending their CM face Yeddyurappa.
Many top BJP leaders from the state admit that the BJP can't go to people seeking votes against the Congress on corruption plank as their own track record is dubious.
While attacking Siddaramaiah on corruption, Yeddyurappa calls himself an innocent man, acquitted by the Karnataka High Court.
ನಾನು ನಿರ್ದೋಷಿ ಎಂದು ಹೈಕೋರ್ಟ್ 7.3.2012ರಲ್ಲಿ ತೀರ್ಪು ನೀಡಿದೆ. ನೀವು ಕಾನೂನು ಓದಿ ನ್ಯಾಯತಂತ್ರ ವ್ಯವಸ್ಥೆಯಲ್ಲಿ ನಂಬಿಕೆಯಿಲ್ಲವೆಂದರೆ ಅದು ನೀವು ಸಂವಿಧಾನಕ್ಕೆ ತೋರುವ ಅಗೌರವ.ಪ್ರಚಾರಕ್ಕಾಗಿ ನಿಮ್ಮ ಬೌದ್ಧಿಕ ದಾರಿದ್ರ್ಯವನ್ನು ನಾಡಿನ ಜನತೆ ಮುಂದೆ ನೀವೇ ತೋರುತ್ತಿದ್ದೀರಿ, ಸಿದ್ದರಾಮಯ್ಯನವರೆ.

— B.S. Yeddyurappa (@BSYBJP) February 5, 2018
State BJP general secretary CT Ravi has taken on Siddaramaiah for his references to the 2002 Gujarat riots, reminding him about the 1984 anti-Sikh riots in Delhi.
ಜೈಲಿಗೆ ಹೋಗಿ ಬಂದು ಪ್ರಧಾನಿಯಾಗಿದ್ದ ಇಂದಿರಾ ಗಾಂಧಿಯವರ ಹತ್ಯೆಯಾದಾಗ ನಿಮ್ಮ ನಾಯಕರಾದ ರಾಜೀವ್ ಗಾಂಧಿಯವರ ಉಸ್ತುವಾರಿಯಲ್ಲಿ ಸಿಖ್ ಸಮುದಾಯಕ್ಕೆ ಸೇರಿದ ಸಾವಿರಾರು ಮುಗ್ಧರನ್ನು ಘೋರವಾಗಿ ಕೊಂದದ್ದನ್ನು ಸದಾ ತೂಕಡಿಸುವ ನೀವು ಮರೆತು ಬಿಟ್ಟಿರಾ? ಕೊಲೆಗಡುಕರ ಪಕ್ಷದ ನಾಯಕರಾದ ನೀವು ಮೋದಿಯವರನ್ನು ಪ್ರಶ್ನಿಸುವುದು ನಾಚಿಕೆಗೇಡು. https://t.co/Eq5UIK3fxE

— C.T.Ravi (@CTRavi_BJP) February 5, 2018
The BJP, which came to power for the first time in a southern state in 2008, had to face serious charges of corruption. The allegations forced the party to change three chief ministers, finally leading to a split in the saffron party in 2013.
The BJP's most powerful leader and then chief minister Yeddyurappa was ordered to quit by the party high command in July 2011 after he was indicted in a mega mining scam worth over Rs 50,000 crore. He had even spent three weeks in jail as an accused in a Lokayukta case. He was later acquitted in most of the cases.
The Bellary Reddy brothers, who wielded enormous power during the BJP regime, went to jail in the mining scam. Their leader and former minister G Janardhana Reddy was in jail for more than three years before being released on bail. His younger brother and BJP MLA G Somashekhara Reddy was also in jail for allegedly bribing a lower court judge for his brother's bail. Many of their aides were also sent to jail on corruption charges.
Yeddyurappa's top ministers, Katta Subramanya Naidu and Krishnaiah Shetty, were also in jail on corruption charges. Another minister Haratalu Halappa had to quit over a rape charge and was acquitted recently. Three of his ministers — CC Patil, Lakshman Savadi and Krishna Palemar — were caught red-handed watching porn in the state Assembly.
What is also surprising is the Congress' disinterest in pursuing the corruption cases against the previous BJP government in the last five years.
Siddaramaiah rode to power promising to send corrupt BJP leaders to jail. But his government is accused of going slow in prosecuting them.
The JD(S) state head and former chief minister HD Kumaraswamy said there was an understanding between the two parties and both were playing to the gallery. "Some Congress leaders and BJP leaders have business links. The money involved runs into several thousand crores. If they apply the law, both will be in trouble," he said.
The BJP's fight against Siddaramaiah government's alleged corruption has also never reached a logical conclusion. According to its own leaders, most of the time it was just a half-hearted attempt.
The Congress, on the hand, has decided to put the BJP on the mat by continuously questioning the latter's high command on its own leaders' corruption in Karnataka. Anticipating this, two months ago the BJP had changed its poll strategy by focusing more on Hinduvta and less on corruption. It was even accused of skirting the issue for the fear of being exposed once again. Unmindful of this, PM Modi has now set tone for the elections. Like it or not, the state BJP is being forced to fight the polls on corruption plank.
Get the best of News18 delivered to your inbox - subscribe to News18 Daybreak. Follow News18.com on Twitter, Instagram, Facebook, Telegram, TikTok and on YouTube, and stay in the know with what's happening in the world around you – in real time.
| Edited by: Nitya Thirumalai
Read full article