Will Legal Troubles Nip Sasikala's CM Dream? Here's All You Need to Know
The Supreme Court will pronounce the verdict on the 18-year-old disproportionate assets case that had haunted the late J Jayalalithaa for a good part of her political career.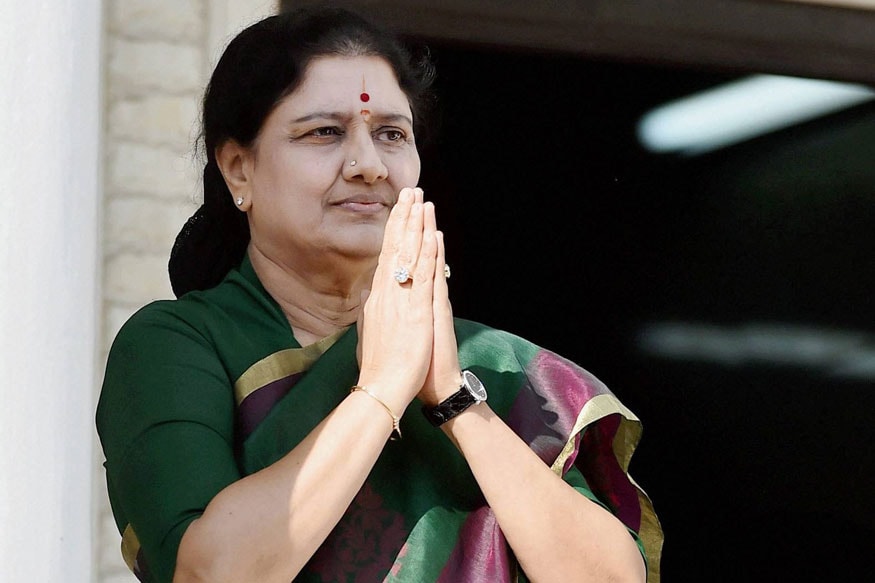 File photo of AIADMK General Secretary VK Sasikala (PTI Photo)
New Delhi:
The Supreme Court will pronounce the verdict on the 18-year-old disproportionate assets case that had haunted the late J Jayalalithaa for a good part of her political career. The former Tamil Nadu chief minister is no more, but in the dock is the future Tamil Nadu CM VK Sasikala. News18 puts together an explainer on the DA case and other legal challenges facing her.
What is the Disproportionate Asset case?
The case famously referred to as the DA case has been going on for the past 18 years since 1996 when Dr. Subramanian Swamy filed a complaint against Jayalalithaa who was not in power at that time. The complaint alleged corruption and amassing of wealth and assets disproportionate to her known sources of income when she was the CM earlier.
What were the assets in question here?
Jayalalithaa's arch-rival M Karunanidhi's DMK-led government had directed the state vigilance department to file an FIR against the former CM based on a police investigation triggered by Swamy's private complaint. She was accused of amassing at least Rs 66.65 crores. The assets included 1,200 hectares including farm house and bungalows in Chennai, agricultural lands in Tamil Nadu, farm house in Hyderabad, tea estate in the Nilgiris, jewellery, industrial sheds, cash deposits, and luxury cars. A raid in her Poes Garden residence in 1997 recovered 800 kg silver, 28 kg gold, 750 pairs of shoes, 10,500 sarees, 91 watches and other valuables.
What's the timeline of the trial?

· 14 June 1996 - Swamy files complaint against Jayalalithaa
· 18 June 1996 - The then DMK-led government registers First Investigation Report (FIR) against Jayalalithaa
· 21 October 1997 - A special court frames charges against all the accused
· 14 May 2001 – Jayalalithaa comes back to power in Tamil Nadu
· 28 February 2003 - K. Anbazhagan, the secretary of DMK, files appeal in Supreme Court to transfer proceedings outside Tamil Nadu for a "fair trial"
· 18 November 2003 - Supreme Court orders the trial to be moved to Bengaluru, Karnataka
· March 2005 - Trial commences in special court in Bengaluru
· 13 August 2012 - Special Public Prosecutor, B.V. Acharya, resigns alleging pressure to transfer him
· 28 August 2014 - Trial concludes and court decides 20 September as the date of sentence
· 16 September 2014 - Court allows appeal of Jayalalithaa to move proceedings to different court and sentence to 27 September on grounds of security.
· 27 September 2014 - Court pronounces verdict - all four convicted are sentenced.
· 29 September 2014 - Jayalalithaa files bail plea in Karnataka HC.
· 17 October 2014 - Supreme Court grants bail to Jayalalithaa.
· 11 May 2015 - Jayalalithaa is acquitted of all corruption charges by the Karnataka High Court.
· 23 May 2015 - Jayalalithaa returns to power as Chief Minister of Tamil Nadu.
· 05 December 2016 - Jayalalithaa passed away on December 5 after suffering from a cardiac arrest.
· 06 February, 2016 – SC today told the Karnataka government to wait for another week for the judgment on appeals filed by the State against the acquittal of former Tamil Nadu Chief Minister Jayalalithaa & others in the DA case.
What are the possible repercussions of the pending SC verdict?
BV Acharya, who was a senior counsel and former advocate general of Karnataka during this case, had told News18.com, "When there is only one accused, then in the event of the person's death the judgment is usually abated. But in this case, there were more than one accused and even if Jayalalithaa's name would be struck off, Sasikala and others are still very much in the case and could be convicted again."
He maintains that the order of Jayalalithaa's acquittal by the Karnataka High Court was wrong and was without any merit. "The error was apparent when even when the lawyers of the accused only commented on the conclusive paragraph of the judgment without delving into the reasoning given by the judges," Acharya said.
Acharya said that if the apex court rules in favour of the prosecution, then not only could Sasikala and others land in jail paying a fine, but there would also be an order of confiscation of properties by the government.
Since the SC has hinted towards the pronouncement of the verdict within a week, it would probably be announced after February 9 the day when Sasikala is officially expected to take over as the Chief Minister. In an event of her being convicted of the offences, then as mandated by a 2013 SC verdict on Representation of the People Act that prevents member of the state legislative assemblies and members of parliament from holding the posts after conviction, Sasikala would have to step down as the Chief Minister.
Apart from this DA case, what are the other cases against soon to be Tamil Nadu CM VN Sasikala?
There were 3 cases filed by the Enforcement Directorate in 1995 & 1996 where she has been charged with violating Foreign Exchange Regulation Act (FERA). The cases were related to payments made to foreign firms in US & Singapore dollars for hiring uplink facilities for JJ TV, the predecessor to Jaya TV. On Feb 1 this year the Madras HC refused to discharge her in these cases.
Another case relating to acquiring illegal foreign exchange through an acquaintance in Malaysia is also pending against her. Sasikala along with her sister-in-law J. Ilavarasi allegedly used the money to purchase the Kodanad Tea Estate in the Nilgiris. In May 2015, Egmore court had discharged her from the case but Madras HC directed her to face trial following criminal revision petition filed by the Enforcement Directorate.
| Edited by: Ananya Chakraborty
Read full article
Countdown To
Elections Results
To Assembly Elections 2018 Results