Will Panchayat Results in Bhangar Catapult it into Becoming Next Flashpoint in Bengal's Politics?
On May 11, 2018, ahead of Panchayat polls, a SLLHEC-backed Independent candidate, Hafizul Mollah, was shot dead during a rally at Bhangar.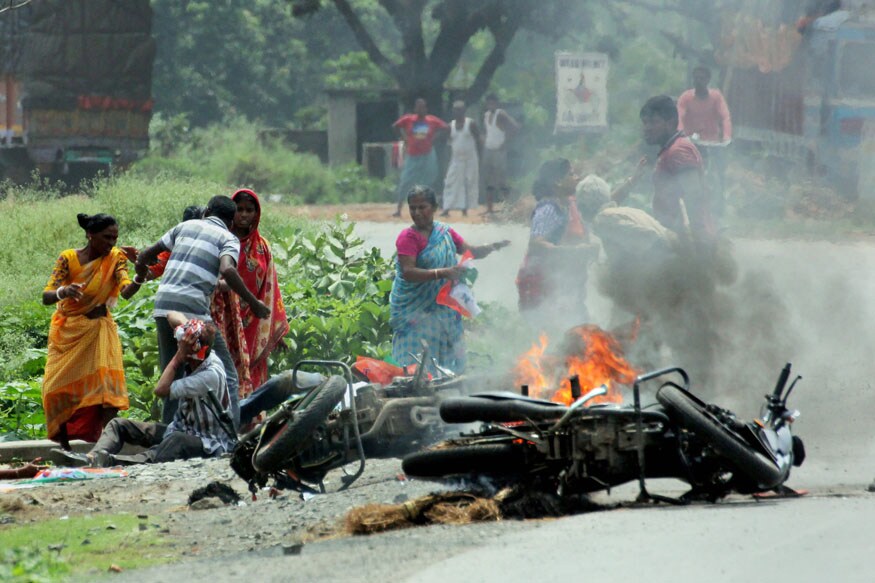 A scene of post-poll violence in Nadia district of Bengal (PTI Photo)
Kolkata: Going sharply against the general trend of a Trinamool Congress-dominated Panchayat poll results in Bengal, five out of nine Gram Panchayat candidates of the Save Land, Livelihood, Home and Environment Committee (SLLHEC), backed by ultra-Left CPI (ML) Red Star, defeated the dominant ruling party candidates in the 16-seater Polerhat-II Gram Panchayat in South 24-Parganas' Bhangar area.
The Committee is a platform of villagers which is resisting forcible land acquisition of farmers for a power grid project in Bhangar. In last few months Bhangar, 33 km from Kolkata, has witnessed large-scale violence and clashes between the police and farmers.
A statement issued by CPI (ML) Red Star, General Secretary K.N. Ramachandran reads, "At Bhangar, in Polerhat-II Gram Panchayat in five out of 16 seats, where the West Bengal panchayat elections took place, the Bhangar Committee candidates won with overwhelming majority. Supreme Court has stayed the results of 8 seats where the TMC candidates are unopposed as the Committee candidates were prevented from giving nomination and in the 3 seats where booths where captured by TMC goons we demand re-polling."
It further reads, "It is a great victory expressing the democratic verdict of the people after lot of sacrifice, including the martyrdom of three comrades. Red Salute to all comrades!"
Both BJP and CPI (M) had accused Mamata Banerjee of forcibly grabbing land of farmers and alleged that the Bhangar agitation unmasked the face of Ma, Mati, Manush government.
"TMC came to power by opposing forcible land acquisition in Nandigram and in Singur. They did this for their political interest and deprived Bengal of the Tata Nano project. Now, it is the same Trinamool Congress, which is grabbing the lands of poor farmers on gunpoint in Bhangar," said BJP General Secretary Sayantan Basu.
Trouble started in 2013 when TMC strongman from Bhangar, Arabul Islam, reportedly forcibly acquired 13 acres of land from farmers for a power project of Power Grid Corporation of India Limited - a central government enterprise - to set up a substation of 440/220KV to transmit power between West Bengal and Purnia in Bihar.
On May 11, 2018, ahead of Panchayat polls, a SLLHEC-backed Independent candidate, Hafizul Mollah, was shot dead during a rally at Bhangar.
Bengal Chief Minister Mamata Banerjee expressed her concern over the murder and ordered police to arrest Arabul Islam, who is currently held in jail.
The region has witnessed several violent clashes between protesting villagers and TMC cadres and the police. And now with Polarhat-II results going in favour of the protesters, many feel that the area looks like another Nandigram and Singur in the making.
Ever since the SLLHEC decided to contest the Panchayat polls and were allegedly stopped from filing nominations by the Arabul Islam-led TMC nominations, political polarisations have sharpened further. The CPI (ML) Red Star moved Calcutta High Court and on April 24, in a landmark judgment, the court ordered the State Election Commission to accept nominations of the nine SLLHEC candidates contesting from Bhangar in South 24 Parganas through WhatsApp.
CPI (M) Legislature Sujan Chakraborty on Polarhat-II results, said, "It's a people victory. It is a victory against ruling party's atrocities."
Get the best of News18 delivered to your inbox - subscribe to News18 Daybreak. Follow News18.com on Twitter, Instagram, Facebook, Telegram, TikTok and on YouTube, and stay in the know with what's happening in the world around you – in real time.
| Edited by: Ashutosh Tripathi
Read full article