GET Stock

Quotes


Will She? Won't She? Priyanka Gandhi is Still Testing The Waters
So why isn't Priyanka going the whole hog? Why is she keeping the party confused? What is she waiting for?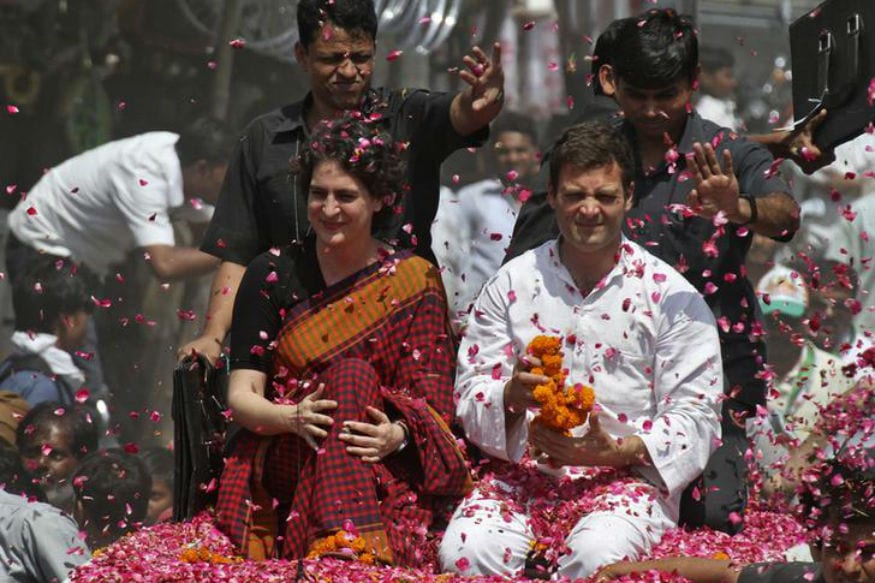 File image of Rahul Gandhi (in white), and Priyanka Gandhi Vadra (Reuters)
It was during the thick of the demonetisation debate and reporters were on alert last Thursday night for news from a special meeting of Cabinet, when Congress spread the word that they may soon make a big announcement.
An hour later, the presser alert was called off and waiting journalists were told there would be no announcement.
Sources later revealed what the party had planned that night, to make public the slow entry of Priyanka Gandhi in the battleground state of Uttar Pradesh.
It was yet another false alarm. The reason given this time was that Dr Manmohan Singh was grabbing the headlines after his speech in Rajya Sabha and they didn't want a diversion. But it brought back again questions about the Priyanka card. Is the party serious about it? Is she serious about it?
Sources close to her say it's a call she is yet to take, but that she is now open to the idea of at least getting more involved.
That is apparent. Priyanka is increasingly handling key decisions like the joining of Navjot Singh Sidhu's wife in the Congress in Punjab, micromanaging the campaign in UP and regularly attending core group meetings on UP and, at times, on Punjab.
So why isn't Priyanka going the whole hog? Why is she keeping the party confused? What is she waiting for?
Firstly, the Congress realised the real battle is not UP polls, but the next general election in 2019. So why use Priyanka now? Second, till Rahul Gandhi makes up his mind and dons the crown, her formal and big bang entry would only end up creating another centre of power and endless talks of competition between the two.
And most important she is waiting to watch what happens on the Robert Vadra issue. She and Congress are aware that as polls come closer, the issue would be used to question the party and, more importantly, her.
When she decides to take the plunge, Vadra will be used to question her integrity as well. But unlike the initial reaction of the Congress which was confused as to how to deal with it, occasionally calling Vadra a private individual and then saying he was a target of witch-hunting, Priyanka is clear that she won't take it lying low and will hit back.
She has made it clear to those close to her that this could be the reason why she will eventually join. The Indira in her makes her believe that one has to take the enemy head on. In that sense, she is different from Congress, which is more often than not, is in a state of flip flop.
Sanjay Singh, UP campaign head, said, "Priyanka has the nationalist legacy and the charisma, and the party would benefit from her (sic)."
But won't her entry be seen as an admission of failure of Rahul? No, said Sanjay Singh. "Why? They all can work together and best minds can get together. Didn't Indira and Rajiv work together? Didn't Vajpayee and Advani work together? They will complement each other."
Priyanka is actually testing the waters. In a party which has been seeing single-handed rule of Sonia Gandhi for over 17 years, Rahul's entry wasn't taken with too much enthusiasm. As long as he restricted himself to occasional tours and outings, the party was happy. Problems began when Rahul began to take decisions and Sonia opted out.
A senior Congress leader out in the cold now said, "We are to blame. Sonia didn't prepare us enough for Rahul to take over and Rahul's reluctance encouraged us to believe she would continue forever."
Political strategist Prashant Kishor is of course has been pushing for Priyanka's entry because as a strategist, he thinks Congress needs to constantly be in headlines. This is tough for a party which has shied away from communication skills.
Priyanka is smarter; she has given cues to the party that eventually she and Rahul will take over. Priyanka is preparing the Congress for her entry.
Also Watch
| Edited by: Smrithin Satishan
Read full article