Will Yunus Khan's Minority Connect Deny Sachin Pilot His CM Ambition? Tonk is Too Close to Call
A Tonk journalist says that Sachin Pilot still has an edge over Yunus Khan, but the gap is smaller now.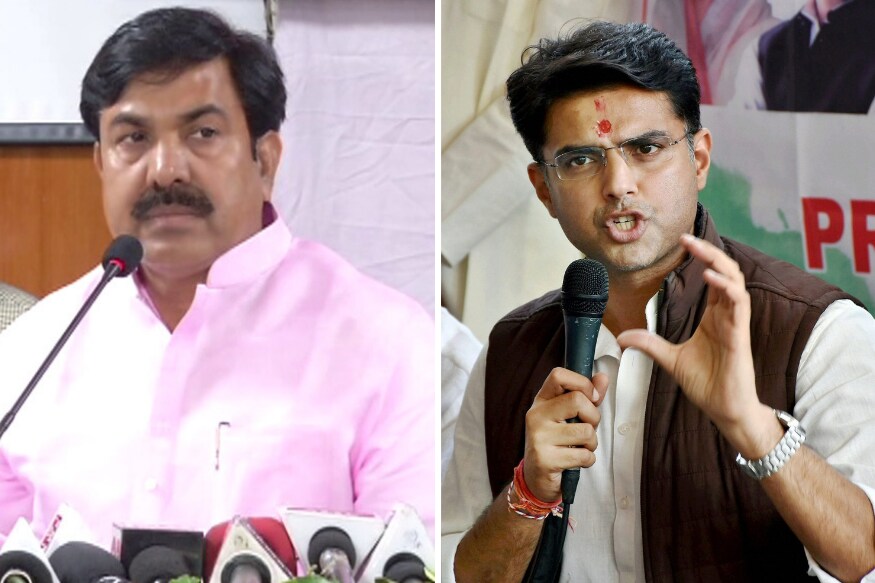 File photos of Yoonus Khan and Sachin Pilot.
Tonk: When Congress released its list of candidates for upcoming Rajasthan Assembly elections and confirmed Sachin Pilot's ticket from Tonk constituency, the road looked clear for the Pradesh Congress Committee president.
But the decision to field Pilot from Tonk moved BJP to drop Ajit Singh, the incumbent legislator from the constituency, and bring in Deedwana MLA and minister of Public Works and Transport Department Yunus Khan to face the former MP in a direct fight.
The move has shifted political equations in Tonk, its residents say. What was once supposed to be a straight victory for Pilot is now being considered a close fight.
"The political wind is changing its direction. Anything can happen now in the next one week," said Akhtar Nawab, a jeweller and a journalist from Tonk. According to him, Pilot still has an edge over Khan, but the gap is smaller now.
Yunus Khan has been touring the Tonk district and holding daily public meetings in villages surrounding the city. He has also held open interactions with different communities here. Many believe seeing him regularly is changing Tonk's inclination. "Pilot was favourite. He still is. But Yunus Khan is rising, especially in the rural areas," said Mukesh Gurjar.
Mukesh, 28, works as an attendant at a hotel in Tonk city. In fact, when Pilot was in Tonk the last time around, he stayed at the hotel where Mukesh works. "I want Pilot to win. He could become the Chief Minister of Rajasthan. He is the state president of Congress too. He will develop the region like he developed Ajmer," Mukesh said. "Tonk is in his favour, but one can't say what will happen," he added.
BJP workers say the move to bring Khan to contest against Pilot was a 'masterstroke'. According to them, by choosing to contest from Tonk, where Muslims are a majority, Pilot snatched away a seat for a minority candidate. That is why BJP brought in a minority candidate against Pilot. Khan is BJP's sole Muslim candidate in the upcoming polls.
Khan is also a popular leader in Rajasthan. He is believed to be close to Chief Minister Vasundhara Raje, and is a two-time MLA and a minister in Raje's cabinet, so he has appeal among the masses. "You need to put up a big face against another big face," said Shakeel Ahmed Deswali, a BJP worker from Tonk.
There is parallelism between Tonk and Jhalrapatan constituencies too. At Jhalrapatan, Congress put up Manvendra Singh, who recently defected from BJP. Singh, a popular MLA from Sheo, was brought in against Raje, a three-time MLA from Jhalrapatan. "Bringing in Yunus Khan is also a response to that. In state politics, it is unspoken mutual agreement to not put up a strong candidate against the party chief or Chief Minister in their constituency," Deswali said.
From BJP's perspective, the narrative is that Khan has done good work in Deedwana, Nagaur district, and he will do the same in Tonk. In fact, BJP workers say over a hundred workers and supporters from Deedwana have come to Tonk to spread the same message. And it seems to be working.
His deeds of Deedwana are reaching the public ear in Tonk. "People are saying he did good work in Deedwana. So the mood is changing. I have always voted for BJP, but was going to vote for Pilot this time. But now, I'm not sure," said 26-year-old Ganesh Sahu, a Tonk resident. "If Pilot wins, he should stay here and work and not leave for key positions later," he added.
With word about his work going around the town, Khan is rising in reputation. He held an interaction with traders of Tonk on Tuesday, followed by an address to the Muslim community in Hira Chowk area.
"Khan is more accessible. He is in Tonk everyday and he is holding public meetings. Anyone can go up to him and talk to him. But Pilot flies around in helicopter, lands, talks and leaves. The sense here is that he is not that approachable," Nawab said. "Even if he wins, he will not stay here. He will become Chief Minister and rarely visit Tonk," he added.
According to Nawab, the younger people are attracted towards BJP, while the older ones remain loyal to Congress. Even the Nawabs of Tonk have thrown in their support for Pilot. The demographics of Tonk are also stacked in favour of Congress and Pilot.
"There are about 8,000 Jats, 12,000 Brahmans, 22,000 Gurjars, 40,000 Scheduled Castes and Tribes and around 55,000 Muslims in Tonk," said KR Khan, journalist and human rights activist from Tonk. "The Gurjars are likely to support Pilot because he belongs to their community; SC/STs and Muslims have also traditionally voted for Congress. So Pilot has advantage. But things can change," he added.
Tonk constituency has about two lakh voters, according to Khan. Data from 2013 Assembly elections says that Tonk had 1,89,707 voters then and 1,42,523 votes were polled in, with a high voter turnout of over 75 percent. The winner, Ajit Singh from BJP, had received 66,845 votes. So the numbers suggest Pilot still holds an advantage based on voting patterns of different communities in Tonk.
For BJP's Khan, there are considerable obstacles too. Firstly, he has been brought in out of his constituency, and thus Tonk is not too familiar with him, although Khan has been working on that front. According to KR Khan, the journalist, BJP has fronted him thinking he will absorb the majority Muslim vote in Tonk. "But it's not that simple. Muslims have traditionally voted for Congress as well. And they can't be fooled by BJP by fronting a Muslim candidate. They are aware of the aggressive Hindutva agenda of the party," Khan said.
He also said that there is a possibility that Ajit Singh, who had already filed his nomination when BJP cut his ticket and brought in Khan in his place, is still displeased. "Singh and his workers could discreetly work against Yunus Khan and tell voters to not vote for him," Khan said.
According to Nawab and other residents, Tonk elections historically have been fought on religious lines, but this time it could be different. Tonk is likely to vote on the issue of development, which the region has seen very little of.
Both Congress and BJP have let Tonk down in the past and unemployment, railway link, drinking water, roads remain as major problems. Farmers in rural areas in the district are also facing a massive Urea shortage. Even Yunus Khan in his address at Hira Chowk said, "I don't want the election to be about the two religions. It should be about Tonk's issues." It remains to be seen if Tonk buys into his promise.
Read full article
Countdown To
Elections Results
To Assembly Elections 2018 Results