With Cong, Regional Parties No Longer Taking Mandir Bait, Competitive Minority Politics Gets Quiet Burial
The competitive minority politics between the Congress and regional parties has been given a quiet burial.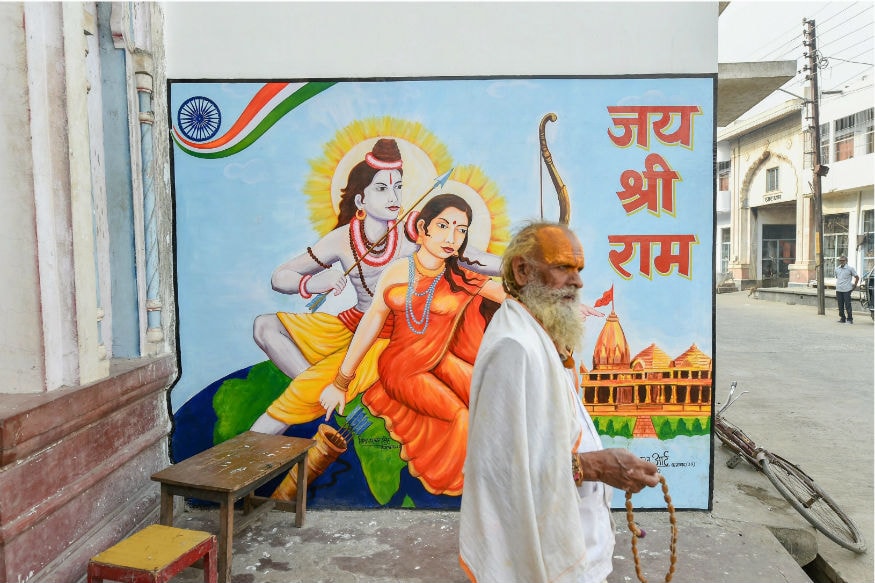 A sadhu counts beads near a temple in Ayodhya on Nov 3, 2018. (PTI Photo)
New Delhi: The Vishwa Hindu Parishad organised the first meeting of saints and seers at Delhi's Vigyan Bhawan in early 80s to drum up support for the construction of Ram Temple in Ayodhya. Indira Gandhi was the PM in power and not many paid heed to the VHP campaign.
Few years later, the BJP formally brought Ram Mandir on its political agenda at the Palampur conclave of the party in Himachal Pradesh. Both RSS and BJP leaders have since expressed their commitment to the construction of the temple at the disputed site. Contingent upon the prevailing circumstances, the intensity of the campaign has had its crests and troughs.
RSS and BJP leaders are again anxious about the 'inordinate delay' in the hearing of the title suit by the Supreme Court.
The opposition has linked the upping of the ante to the upcoming elections. It is, however, not sure if this is a build-up to ongoing Assembly polls or the Lok Sabha elections next year.
In a marked departure from their instant and vociferous reactions to any developments on Ayodhya, almost all opposition parties have decided not to join issues with the BJP anymore. At least, not on Ram Temple.
Prodded by reporters, former Haryana chief minister and Congress leader Bhupendra Singh Hooda recently said he would light a lamp if the temple is built.
Samajwadi Party leader and its Muslim face Azam Khan has been at his oratorical best in the last few weeks. The former minister has pledged support if a statue of 'maryada pushottam Ram' built in his hometown Rampur in western UP. A statue that he says should be taller than Sardar Patel's Statue of Unity.
Earlier this week, UP Chief Minister Yogi Adityanath headed to Varanasi after re-christening Faizabad as Ayodhya. The same day, Samajwadi Party chief Akhilesh Yadav landed in the holy city of Varanasi to participate in Govardhan Puja at Khagaria Ghat.
In these times, a much stronger statement from Azam Khan and Akhilesh would have politically suited the BJP. Something from the yore and from Mulayam Singh's repertoire. Something akin to "parinda bhi par nahin mar sakta". Interestingly, even litigants in the Ayodhya title suit like the All India Muslim Personal Board have been restrained in its reactions.
You need two poles to create a polarised polity. In this case, one side has refused to join issues with the other. That leaves only AIMIM leader Asaduddin Owaisi who has to cater to his own constituency ahead of Telangana polls.
Politicians have an innate ability to adapt and evolve; Darwin's favourite child amongst the sea of humanity.
The 2017 Uttar Pradesh assembly polls which gave BJP a three-fourths majority changed a few things in Indian politics. Rahul Gandhi is going to temples. Azam Khan is restrained. Tejashwi Yadav has made development his political plank.
It symbolises an end of an epoch, a trend which ran its full course for a good three decades after the Mandir-Masjid upheaval in 1990.
The competitive minority politics between the Congress and regional parties has been given a quiet burial.
| Edited by: Nitya Thirumalai
Read full article
Countdown To
Elections Results
To Assembly Elections 2018 Results