With Exit Polls Predicting a Close Finish in MP, Here are Five Factors that will Determine Outcome in State
A lot of factors will decide the fate of Madhya Pradesh assembly elections, the counting for which will take place on December 11. Around 3.7 crore voters cast their ballots on November 28.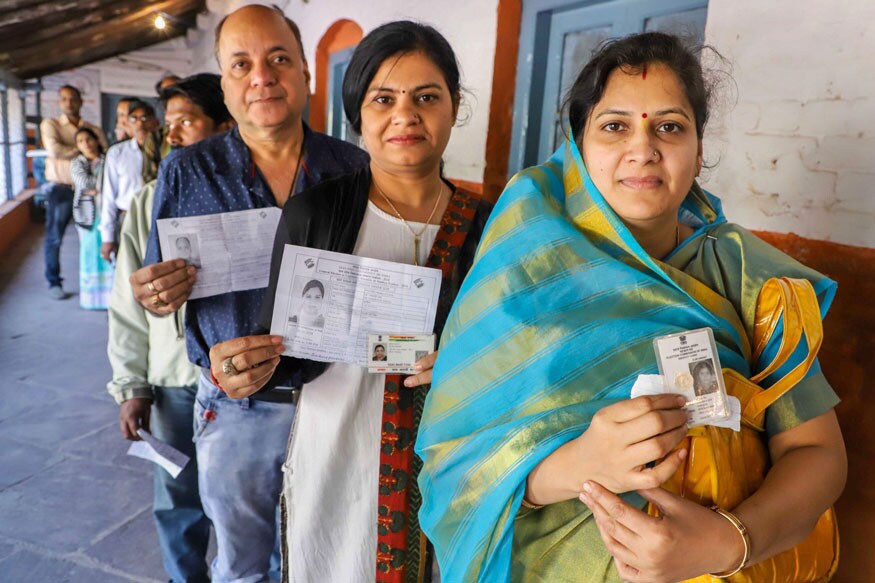 File photo of voters standing in queue with their identity cards to cast their votes (Image: PTI)
New Delhi: In a state as large as Madhya Pradesh, with at least five different sub-regions and cultures, there can't be just one scale on which to measure public sentiment.
Record voter turnout, agrarian distress, the anger of the OBCs and upper castes against the BJP's intervention in the SC/ST atrocities act, the confusion over CM face in the Congress camp, unprecedented silence of voters, rebel candidates, and 15 years of cumulative anti-incumbency.
A lot of factors will decide the fate of Madhya Pradesh assembly elections, the counting for which will take place on December 11. Around 3.7 crore voters cast their ballots on November 28.
Let's take a look at the five big factors.
1. High Voter Turn Out
There are two ways of interpreting the high voter turnout in MP. Two sets of facts actually.
a) It is a vote for the BJP
As we reported earlier, of the 17 states that elected new governments since May 2014, 10 states recorded increased voting percentage. The BJP benefited in the assembly elections in seven of these states. The high voter turnout could be seen as a successful RSS voter mobilization, a mission given to the swayamsevaks by their chief Mohan Bhagwat in his latest Vijaydashmi address.
b) It is a vote for the Congress
The difference between voting percentages in rural and urban areas is remarkable. Rural areas saw, considered to be Congress strongholds, a turnout of 80 per cent. Considering that 73% of the state is rural, this could be seen as a vote for change.
2. Farmer Anger
"Urea is being sold in the black market, diesel rate is sky high, the MSP is not being given to us, the promised zero percent loans are being denied, Bhavantar scheme isn't available on time. Why should we not vote for change?" Dharampal Rajawat in village Bhuda, Mandsaur, told News18.
In a state, 70% of whose households are dependent on agriculture, a lot will depend on which way the farmers go this time. Whether their anger translates into votes for the Congress or is the BJP able to pacify them with schemes like Bhavantar.
On this front, Congress has some reasons to be happy. Rahul Gandhi, who repeatedly visited Mandsaur and attracted lakhs of supporters, gave his party a huge boost to his party at least among the agrarian sector. Back in April this year he promised farm loan waiver in Mandsaur, a promise that generated such a strong response, that the Congress put it in writing in their manifesto.
Senior journalist and political analyst Girija Shankar doesn't believe that the Congress has been able to translate this anger into votes.
"Yes the loan waiver in itself has become a big issue but as far as I've seen. BJP has been able to contain the anger. Anger against the BJP is not necessarily going to translate into votes for the Congress," said Shankar.
3. Silent Voters
The most common and striking feature, in at least the biggest sub-region of the state - the Malwa-Nimar region - with 66 of the assembly's 230 seats, has been the silence of the voters.
"Voters are either silent or confused or they have already made up their minds and aren't telling us. Whatever may be the case, this is a phenomenon that I haven't witnessed in the last 15 years. It is surprising because voters tend to be quite forthright here," said a journalist, Nemichand Rathore based in Mandsaur.
"There isn't that buzz around the elections that you usually find near tea-stalls and in public transport. People aren't really talking. Or they're giving you name of the party that you want to hear," another journalist told News18 from Ratlam.
Some translate this silence into a watchful and slow-brewing resentment against the ruling BJP, especially among the government sector, a large number of workers there have repeatedly agitated against the non-confirmation of their contracts.
4. The OBC and Upper-Caste Anger
Across the state a unique phenomenon was on display weeks before the polls. The upper-caste dominated villages across the state had put up signboards declaring their preference for NOTA to show their seemingly non-partisan anger.
In several of them BJP candidates were explicitly asked to stay away.
"Humne unse kaha ki jab aapne hamare bacchon ke baare mein nahi socha to hum aapke bacche ke baare mein kyun sochein?" says Bhairav Singh Solanki, a regional Karni Sena leader. He was referring to the poll campaign being conducted by social justice minister Thawarchand Gehlot for his son Jitendra Gehlot fighting from Alote, Ratlam.
The anger against the BJP, among the upper-castes and the OBCs for overturning the Supreme Court's verdict that 'diluted' provisions of the SC/ST atrocities act, even gave birth to like Samanya Pichhada Evam Alpsankhyak Varg Samaj (SAPAKS) in the election season.
Although the SAPAKS has all but withered, the anti-BJP votes are seen to have shifted in favour of stronger Congress candidates on several seats.
5. Congress' Lack of CM and OBC Face
Fifteen years of being in public consciousness, to a certain degree, also helped the BJP when it asked in public rallies – who in Congress will replace Shivraj Singh Chouhan as CM?
One indisputable fact in these polls has been the undiminished popularity of Chouhan, who comes from the numerically strong OBC community. Not only does the Congress not have a CM candidate, it doesn't also have a strong OBC leader to match Chouhan's charisma.
According to the ministry of social justice and empowerment, the OBC population in the state stood at 41.5% in 2011-12.
"Shivraj Singh ko aap bura maano ya bhala. Usne 15 saal mein sabke dimaag pe chap chod di hai. Ek vinamrata hai jo aapko Scindia mein nahi dikhti. Lokpriyata hai jo aapko Kamal Nath mein nahi dikhti [Whatever you may think of Shivraj Singh Chouhan, he's left an impression on everyone in the last 15 years. He has humility unlike Scindia and popularity unlike Kamal Nath]," says a journalist in Ujjain.
Among the voters, by and large, lack of development is seen to be the fault of the local MLA. And the high prices of cooking gas, which is selling for over Rs 1000, or diesel, going for Rs 70-75 a litre, is seen to be the fault of the PM. Farmers' anger too is mostly directed at the PM.
This is why perhaps Modi remained largely absent from campaigning, and campaigning material, in MP.
Apart from these five factors there are several other factors that may determine the outcome of MP polls.
Such as the reserved constituencies that make up 35% of the state assembly, the rebel candidates of the BJP and the Congress that are fighting in nearly 30 seats, and joblessness. Well over 11 lakh youth in the state were jobless, according to data available with the state itself.
Get the best of News18 delivered to your inbox - subscribe to News18 Daybreak. Follow News18.com on Twitter, Instagram, Facebook, Telegram, TikTok and on YouTube, and stay in the know with what's happening in the world around you – in real time.
Read full article