With 'Keep Away from Congress' Strategy, Akhilesh Yadav to Blow SP's Poll Bugle in MP Today
The basic reason why SP is no longer keen on forging an alliance with Congress, is governed by its analysis of the 2019 poll scenario with respect to UP.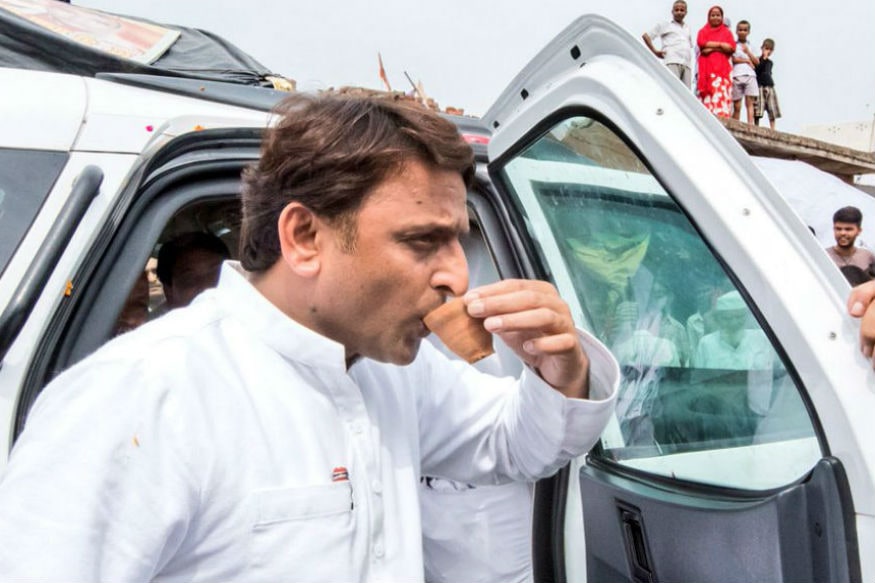 File photo of Samajwadi Party president Akhilesh Yadav
Lucknow:
As Samajwadi party president Akhilesh Yadav embarks on his three-day tour of Madhya Pradesh from Thursday, the party has signaled a clear electoral strategy of — 'Be Away From Congress, Keep Away Congress'.
Highly placed sources in Samajwadi party (SP) have confirmed to
News18
that former Uttar Pradesh chief minister is "just not interested" in accommodating the Congress when it comes to seat sharing on 80 seats of Lok Sabha from the state. Hence, in the run-up to it, SP has decided to keep away the grand old party even in the upcoming assembly polls. However, the party is apparently not averse to BSP entering into an alliance with Congress.
A senior SP leader, responsible for party's conduct in Madhya Pradesh and Chhattisgarh, said, "Party president Akhilesh Yadav has no problem with BSP entering into any alliance with Congress for Madhya Pradesh, Chhattisgarh and Rajasthan assembly elections. But, as far as SP is concerned, it will pursue the policy of keeping away from Congress."
The basic reason why SP is no longer keen on forging an alliance with Congress in assembly polls in these states, is governed by its analysis of the 2019 poll scenario with respect to state of Uttar Pradesh.
Samajwadi leaders feel that an alliance with Congress will not go with their 'political narrative', which SP-BSP want to make against the BJP — that is unity of 85% vs 15%. In this case, they are referring to the political strategy of uniting Dalits, backwards and Muslims against the Upper castes, which has traditionally been seen to be with the BJP.
Also, the lessons drawn from its experience in the 2017 UP assembly elections when SP had entered into an alliance with the grand old party, has been crucial. The 'UP ke ladke' (term coined to address Akhilesh and Amethi's Rahul) had been an electoral disaster with the Samajwadi Party concluding that their effort to gain support from Upper castes through Congress had miserably failed.
It's out of these experiences that SP now wants to keep Congress away. Sources said that since SP has no major stakes in Madhya Pradesh and Chhattisgarh, it's not concerned about electoral loses or gains in these states. But by not pursuing an alliance with Congress at the moment, it wants to steer clear of any moral responsibility to accommodate it later in 2019 electoral strategy.
Reaching Bhopal on Thursday, SP chief Akhilesh Yadav is going to devote maximum time to the MP state capital. He will be meeting party workers from across districts and obtain a feedback on suitable seats.
Sources said that nonetheless a meeting has been scheduled with state Congress president Kamal Nath to convince SP to join hands with the grand old party.
News18
had earlier reported how Congress is ready to accommodate both BSP and SP in alliance in MP, it's willing to leave only 50 out of 280 seats for the two. Party had initially offered around 30 seats to BSP and 20 to SP, that too mostly in area of Bundelkhand and Chambal, bordering Uttar Pradesh.
Samajwadi Party had then already conveyed that it is neither ready to contest on such less number of seats nor "compromise with self-respect". A senior leader observed that the party, under Yadav junior, firstly wants to increase its presence in MP and Chhattisgarh, and then focus on electoral loses or gains. In last assembly elections, SP had polled less than two percent of popular votes in MP and had failed to win even a single seat.
Once Akhilesh returns to UP, its the party's national executive meet being held in Lucknow on July 28, which is expected to put an official stamp on its 'keep away from and keep Congress away' strategy.
| Edited by: Sumedha Kirti
Read full article
Countdown To
Elections Results
To Assembly Elections 2018 Results