After Karnataka-Kairana Success, Congress Discusses Alliances in Madhya Pradesh
In Madhya Pradesh, a pre-poll alliance or an opposition 'mahagathbandhan' like that in Kairana looks like a strong possibility with both Congress and BSP sending feelers to each other.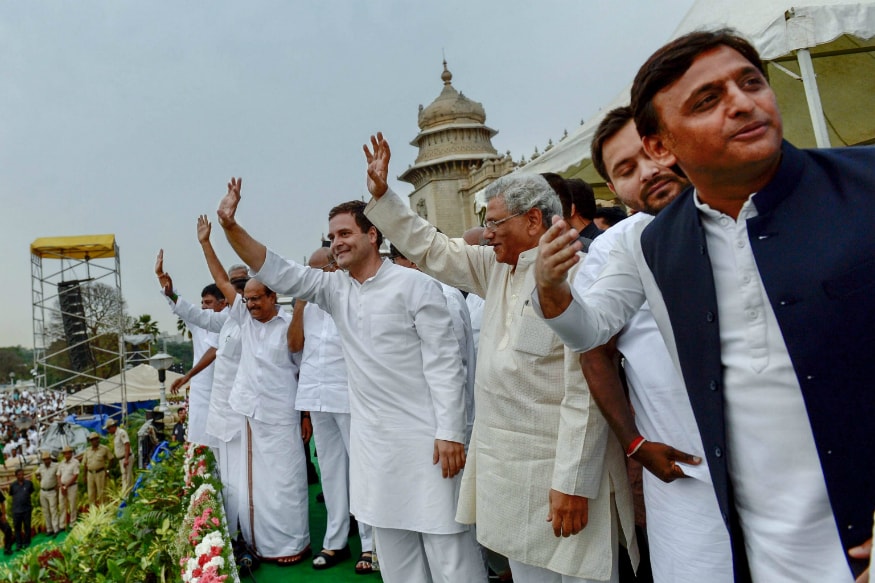 File photo of opposition leaders at the swearing-in ceremony of Karnataka CM HD Kumaraswamy. (PTI)
Lucknow: If writings on the wall are any indicator, Congress is all out on the ground to rope in as many opposition parties as it can in its fight against the BJP in the upcoming assembly elections, even more so in Madhya Pradesh, which is due for elections this year.

In Madhya Pradesh, a pre-poll alliance or an opposition 'mahagathbandhan' like that in Kairana looks like a strong possibility with both Congress and BSP sending feelers to each other.

If all goes well, even Samajwadi Party could ride the opposition bandwagon, along with other regional players.

Opposition and especially the idea of a 'mahagathbandhan' against BJP got wings after a successful run first in Gorakhpur and Phulpur bypolls, followed by the recent Kairana victory. Meanwhile, the Karnataka elections have only reiterated the opposition's need to project a united front in order to fight the BJP.

The way the Congress rushed to extend unconditional support to JD(S) following a fractured mandate and subsequent maneuverings to counter BJP's moves, gave a sense that Congress is now willing to engage with regional parties and give them their due space. The icing came with the perfect photo op at Kumarswamy's oath-taking ceremony last month, echoing a larger opposition unity against BJP.

Sources say, Congress is now eager to dwell on the idea of a pre-poll alliance ahead of the Madhya Pradesh elections as well. The most promising ally here is likely to be the Mayawati's Bahujan Samaj Party with around 8 percent vote share and 4 MLAs in the present state assembly.

BSP enjoys a decent presence in the state as past statistics show that Congress and BSP combined would exceed their vote share as compared to the ruling BJP.

At a political level, there are several reasons to believe that the possibility of an alliance is very high and at some level even the channel of communication is also open between the Congress top brass and BSP president Mayawati.

Mayawati said on May 26, "Our party is open to alliances with other parties in the upcoming state elections and other elections if such alliances are respectable ones."

Ahead of the 2019 General Elections, the only states left to face elections are Madhya Pradesh, Chhattisgarh and Rajasthan. Mayawati's statement could very well indicate these states as BSP has a footing in all three of them.

Mayawati's recent statement and her bonhomie with UPA chairperson Sonia Gandhi and Congress president Rahul Gandhi have already sent out a strong political message.

Top leaders of AICC and those being responsible for Madhya Pradesh, too, are indicating at such possibilities. In fact, a senior Congress leader not willing to be quoted, said, "Congress is willing to have both BSP and the Samajwadi Party on board ahead of the assembly elections."

According to sources, Congress wants to leave 50 seats for BSP and SP and contest the remaining 180 seats in Madhya Pradesh.

BSP and SP might get a larger number of seats in Bundelkhand and Chambal regions along the UP border as Congress would focus more on Vindhya.

However, BSP and SP are likely to demand a slightly larger slice of the pie while sources say things would be worked out as and when talks gain pace.

A senior leader of the Samajwadi Party said, "We are in favour of this idea of opposition unity, but it will not be at the cost of our respect and politics. Our party is not putting its own strategy for Madhya Pradesh on hold because of a possible alliance."

Elections to three state assemblies are still a few month away, thus opposition parties have time to deliberate and formulate their strategy. No doubt there will be a lot to iron out in the process of seat sharing and it will be no easy task to consider everyone's political interests and personal ambitions.
Read full article
Countdown To
Elections Results
To Assembly Elections 2018 Results