With Nitish Kumar Walking Out of Alliance, What Has Lalu Got in Store?
With RJD's arch-enemy BJP sticking strong at the centre and now all set to share power with JD (U) in the state as well, the future, particularly the political future, of Lalu and his family may not look too bright.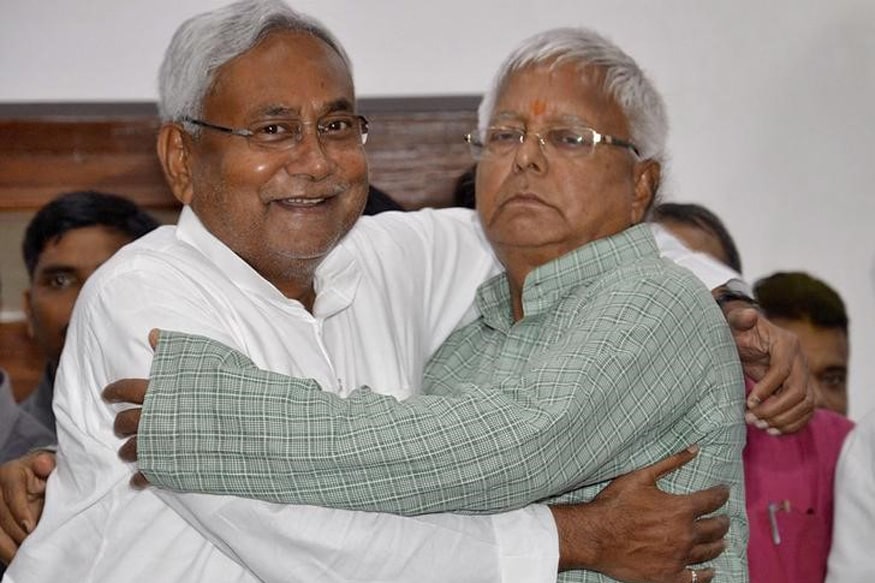 File photo of Nitish Kumar with Lalu Prasad. (Reuters)
New Delhi
: With Narendra Modi congratulating Nitish Kumar on 'joining the war against corruption' minutes after he resigned as Bihar's Chief Minister, and Kumar himself reciprocating the gesture on Twitter, JD (U) and BJP's alliance in government seems almost a done deal.
The only question that now remains unanswered is about Lalu Prasad Yadav. Where does he go from here and how does Nitish's untying himself from the grand alliance will affect Lalu's political future?
In his press conference, Lalu Prasad Yadav seemed to have made a last ditch attempt to save the alliance. "Humko dukh hua, humne aaj fir mana kiya ye kaam mat karo...logon ne mandate diya hai use pura karte hain [I was pained, I told Nitish again today to not resign...people have given us a mandate, let's honour it]."
With RJD's arch-enemy BJP sticking strong at the centre and now all set to share power with JD (U) in the state as well, the future, particularly the political future, of Lalu and his family may not look too bright.
Also considering that Nitish has a record of growing more powerful each time he resigns from a seat of power (such as in 2005 and 2014 when his popularity in state ebbed), and BJP moving from strength to strength in every state election, RJD seems to have been put in a very uncomfortable spot.
But Lucknow-based political science professor and analyst Pramod Kumar believes that those who believe that cornering Lalu or his family and sending them to jail will affect his political career are mistaken.
"Lalu has been in this position before and come out stronger. Don't forget that he went to jail and his wife fought the elections in his name and the family gained tremendous political capital. There are several reasons why Lalu is not going to lose anything in case Nitish chooses to ally with the BJP," Kumar said.
One of the reasons was the stringent caste equations in the state. It was only the first time perhaps that Kurmis and Yadavs, who generally stay away from each other, were brought together by Nitish and Lalu in last state elections.
"People in the state never expect their politicians to be absolutely incorruptible. But what they do believe in is their caste and its representation. The pervasive emotion in Bihar among Muslims and Yadavs is going to be - Hamari jaat ka neta jaisa bhi hai hamara neta hai aur uske saath anyaay hua hai [Our caste leader, however he is, he's our leader and he's just been wronged]. His support base will further be consolidated."
Some other analysts that News 18 reached out to also voiced the same opinion. They said Lalu will be seen as someone who kept trying to save the coalition that Nitish broke under BJP's influence.
But some political analysts went on to claim that Nitish Kumar's pulling out of the alliance is going to boost Lalu Yadav's career.
Manindra Nath Thakur, of the Centre for Political Studies, JNU, actually believes that in Mahagathbandhan's loss lies Lalu's victory.
"If Lalu''s son was ineligible to hold a public office earlier he's now a victim and therefore legitimate contender for power. And so happens to the rest of his family and to Lalu himself. Also, the claims that Nitish was the only credible face of opposition have to realise that Nitish has tried to reach out to people beyond Bihar and has repeatedly failed. So Nitish also knows, that with his limited reach, there was only so much he could do as a member of the opposition. Unlike Odisha's Chief Minister, Nitish doesn't even enjoy wide popularity in his own state. So Lalu doesn't lose anything. He only gains from here," said Thakur.
When asked what was now the way forward, Lalu Yadav, in his press conference, hinted that though he wanted to save the alliance, he still had some cards up his sleeve. "Ye to aaj ka din hai. Abhi dekhiya aage kya hota hai. [This is just today. Look out for what tomorrow will bring]."
Many interested in the state and national politics will be keenly watching his next move.
| Edited by: Bijaya Das
Read full article
Countdown To
Elections Results
To Assembly Elections 2018 Results