Habits 365 is a New-York based fashion brand. Founders Eli and Spencer Zied wanted to create a brand that spoke to people on a personal level about how to achieve success. Wearing its comfortable and stylish clothing reminds people to practice positive habits in order to achieve their full potential. The collection consists of men's, women's and kidswear.
They offer trendy, aspirational merchandise and include fit, healthy models to make it more attractive for followers to see the benefits of a lifestyle that involves a focus on positive habits.
Habits 365, based in New York City, has grown to five-figure revenue, with 160% growth year over year, according to the founders, since they founded it in August 2017. The brothers founded the business with $3,000 they made from a previous business where they bought and sold sneakers.
Since launching Habits 365, Zied has become close to several NFL and NBA athletes, people who can personally relate to the importance of setting great habits to achieve career success.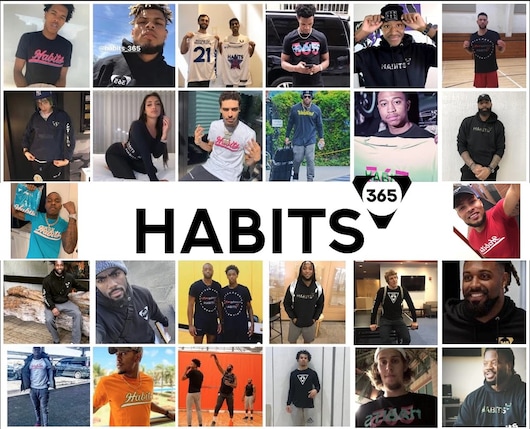 Among the biggest names who've worn Habits 365 gear are Dwyane Wade, Russell Wilson, Landon Collins, Cameron Jordan, Kam Chancellor, Tyrann Mathieu, Floyd Mayweather, and Andre Drummond. In the music industry, Habits 365 has scored a hit with rappers who include DaBaby,  Lil Baby, A Boogie Wit Da Hoodie, and Jay Critch.
The fashion industry is very competitive but Habits 365 is a brand with no competition. They believe in their brand so much that it speaks for itself through celebrities, influencers, and supportive customers.