News18
»
Press Release
3-min read
Meet Rohan Pandya's Don't Get Serious,The Newest Viral InternetTrend On Social Media
Aiming high, Rohan is having huge plans for Don't Get Serious in the upcoming future.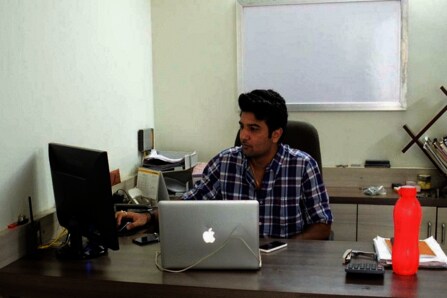 Aiming high, Rohan is having huge plans for Don't Get Serious in the upcoming future.
The Internet has made the world a small place! Social Media Platforms are not only for networking but also act as our source of daily information. At such time, the role of bloggers who share information with us becomes extremely crucial. Rohan Pandya is one such blogger who owns and manages one of India's most popular Blog & Facebook Page, 'Don't Get Serious'.
Like any MBA Student, Rohan was always dreaming to have his own venture. Hence, he started looking for ideas. It was the end of 2013 when Rohan came through the term 'Blogging'. To him, this term was new as blogging wasn't much prevalent in India at that time. He researched through the web about blogging and gained all the necessary information.
On 5th January 2014, Don't Get Serious went live! Initially, the growth of his page was very slow. In the first six months, he only managed to get a few thousand followers.
"This is the time where you need to learn how to keep patience. People don't trust a new name very easily. You must write engaging content, entertain your audience and have to be consistent in order to leave an impression on people's minds. If initial slow growth discourages you, then social media and blogging aren't meant for you." Rohan Pandya speaks on the initial days of Don't Get Serious.
Youngsters these days don't have much time to go through entire news articles. However, they do spend most of their time on Social Media. The beauty of Don't Get Serious is that it updates them with the latest information, in a crisp and humorous way.
"People deal with a lot of things. In order to engage youngsters with the current scenario, it is necessary to speak their language. The main reason for Don't Get Serious's success is that we are writing the blogs keeping the thought process of youngsters in mind. Although people of all age groups follow our page, our main focus is to make people's minds light." Rohan Pandya says on the mission of his Facebook page and Blog.
However, the path of his success is full of many huge challenges. And the very first challenge Rohan Faced was his own parents. While Rohan developed a huge community around the blog during his two years of MBA. It was difficult to convince his parents to allow him to work full time on Don't Get Serious.
Therefore, in order to please his parents, Rohan had to take up a job in a corporate. "That time was very tough. For 1.5 Years, I spent my daytime in office and nights working on the blogs. However, I never felt tired as I was working on my brainchild, Don't Get Serious whom I consider as my first love" Rohan says about his life in a corporate.
And all these efforts gradually paid back very soon. Don't Get Serious got associated with leading Indian Brands PayTM Mall, Amazon Prime, BYJUs, Leading TV Shows, E-Commerce Websites, etc. Furthermore, Don't Get Serious also engaged with various movies as a Social Media Partner.
In 2019, it was associated with Angel Has Fallen, 47 Meters Down, Rambo: Last Blood, Hustlers, Diego Maradona (Documentary), The Current War, Midway, and 21 Bridges as their Social Media Partner.
"If you want to have huge associations, first of all, you should have a large community following you. In order to have a large community, you need to understand the reader's perception and write your blogs accordingly. As a blogger, I would suggest bloggers write on the current trends and activities. Research a lot before you start writing. Only then you will write one-of-its-kind of a blog that people will remember for a long time. This, in turn, will also develop trust in your brand." Rohan shares his tips for the fellow pursuing bloggers.
Aiming high, Rohan is having huge plans for Don't Get Serious in the upcoming future. With the pace they are growing, Rohan is expecting to cross 10 Million followers mark by 2021. And when asked what is the next big thing in Don't Get Serious, Rohan proudly says, "Don't Get Serious itself is the next big thing."
Disclaimer: This is a press release that has been published from a syndicated feed and has not been edited by News18 staff.
Get the best of News18 delivered to your inbox - subscribe to News18 Daybreak. Follow News18.com on Twitter, Instagram, Facebook, Telegram, TikTok and on YouTube, and stay in the know with what's happening in the world around you – in real time.
Read full article