The House With a Clock in Its Walls Movie Review: Spooky Fun for Kids
The House With a Clock in Its Walls is no classic in the making and can be quite bland for adults.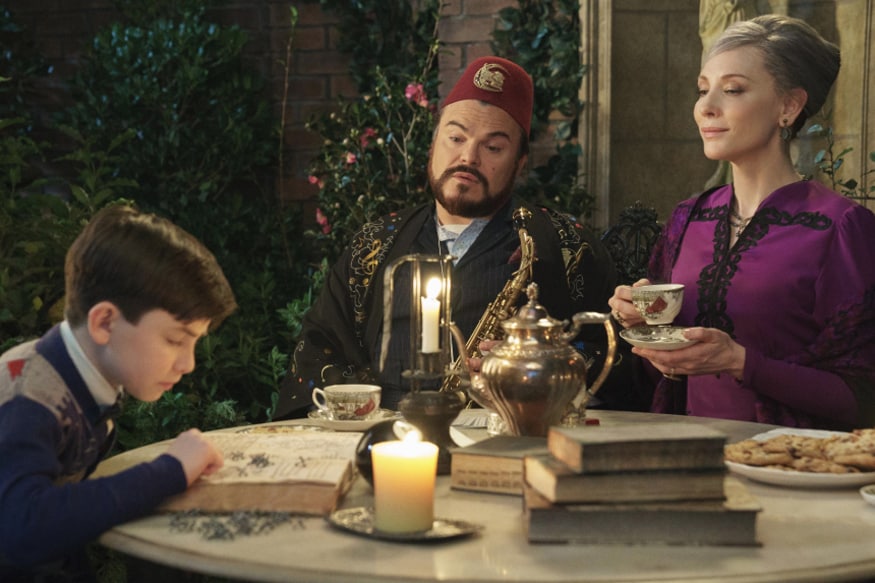 A still from The House With A Clock In Its Walls.
The House With A Clock In Its Walls
Cast: Jack Black, Cate Blanchett
Director: Eli Roth
The House With a Clock in Its Walls is Eli Roth's Halloween treat for the US audience. The film has just the right amount of spookiness and fun to grab the attention of the kids. However, how many young adult viewers will be impressed by it is seriously questionable. And, if you are a parent, who has no other option but to accompany the kid(s) to watch this film (you have my sincerest sympathies), be sure to take a blanket along and catch up on some sleep because this film is neither scary nor funny for adults.
That doesn't mean it is devoid of charm. But there are only a few good moments in this otherwise clunky fantasy-cum-horror film that heavily borrows creative tropes from other fantasy and horror movies.
The House With a Clock in Its Walls -- set in the 1950s -- is the story of a young boy named Lewis Barnavelt (Owen Vaccaro) who goes to live with his uncle, Jonathan (Jack Black), after the death of his parents. With his aviator goggles and a perfectly tied bow-tie, he is clearly a misfit in his school and is desperate to hold on to the only friend he has made. He desperately misses his mother, and therefore, tries to bond with his uncle to dispel his loneliness.
As Lewis continues to live with his uncle Jonathan, he learns many new secrets about him. Jonathan, Lewis learns, is a 'good' warlock and their elegant next-door-neighbour -- who insists on wearing purple -- Florence Zimmerman (Cate Blanchett) is a benevolent witch. Lewis too begins to learn magic and dreams of becoming a warlock someday.
The spooky house they live in has its secrets too. To begin with, it has a will of its own. The furniture and artifacts in the house also have distinctive characteristics and persona. They can all move and communicate, albeit in strange ways. Now, if only Beauty And The Beast were never made, this would have been such a novel idea indeed. Anyhow, the moving, writing and future-predicting photos on the walls, a winged-lion topiary, weird house pets are some of the original additions of the filmmaker, Eli Roth.
Read: Manmarziyaan Movie Review
The biggest secret that the house harbours is a giant clock that has been hidden somewhere in it by its previous owner, Isaac Izard (Kyle MacLachlan), a wicked warlock, who died doing a blood spell. Jonathan and Florence suspect that Isaac's hidden clock can cause a great harm to the humankind, and therefore, they spend most of their days hunting for that clock in the eerie house. Lewis joins them too, graves crack open, there is a full-blown fight sequence with jack-o'-lanterns and army of dolls but in the end, good triumphs over evil as the wannabe boy warlock has the adventure of his life.
It is an unusual film for Eli Roth to direct, given his reputation for making R-rated, gory, sexually explicit films such as Cabin Fever and Hostel. But, he surprise us with sparks of ingenuity every now and then, although as a whole, the film is thoroughly predictable. He sanitizes The House With a Clock in Its Walls for a PG rating, with the sentimental uncle-nephew bonding of Lewis and Jonathan, and the loving-bickering relationship of Jonathan and Florence.
The House With a Clock in Its Walls has several funny bits too, which thanks to Jack Black (Jonathan) are easily engaging. However, the most appealing thing about this movie is that when compared to big budget, larger-than-life fantasies like the Harry Potter or The Lord of The Rings series, it feels cosy and intimate because it is much smaller in scope and design. The story, originally written for a YA audience by American novelist, John Bellairs, and adapted for screens by Eric Kripke, almost feels like the cutesy, spooky tale grandmothers tell their grandkids as opposed to the sprawling fantasies of Rowling or Tolkien. It's a great film to watch at kids slumber parties, especially for Haloween but as a family entertainer, or for a YA audience too, it's too childish.
While there is no harm in being a kids film, what makes The House With a Clock in Its Walls problematic is that it poses to be a children's story with hidden philosophical messages that works for an older audience too -- like Alice Through The Looking glass or Satyajit Ray's Gupi Gayen Bagha Bayen series. However, the film is neither smart enough nor has the heart to be one of those movies. The life lessons it doles out sounds great as t-shirt captions for a hipster dude -- #stayweird, #blackswams -- but, fails to touch hearts of the audience.
However, timed perfectly at one hour and forty-five minutes, thankfully the movie doesn't drag on. Cate Blanchette is impeccable as the kind, sophisticated Zimmerman and Jack Black is an adorable goofball as Jonathan. Owen Vaccaro too matches up to Blanchette and Black's energy. The VFX team has also done a great job in creating a beautiful, slightly spooky but mostly magical world within the gothic house.
However, The House With a Clock in Its Walls is no classic in the making and can be quite bland for adults. But, it has a potential of being a real crowd pleaser if the crowd is made up of toddlers and pre-teens.
Rating: 2.5/5
Follow Twitter/@news18movies for more
Get the best of News18 delivered to your inbox - subscribe to News18 Daybreak. Follow News18.com on Twitter, Instagram, Facebook, Telegram, TikTok and on YouTube, and stay in the know with what's happening in the world around you – in real time.
| Edited by: Simantini Dey
Read full article
Next Story
Next Story
Also Watch

Popcorn With Smoke, Pizza Dosa And Quirky Food Experiments At Horn Ok Please