Tamil Actors Suriya, Karthi Lend Help to Drowning Kerala, Donate Rs 25 lakh
Meanwhile, Kerala CM Pinarayi Vijayan had requested for generous donations to the Chief Minister's distress relief fund.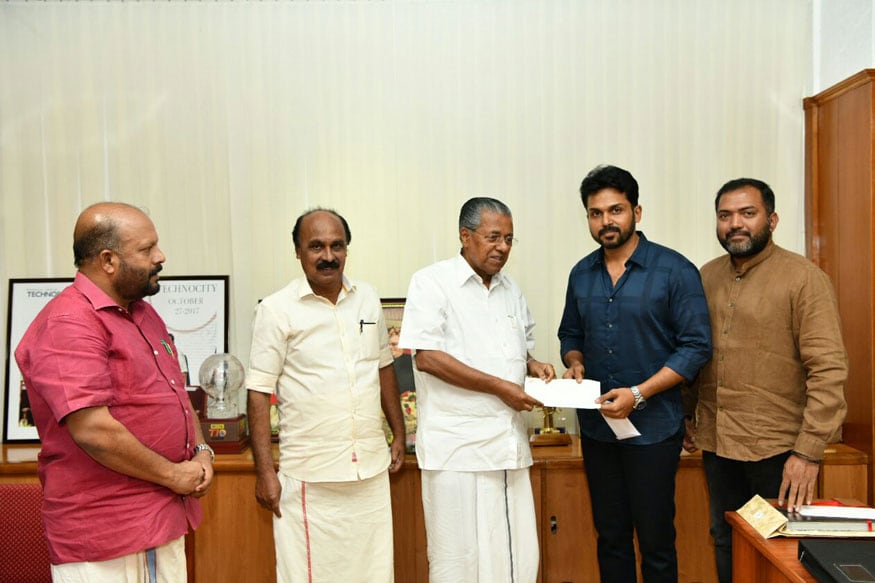 Image: Special Arrangement
In immediate response to the natural catastrophe in Kerala due to heavy downpour that has caused flood and landslides, Tamil actors Suriya and Karthi have come forward to lend help. They have contributed a Rs 25 lakh to Kerala Chief Minister Distress Relief Fund.
Kadaikutty Singam actor Karthi met the Kerala CM Pinarayi Vijayan and handed over the cheque for Rs 25 lakh towards contribution to Chief Minister's Distress Relief Fund at the secretariat in Trivandrum on August 16. It was made on behalf of Karthi and Suriya. He was accompanied by CEO of 2D Entertainment Rajsekarapandian.
He also met Kerala superstar Mohanlal and donated Rs 10 lakh on behalf of his brother to Association of Malayalam Movie Artistes (AMMA) during his visit to the silver jubilee celebration programme at Trivandrum.
It's turning out to be a really tough scenario in the state after paradisaical landscapes of Idukki, Aaluva, Palakkad, Malappuram and Wayanad are ravaged with mountainous slope sliding and floods.
Image: Special Arrangement
Kerala CM Pinarayi Vijayan had requested for generous donations to the Chief Minister's distress relief fund.
Kerala has been facing unusually high rainfall since early August, which has led to statewide floods taking several lives and causing severe damage. According to the government, there hasnt been a flood of this scale in last 90 years. The death toll as of August 16, stands at 114.
As per information from the officials, in the past one week itself more than 53,000 people have been moved to 439 relief camps across the state. A total of 143,220 people have been living in 1,790 relief camps all through this year's monsoon, in which Kerala has received an unusually high amount of rainfall.
According to a report from the National Disaster Management Authority, 130 people have died in Kerala this monsoon from May 29 to July 19. Adding to this, the deaths from the August rainfall, the death toll for Kerala is 217 as of August 16.
(With inputs from IANS)
Get the best of News18 delivered to your inbox - subscribe to News18 Daybreak. Follow News18.com on Twitter, Instagram, Facebook, Telegram, TikTok and on YouTube, and stay in the know with what's happening in the world around you – in real time.
Read full article