Adaptability the Key for FC Pune City Striker Iain Hume's Indian Super League Longevity
Iain Hume has been a part of the Indian Super League since day one. In this wide-ranging chat, the Canadian forward speaks about his time in India, why he chose to sign with FC Pune City this season, Kerala Blasters' struggles last season and more.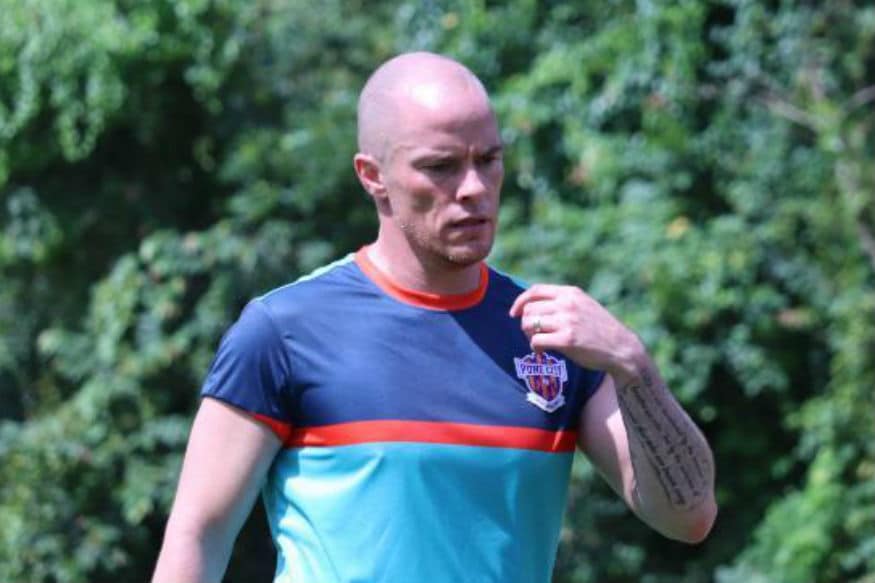 (Picture credit: Twitter)
Iain Hume's consistent presence in the Indian Super League (ISL) has made him a popular figure among football fans in India.
Not only is he the league's overall top scorer but he's also made the most appearances in the course of four seasons; a stark contrast to some of the big-name stars who have featured in the ISL.
According to Hume, the success or failure of any player coming to a new country is down to their ability and willingness to adapt to their new surroundings.
"The main thing is that when a player from any walk of life comes to a new country, if you're willing to adapt to the situation, environment, culture etc. then you will give yourself every opportunity to be successful. Some have and some haven't," Hume said in a chat with News18.
It's hard to argue with his point. While players like Florent Malouda and Elano were effective big-name signings, the likes of Alessandro Del Piero, Nicolas Anelka and more recently Dimitar Berbatov come to mind as players who could not make an impact for their sides.
Berbatov's form for the Kerala Blasters last season was so poor that he became an easy target for fans on social media. However, Hume – who played alongside Berbatov last season and described him as a "nice guy" – believes the team's struggles last season were down more to them not being well-prepared.
"I think there was a mixture of reasons (for the team's poor form in the first half of the season). Quite a bit was luck, but that happens. I also think we may have been a bit ill-prepared for the ISL after pre-season.
"But you can't look back and make excuses, just learn from mistakes and try to improve, which I think we did."
New Challenge
Hume, who won the ISL title in 2016 with ATK, will be turning out for FC Pune City in the upcoming season and is confident in the side's chances of winning the title this season.
"FC Pune City were very good last season and just missed out in the semi-finals. They've retained the majority of the team from last season, and adding a few fresh faces.
"So I'm hoping we can hit the ground where they left off last season, and with a bit more luck, go one step further."
Pune have a squad full of attacking options at their disposal and will also be coached by Spaniard Miguel Angel Portugal, who was at the helm of the Delhi Dynamos last season.
However, the fact that Hume signed for Pune came as something of a surprise to many since he was an integral part of the Blasters' line-up last season, scoring 5 goals in 12 games.
For his part, Hume said was willing to extend his stay at Kochi but the club eventually decided to go in a different direction.
"To be honest, I was 100% ready to re-sign (with the Blasters) this season. Had very positive talks with all the powers that be at the club, and we were all in agreement that i would be back and ready to go.
"Something along the off season changed in the clubs minds, and they've decided to go a different route. I was disappointed with how it was all handled, but this is football unfortunately.
"So regardless, we move on and give our all. That's what is drilled in to my make up, and I will be giving 100% for FC Pune City and try to do my bit to help the club be successful again this season."
Hume, who will turn 35 later this year, also stated that he's enjoyed watching the growth of the ISL and has no plans of playing his club football outside the country any time soon.
"I've enjoyed the last 4 seasons of the ISL and really enjoyed watching the growth of football in India year by year. So for now, I'm aiming to be successful with Pune this season; after that we'll see what happens," he signed off.
FC Pune City begin their ISL 2018/19 campaign away from home against the Delhi Dynamos on October 3.
Get the best of News18 delivered to your inbox - subscribe to News18 Daybreak. Follow News18.com on Twitter, Instagram, Facebook, Telegram, TikTok and on YouTube, and stay in the know with what's happening in the world around you – in real time.
| Edited by: Suyash Upadhyaya
Read full article