After Wimbledon Triumph, Novak Djokovic Writes Emotional Letter to Fans
After enduring a wretched slump for nearly two years, Novak Djokovic returned to the elite levels of the game again by clinching his fourth Wimbledon title last Sunday. His straight sets win over Kevin Anderson made him the lowest-ranked champion since Goran Ivanisevic in 2001.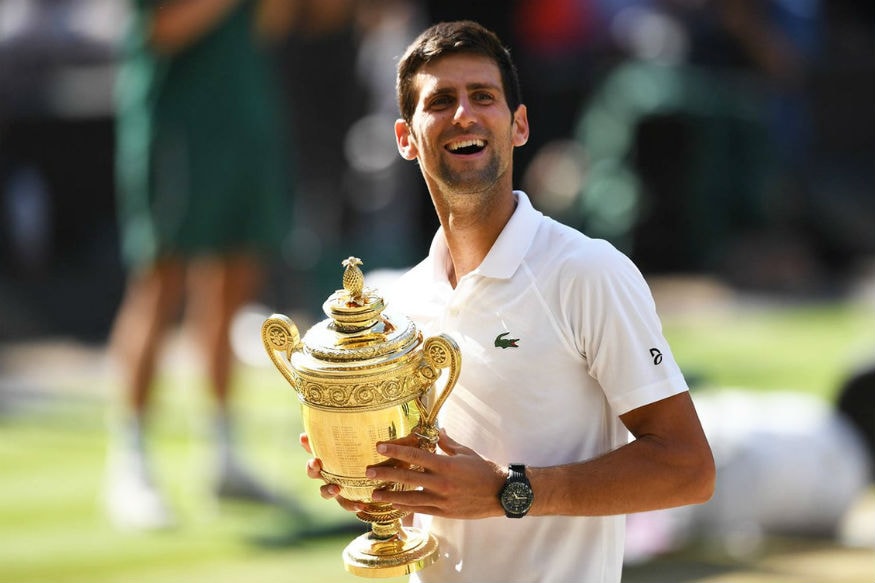 (Image: Wimbledon)
After enduring a wretched slump for nearly two years, Novak Djokovic returned to the elite levels of the game again by clinching his fourth Wimbledon title last Sunday. His straight sets win over Kevin Anderson made him the lowest-ranked champion since Goran Ivanisevic in 2001.
This win marked a successful comeback for Djokovic who was considering not playing at the All England Club after exiting the French Open in the quarter-final and ended a 25-month drought after he completed the career Grand Slam in 2016 at Roland Garros.
The triumph was extra special for Djokovic because his three-year old son Stefan was there to watch him lift the trophy and an emotional Djokovic has now written an open letter on his website to share the moment with his fans.
When you spot dad with the trophy 🏆#Wimbledon @DjokerNole pic.twitter.com/POO2uXZWRq

— Wimbledon (@Wimbledon) July 15, 2018
Dear Family & Friends,
I am writing this message between nappy change and a dinosaurs book.
I wish to share, with all of you, how it felt to go through the journey of winning Wimbledon 2018.
First of all, let me start by writing that the feeling of having my son in my wife's arms at the trophy ceremony in the Players box was the most wonderful sensation I have had at any tournament that I have ever won in my career.
When I became a father, one of my biggest dreams was to have my children present at the stands while I am playing. Let alone winning trophies. That dream came true several days ago. Everyone keeps on asking me to describe the feeling. I have said it is unforgettable, special, fulfilling, wonderful, joyful. But most of all, it is Magical! When I thought that moment could not get any better, he shouted "Daddy, Daddy!" That's when I completely melted. Overwhelmed with emotions. Happy and joyful beyond belief. I am so GRATEFUL to have experienced that.
I have imagined and prayed that one day I would win a Grand Slam trophy in front of my child. Luckily for me, Tara is growing up and I can't wait for her to see me do the same as I did in front of Stefan. My whole (more or less) was about tennis until I became a father and husband. Everything I did was aimed at tennis success.
When I became father and husband, my "world" evolved. It didn't change, it evolved into something more beautiful. Of course, more responsibilities add up but at the end of the day, it unlocks a new dimension of Love and Energy inside of you that you never knew existed. And the biggest gift that you receive from God is the enhanced feeling of empathy, compassion and devotion to your kids. But it's not all clear once you become a father. It takes learning and openness to reach that "golden balance" in Life which everyone is in pursuit for. For me it was balance between tennis, priorities and family. My wife was so helpful and supportive all the way since she gave birth to both Stefan and Tara. She always took time to discuss whatever bothered me and to help me find a way where I can feel like I am giving my best at home with kids and her and at the tennis court.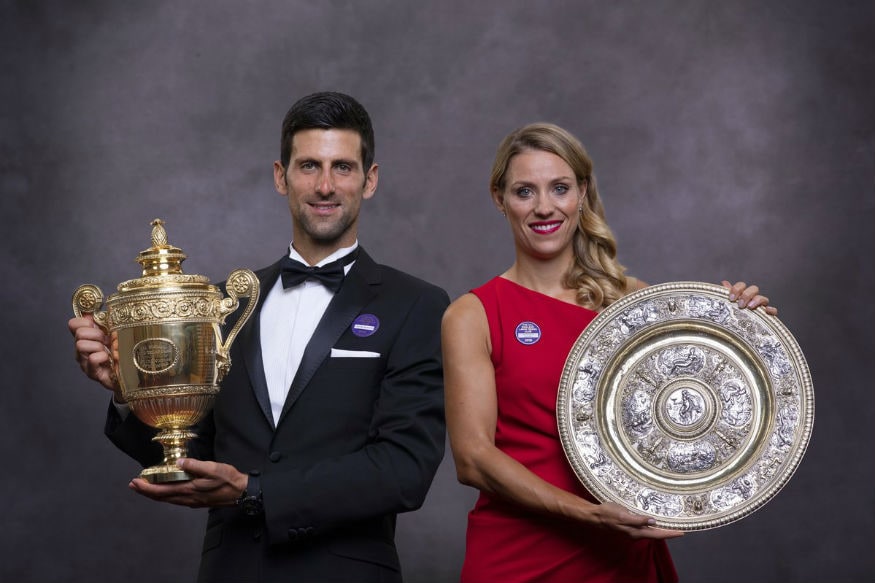 (Image: Wimbledon)
After a successful 2016, Djokovic went through one of the toughest times in his career which began with him failing to make a mark at the Australian Open. In 2017, he failed to reach the quarter-final for the first time in a decade in Melbourne.
A year ago, Djokovic's downfall began when he suffered an elbow injury – the venue was the same as the one where he begins to turn things around – the All England club. The Serb, who was being coached by Andre Agassi, saw his ranking take a massive hit as he missed the rest of the season.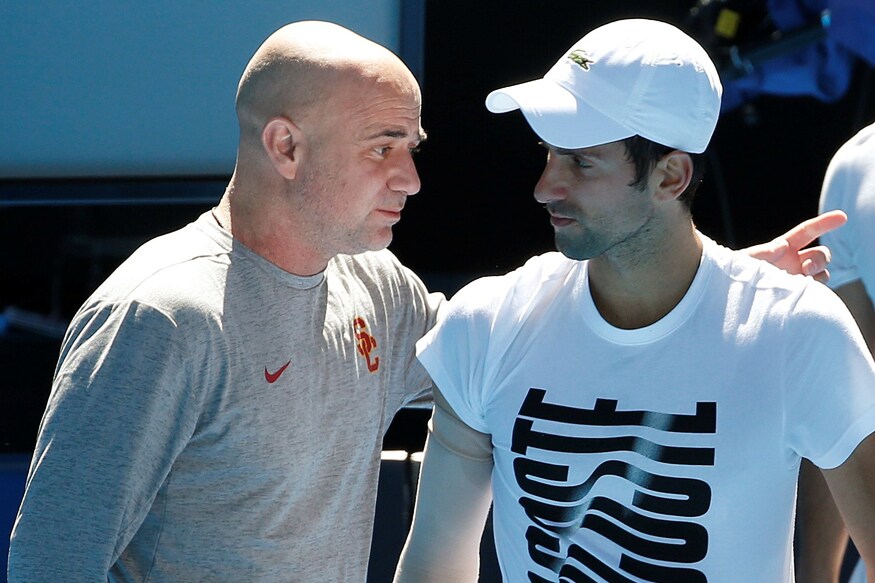 (REUTERS)
In 2017, the injury of my right elbow was so severe that I was forced to be out from the Tour for 6 months. Injury was one of the issues, the other big one was any motivation. I didn't have problems to practice and to enjoy the tennis court but I had mental hurdles when I had to compete.
One day I will share more in depth what kind of challenges I had to face and how I felt.
I have always respected people that share their most vulnerable moments as their turning points in finding true strength that inspires so many people. I was vulnerable so many times in the last few years. And I am still vulnerable. I am not ashamed of it. In contrary, it makes me more true to myself and others. It allows me to get closer to people. It allows me to "dig deep" and analyze what is truly happening inside of me. When I find that out, I am able to create a strategy to overcome this occurring issue and move on as a stronger, wiser, happier human being.
For the last 2 years, I wasn't patient with my tennis expectations. I wasn't wise in strategizing. And I certainly wasn't clearly hearing my body telling me that there is something serious happening with my elbow. I was trying to find solutions somewhere else and solution was always inside of me.
After many changes made with training, racket, team members, I didn't know if I would be able to get back on the desired level of tennis. Actually, one part of me always believes in my own qualities and capabilities. But there was a lot of doubtful moments where course of action could have gone different ways.
Feeling good 🙏💪 Thank you for the love #NoleFam pic.twitter.com/BKdOt1Nxsn

— Novak Djokovic (@DjokerNole) April 16, 2018
Djokovic returned the courts early in 2018, with legendary Agassi by his side, but his body wasn't ready, forcing him to get elbow surgery.
The Serb was understandably out of action till the beginning of the summer, and returned to action at Indian Wells without much practice.
The topsy-turvy life Djokovic would see more unwanted friction within his camp, as he parted ways with Agassi. But, Djokovic was able to play without pain and that was enough for him in April 2018 after some very dark times, that he reflected on in his letter.
Fortunately, I had help from all the divine forces that guided me to the right direction. Direction that is good for me. The one that will bring me peace and balance.
I am aware of the efforts and dedication that many people have invested in me in the last few years in order for me to get back to the level of tennis that gets me a Grand Slam title.
I would like to extend my greatest appreciation, respect and Love to all of the people that have believed in me and helped me to get to win another Wimbledon trophy.
I am so Blessed to go through this amazing journey and to be supported by many people around the world.
I love you
I love tennis
I love Life
Novak
P.S. Wimbledon grass tasted great once more. I would just add some avocado and it would be perfect :)
| Edited by: Abhimanyu Sen
Read full article
Countdown To
Elections Results
To Assembly Elections 2018 Results