Ashwini Ponnappa Pins Hopes on Mathias Christiansen Association For Fruitful Returns
29-year-old Ponnappa told News18 Sports that the upcoming Premier Badminton League will be a great opportunity for her to learn some new tricks and add them to her game, which hopefully would help them get better results.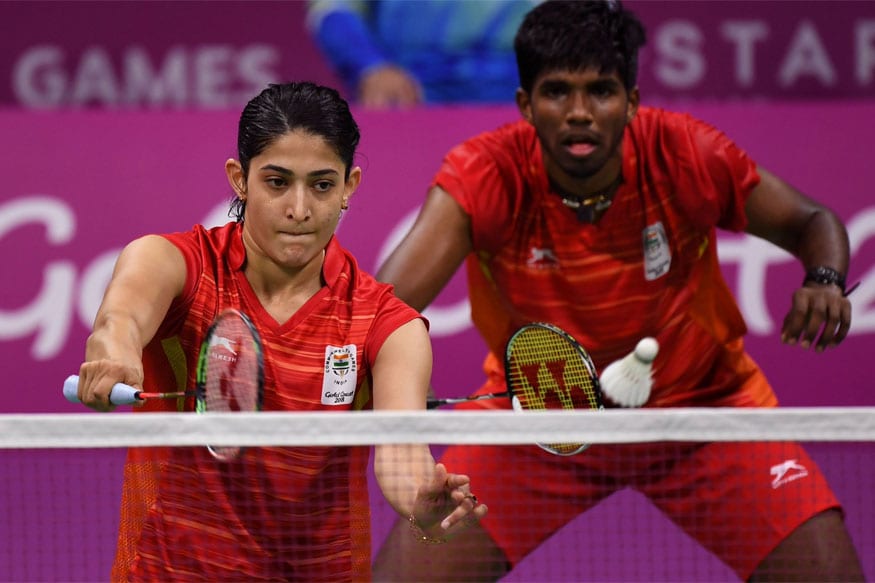 (Courtesy: Twitter)
Just a couple of months back India came tantalisingly close to bagging a badminton World Championship medal. No, we aren't talking about PV SIndhu who did the nation proud by bagging a silver, but the mixed doubles pair of Ashwini Ponnappa and Satwiksairaj Rankireddy who could have made it to the medals round too. The mixed doubles pair went till the quarters of the prestigious event and only fell to world number 1 pair of Zheng Sewei and Huang Yaqiong.
Ponnappa and Rankireddy have formed a formidable team in a category where India hasn't tasted much success in the past, but have had encouraging results this year where they entered pre-quarters and quarters regularly. With an eye on next season, the focus of this team is go a level higher. The senior partner in this team, Ashwini has a plan ready to break the quarters barrier.
The 29-year-old told News18 Sports that the upcoming Premier Badminton League will be a great opportunity for her to learn some new tricks and add them to her game, which hopefully would help them get better results. Ponnappa, who'll be playing for Awadhe Warriors this season is keen on picking teammate Mathias Christiansen's brain, which will benefit her in the long run.
"This year I am a part of the Awadhe Warriors team. The most exciting thing would be the mixed doubles partner I'll be playing with, Danish Mathias Christiansen. He has done exceptionally well in a short span of time. I have played against him and Christinna Pedersen and now I'll be playing with him now, so I get to learn a lot. We get to share ideas from players from different countries, which normally is not possible in our sport. So there is a lot to look forward to," she said.
Ponnappa is quick to reveal that it was during the 2016 season that she learnt a great deal from another Danish player, Joachim Fischer Nielsen, when the duo played mixed doubles for Bengaluru Top Guns. It was then that she learnt a lot from her partner, and the insights have stayed with her till now.
"When in 2016 I played with Fischer, I learnt a lot, and I have got that still with me now. So when I talk about Mathias, I am hoping it will be a similar experience. Satwik and I have played a very close match against him this year, so now we are really going to learn a lot. When you play together, you have to share ideas."
Often in India, the results of singles players are compared with those of the doubles players, but for Ponnnappa it's a complete mismatch. She feels that doubles and singles should get equal opportunities and then be compared.
"If you see now, the scenario has changed in the sense that now we have a lot of good pairs coming up. On the whole we have improved considerably, but you can't really compare our results with what our singles players have achieved. You need to keep in mind that we did not start as doubles players so comparing results is not the right way to go. The youngsters are now getting trained in doubles so that will hold us in good stead. So right now our doubles is in a great position," Ponnappa added.
In the end talking about her team's chances in the league, Ponnappa dismissed the idea that Warriors cannot do well without the services of Saina Nehwal. In fact this season, where there has been a major shuffle in teams, it will be a rather open contest among all the teams.
"This year round Warriors don't have Saina, who was the main member of the team, and we have a whole new team together. So this is going to be challenging. I don't think Saina's absence would make much of a difference as every team has an icon player, and the team is never dependent on one player's performance. As a team Awadhe Warriors looks really good. Maybe you could get some early points with the icon players, but you need to strategise to win the tie," she concluded.
Get the best of News18 delivered to your inbox - subscribe to News18 Daybreak. Follow News18.com on Twitter, Instagram, Facebook, Telegram, TikTok and on YouTube, and stay in the know with what's happening in the world around you – in real time.
| Edited by: Suyash Upadhyaya
Read full article