After India's stellar show at the Commonwealth Games in Gold Coast, it's time for the year's second multi-disciplinary extravaganza - the Asian Games. The 18th edition of the continental tournament is being held in Jakarta-Palembang, where 572 Indians will be taking part in 36 different sports. In disciplines like shooting, wrestling and badminton, where Indians have done well off late, the competition Asia offers is often the world's best, making the tournament an intriguing one to watch out for. Track and field should have Indians glued too this time around.
Here's the full Indian squad for the 2018 Asian Games:
ARCHERY

Men's Recurve: Atanu Das, Jagdish Chaudhary, Sukhchain Singh, Viswash
Mens's Compound: Abhishek Verma, Rajat Chauhan, Sangamprit Bisla, Aman Saini
(Getty Images)
Women's recurve: Promila Daimary, Deepika Kumari, Ankita Bhakat, Laxmirani Majhi
Women's Compound: Trisha Deb, Jyothi Surekha Vennam, Madhumita Kumari, Muskan Kirar
ATHLETICS

Men's track events

200m: Mohammed Anas
400m – Arokia Rajiv, Mohammed Anas
800m – Jinson Johnson, Manjit Singh
1500m – Jinson Johnson, Manjit Singh
5000m – G Lakshmanan
10000m – G Lakshmanan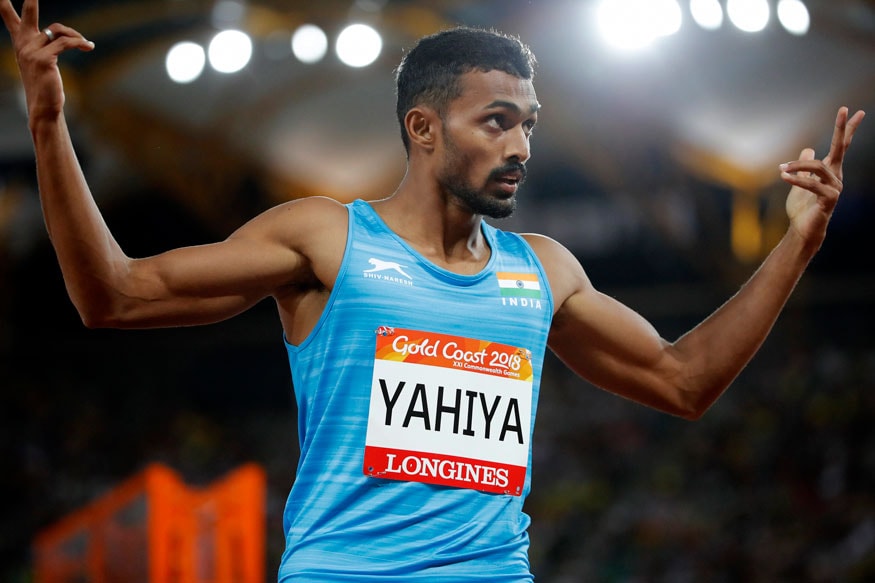 (PTI)
4x400m relay – Dharun Ayyasamy, Mohammed Anas, Jeevan Karekoppa Suresh, Jithu Baby, Arokiarajiv, Kunhu Mohammed Puthanpurakkal
400m Hurdles – Dharun Ayyasamy, Santosh Kumar
3000m Steeplechase – Shankar Lal Swami
20 km Walk – Manish Singh Rawat, KT Irfan
50 km Walk – Sandeep Kumar
Men's field events

Triple Jump – Arpinder Singh, Rakesh Babu
Javelin Throw – Shivpal Singh, Neeraj Chopra
Long Jump – Sreeshankar
High Jump – Chethan Balasubramanya
Shot Put – Tajinderpal Singh Toor, Naveen Chikara
Women's track events

100m – Dutee Chand
200m – Dutee Chand, Hima Das
400m – Hima Das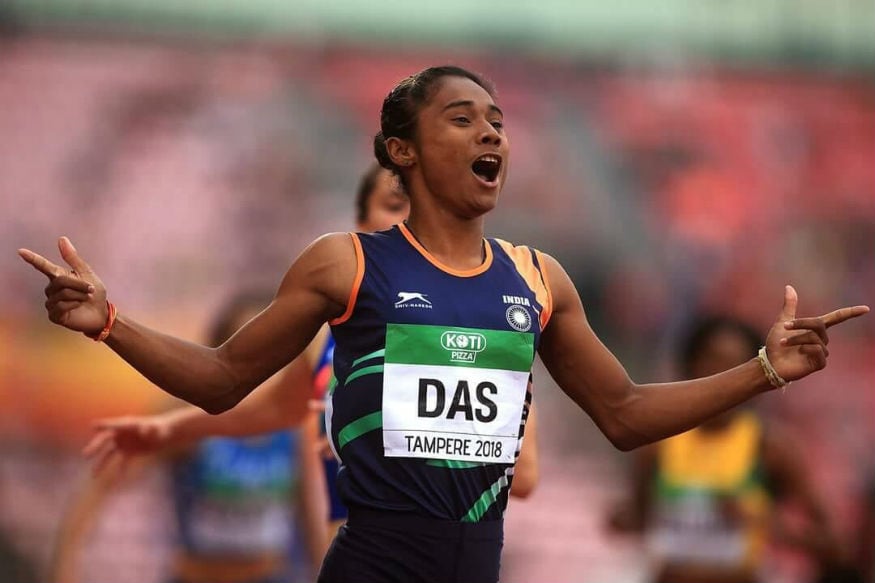 (PT Usha/Twitter)
1500m – PU Chitra, Monika Chaudhary

5000m – Sanjivani Jadhav, Suriya Longanathan
10000m – Sanjivani Jadhav, Suriya Longanathan
4x400m relay – Jisna Mathew, MR Poovamma, Saritaben Laxmanbhai Gayakwad, Sonia Baishya, Vijayakumari
400m Hurdles – Jauna Murmu, Anu Raghavan
3000m Steeplechase – Sudha Singh, Chinta Yadav

20km Walk – Soumya Baby, Khushbir Kaur
Women's field events

Hammer Throw – Sarita Romit Singh
Discus Throw – Sandeep Kumari, Seema Punia
Javelin Throw – Annu Rani
Long Jump – Nayana James, Neena Varakil
Heptathlon – Purnima Hembram, Swapna Barman
Mixed

4x400m mixed relay – Kunhu Mohammed Puthanpurakkal, Arokiarajiv, Mohammed Anas, Hima Das, MR Poovamma
BADMINTON

Men singles: Kidambi Srikanth, HS Prannoy
Men's doubles: Satwiksairaj Rankireddy, Chirag Shetty, Manu Attri, Sumeeth Reddy
Women's singles: PV Sindhu, Saina Nehwal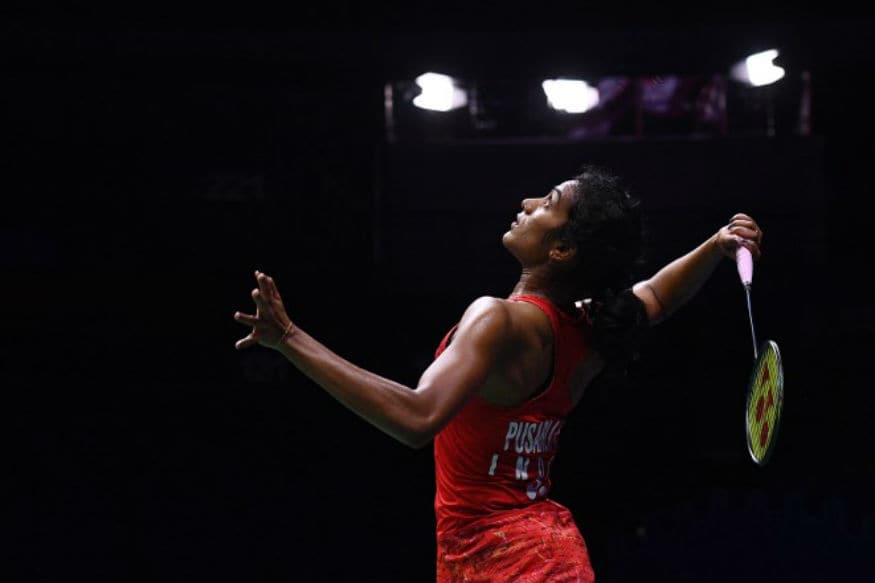 (AFP)
Women's doubles: Ashwini Ponnappa, N Sikki Reddy, Rutaparna Panda, Arathi Sara Sunil
Mixed doubles – Satwiksairaj Rankireddy, Sumeeth Reddy, Pranav Jerry Chopra, N Sikki Reddy, Satwiksairaj Rankireddy, Ashwini Ponnappa
BASKETBALL

Women's 5X5: Nisha Sharma, Pushpa Senthil Kumar, Prasannan Geetha Anjana, Hemmige Mahesha Bhandavya, Palanilkumakalayil Skaria Jeena, Rajapriyadharshini Rajaganapathi, Raspreet Sidhu, Shireen Limaye, Priyanka Prabhakara, Madhu Kumari, Sangeeta Kaur, Stephy Nixon
BOXING
Men's Light Flyweight (49 kg) – Amit Panghal
Flyweight (52 kg) – Gaurav Solanki
Bantamweight (56 kg) – Mohammad Hussamuddin
Lightweight (60 kg) – Shiva Thapa
Light Welterweight (64 kg) – Dheeraj Rangi
Light Welterweight (69 kg) – Manoj Kumar
(Getty Images)
Middleweight (75 kg) – Vikas Krishan Yadav
Women's Flyweight (51 kg) – Sarjubala Devi
Featherweight (57 kg) – Sonia Lather
Lightweight (60 kg) – Pavitra
BOWLING
Men's Trios: Dhruv Sarda, Shabbir Dhankot, Akaash Ashok Kumar; Parvez Ahmed Saud, Ramachandraiah Kishan, Shoumick Datta
Team of 6: Dhruv Sarda, Shabbir Dhankot, Aakaash Ashok Kumar, Parvez Ahmed Saud, Kishan Ramachandriah, Shoumick Datta
Masters: Parvez Ahmed Saud, Shoumick Datta
BRIDGE
Men: Pranab Bardhan, Sapan Desai, Subhash Gupta, Rajeev Khandelwal, Ajay Khare, Finton Lewis, Debabrata Majumder, Gopinath Manna, Sumit Mukherjee, Shibhnath Dey Sarkar, Bachiraju Satyanarayana, Jaggy Shivdasani, Arun Kumar Sinha, Rajeshwar Tewari and Raju Tolani.
Women: Rita Choksi, Feroza Chothia, Hema Deora, Bharati Dey, Marianne Karmarkar, Himani Khandelwal, Kiran Nadar, Aparna Sain and Vasanti Shah.
CANOE-KAYAK

Men's Sprint: Chingching Singh Arambam, Albert Raj Selvaraj, Naocha Singh Laitonjam, Prohit Baroi, Jamesboy Singh Oinam, Gaurav Tomar, Prakant Sharma, Sunil Singh Salam
Traditional Boat Race: Bijender Singh, Ravinder, Sivasankar Thayyil Baburaj, Manmohan Dangi, Dilip singh Negi, Abhay Singh, Arun Nandal, Suraj Singh Negi, Ankit Pachori, Satypal Tomar, Kiran Singh Moirangthem, Hariom Kurmi, Sachin Kumar, Parminder Singh, Manjeet Singh, Heisnam Nganba Meitei
Women's Sprint: Ragina Kiro, Sandhya Kispotta, Soniya Devi Phairembam, Meena Devi Laishram, Inoacha Devi M, Anjali Bashisht, Meera Das.
Slalom: Aarti Pandey, Champa Mourya
Traditional Boat Race: Rajeshwari Kushram, Sanjana Singh, Nazis Mansoori, Dimita Devi Toijam, Manju, Oinam Yaiphabi Devi, Sushila Chanu Shoibam, Aarti Nath, Neetu Varma, Thajamanbi Chanu, Sarju Devi Kojenbam, Yumnam Shamashakhi Devi, Menu, Manisha Rani, Kirti Kewat, Ramkanya Dangi.
CYCLING

Men: Ranjit Singh, Manjeet Singh, Raju Bati, Manohar Lal, A. Bike Singh, Rajbeer Singh, Esow, Appolonious and Dilawar
Women: Deborah Herold, Aleena Reji, M. Sonali Chanu, T. Manorama Devi, Nayana Rajesh Priyadarshini, E. Chaoba Devi and Megha Gugad
EQUESTRIAN

Men: Ashish Malik, Rakesh Kumar, Jitender Singh, Fouaad Mirza, Kaevaan Kevic Setalvad, Chetan Reddy Nukala
FENCING
Women: Thoudam Kabita Devi, Ena Arora, Jas Seerat Singh, Jyotika Dutta
GYMNASTICS ARTISTIC

Men's: Rakesh Patra, Yogeshwar Singh, Gaurav Kumar, Ashish Kumar, Siddharth Verma
(AP)
Women's: Dipa Karmakar, Pranati Das, Aruna Reddy, Mandira Chowdhury, Pranati Nayak
GOLF
Men's: Kshitij Naveed Kaul, Harimohan Singh,Rayhan Thomas, Aadil Bedi
Women's: Diksha Dagar, Ridhima Dilawari, Sifat Sagoo
HANDBALL
Men's: Kamaljeet Singh, Bajrang Thakur, Atul Kumar, Harender Singh, Sachin Kumar Bhardwaj, Karamjeet Singh, Deepak, Davinder Singh, Harjinder Singh, Navdeep, Naveen, Ramesh Chand, Avin Khatkar, Adithya Nagaraj, Rahul Dubey, Greenidge Dcunha
Women's Team: Diksha Kumari, Kajal, Nina Shil, Nidhi Sharma, Deepa, Ritu, Sushma, Indu Gupta, Maninder Kaur, Sanjeeta, Priyanka Thakur, Jyoti Shukla, Banita Sharma, KM Manjula Pathak, Khila Devi, Rimpi
HOCKEY
Men's: PR Sreejesh (Captain), Chinglensana Singh Kangujam (Vice-Captain), Krishan B Pathak, Harmanpreet Singh, Varun Kumar, Birendra Lakra, Surender Kumar, Rupinder Pal Singh, Amit Rohidas, Manpreet Singh, Simranjeet Singh, Sardar Singh, Vivek Sagar Prasad, SV Sunil, Mandeep Singh, Akashdeep Singh, Lalit Kumar Upadhyay, Dilpreet Singh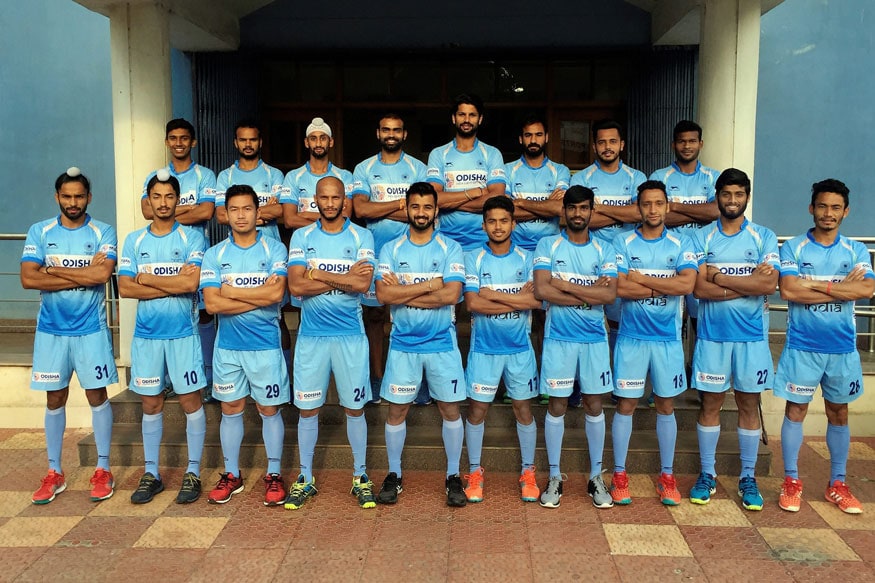 (PTI)
Women's: Rani Rampal (Captain), Savita (Vice-Captain), Rajani Etimarpu, Deep Grace Ekka, Sunita Lakra, Deepika, Gurjit Kaur, Reena Khokhar, Namita Toppo, Lilima Minz, Monika, Udita, Nikki Pradhan, Neha Goyal, Vandana Katariya, Lalremsiami, Navneet Kaur, Navjot Kaur
JUDO
Men's: Vijay Kumar Yadav, Harshdeep Singh Brar, Avtar Singh
Women's: Th. Kalpana Devi, Garima Chaudhary, Rajwinder Kaur
KABADDI
Men's: Ajay Thakur (captain), Pardeep Narwal, Monu Goyat, Rishank Devadiga, Rahul Chaudhari, Rohit Kumar, Girish Ernak, Surender Nada, Deepak Niwas Hooda, Manjeet Chillar, Surjeet Singh Narwal, Rajulal Chaudari, Sandeep Narwal, Mohit Chillar.
Women's: Sakshi Kumari, Kavita Devi, Priyanka, Manpreet Kaur, Payel Chowdhury, Ritu Negi, Sonali Vishnu Shingate, Sayali Sanjay KeriPale, Randeep Kaur Khehra, Shalini Pathak, Usha Rani Narasimhalah, Madhu. Standby: Priyanka, Shama Parveen
KARATE
Men's: Jayendran Sharath Kumar, Vishal
MARTIAL ARTS (KURASH)

Men's: Jatin, Jacky Gahlot, Kunal, Manish Tokas, Divesh, Danish Sharma, Parikshit Kumar, Ashwin Pandari Chandran
Women's: Pincky Balhara, Malaprabha Yallappa Jadhav, Binisha Nayakattu Biju, Megha Tokas, Jyoti Tokas, Amisha Tokas
MARTIAL ARTS (PENCAK SILAT)

Men: Boynao Singh Naorem
Women: Sonia, Simran
ROLLERSPORTS
Men: Amitesh Mishra, Harshveer Singh Sekhon
Women: Aarathy Kasturi Raj, Varsha Puranik
ROWING
Men: Dattu Baban Bhokanal, Sawarn Singh, Om Prakash, Sukhmeet Singh, Monu, Arjun Lal Jat, Malkeet Singh, Gurinder singh, Dushyant, Rohit Kumar, Bhagwan Singh, Jagvir Singh, Tejash Shinde Hanamant, Jegan Sekhar, Bhopal Singh, Manish Yadav, Hardeep Singh, N. Pranay Ganesh, Rahul Giri, Pandu Rang, Lucky, Akshat, M. Lakshman Rohith, Sumith, Sono Laxmi Narayan, Arvind Singh and Manpreet Singh.
Women: Navneet Kaur, Yamini Singh, Harpreet Kaur, Annu, Sanjukta Dung Dung, Sayali Shelke and Pooja Sangwan.
SAILING
Men: Govind Bairagi, Dayna Edgar Coelho, Varun Ashok Thakkar, Ganpathy Kelapanda
Women: Katya Ida Coelho, Nethra Kumanan, Sweta Shervegar, Harshita Tomar, Varsha Gautham
SEPAKTAKRAW
Men: Niken Singh Khangembam, Sandeep Kumar, Malemnganba Singh Sorokhaibam, Seitaram Singh Thokchom, Henary Singh Wahengbam, Sanjeck Singh Waikhom, Akash Yumnam, Harish Kumar, Lalit Kumar, Ngathem Jotin Singh, Dheeraj, Gurumayum Jiteshor Sharma
Women: Tharangini Annam, Dolly Srivastava, Maipak Devi Ayekpam, Khushbu, Manisha Kumari, Nganthoi Chanu Yanglem, Aruna Devi Mutum, Chaoba Devi Oinam, Linthoingambi Chanu Pangambam, Rashmi, Ronita Devi Elangbam, Jwensinle Kesen
SHOOTING

Men: 50m Rifle 3 Positions – Sanjeev Rajput, Akhil Sheoran
10m Air Rifle – Ravi Kumar, Deepak Kumar
300m Standard Rifle 3 Positions – Harjinder Singh, Amit Kumar
10m Air Pistol – Abhishek Verma, Saurabh Chaudhary
25m Rapid Fire Pistol – Shivam Shukla, Anish
Trap – Lakshay, Manavjit Singh Sandhu
Skeet – Sheeraz Sheikh, Angadwir Singh Bajwa

Double Trap – Ankur Mittal, Shradul Vihaan
Women: 50m Rifle 3 Positions – Anjum Moudgil, Gaayathri N
(SAI)
10m Air Rifle – Apurvi Chandela, Elavenil Valarivan
10m Air Pistol – Manu Bhaker, Heena Sidhu

25m Pistol – Manu Bhaker, Rahi Sarnobat
Trap – Shreyasi Singh, Seema Tomar

Skeet – Ganemat Sekhon, Rashmmi Rathore
Double Trap – Shreyasi Singh, Varsha Varman
10m Air Rifle Mixed Team – Ravi Kumar, Apurvi Chandela
10m Air Pistol Mixed Team – Abhishek Verma, Manu Bhaker
Trap Mixed – Lakshay, Shreyasi Singh
SQUASH
Men: Saurav Ghosal, Harinder Pal Sandhu, Ramit Tandon, Mahesh Mangaonkar
Women: Joshna Chinappa, Dipika Pallikal, Sunayna Kuruvilla, Tanvi Khanna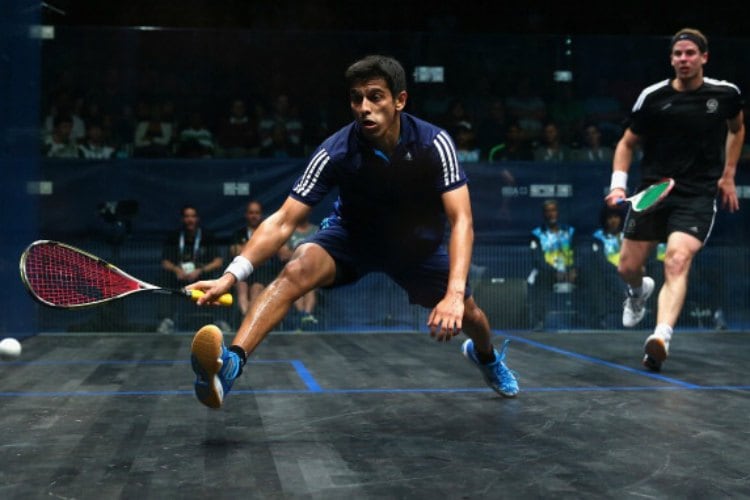 (Getty Images)
Team: Saurav Ghosal, Harinder Pal Sandhu, Joshna Chinappa, Dipika Pallikal
SWIMMING
Men: Sajan Prakash, Aaron Agnel D'Souza, Virdhawal Khade, Sandeep Sejwal,Advait Page, Srihari Nataraj, Anshul Kothari, Arvind Mani, Avinash Mani, Neel Roy
DIVING
Sidharth Bajrang Pardeshi, K Ramananda Sharma
SPORT CLIMBING

Men: Chingkheinganba Maibam, Bharath Stephen Pereira Kamath
Women: Shreya Sanjay Nankar
TENNIS

Men's singles: Prajnesh Gunneswaran, Ramkumar Ramanathan
Doubles: Sumit Nagal, Leander Paes, Rohan Bopanna, Divij Sharan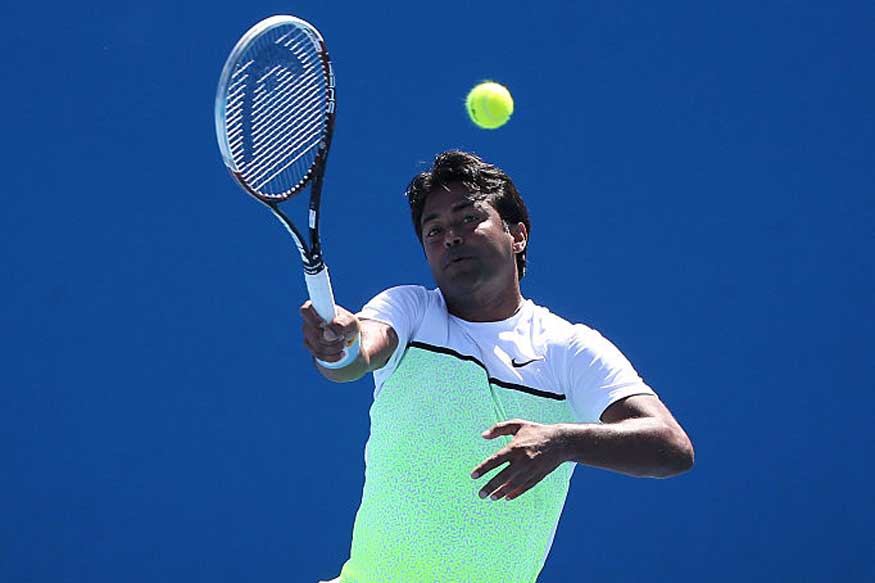 (Getty Images)
Women's singles: Karman Kaur Thandi, Ankita Raina
Doubles: Pranjala Yadlapalli, Prarthana Thombare, Riya Bhatia, Rutuja Bhosale
Mixed doubles: Leander Paes, Rohan Bopanna, Ankita Raina, Prarthana Thombare
TAEKWONDO

Men: Navjeet Maan, Akshay Kumar
Women: Kashish Malik, Anamika Walia, Latika Bhandari, Mamta Kumari Shah, Rodali Barua, Shilpa Thapa
SOFT TENNIS

Men: Rohit Dhiman, Jay Meena, Jitender Mehlda, Aniket Chirag Patel, Kamlesh Kumar Shukla
Women: Abhilasha Mehra, Namita Seth, Saayana Sreedetha Prakash, Aadhya Tiwari, Shubh Gulati
TABLE TENNIS

Men's singles: Achanta Sharath Kamal, Sathiyan Gnanasekaran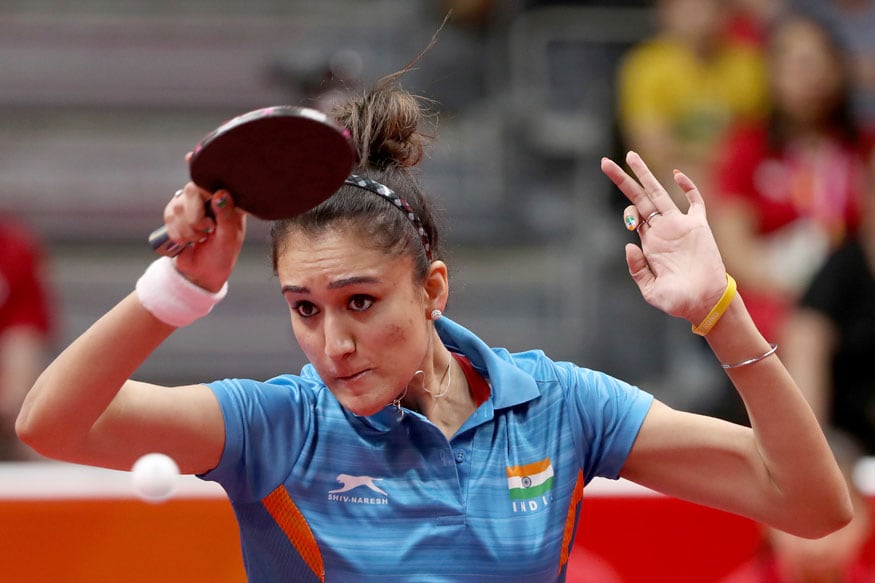 (AP)
Women's singles: Manika Batra, Mouma Das
Mixed doubles: Achanta Sharath Kamal, Anthony Amalraj, Manika Batra, Madhurika Patkar
VOLLEYBALL

Men: Akhin Gopala Ammal, Ashok Karthik, Deepesh Kumar Sinha, Prabagaran, Amit, Ajithlal Chandran, Rohit Kumar, Gurinder Singh, Jerome Vinith Charles, Vinit Kumar, Ranjit Singh, Ukkrapandian Mohan, Prabakaran Pattani, Pankaj Sharma
Women: Anju Balakrishnan, Soorya, Anusri Ghosh, Aswani Kandoth, Nirmala, Rekha Sreesailam, Anusree Kambrath Poyilil, Sruthi Murali, Minimol Abraham, Anjali Babu, Jini Kovat Shaji, Ruksana Khatun, Priyanka Khedkar, Aswathi Raveendran
WEIGHTLIFTING
Men: Sathish Kumar Sivalingam (77 kg), Ajay Singh (77 kg); Vikas Thakur (94 kg)
Women: Rakhi Halder (63 kg)
WRESTLING
Freestyle
Sandeep Tomar (57 kg), Bajrang Punia (65 kg), Sushil Kumar (74 kg), Pawan Kumar (86 kg), Mausam Khatri (97 kg), Sumit Malik (125 kg)
Greco-Roman

Gyanender (60 kg), Manish (67 kg), Gurpreet Singh (77 kg), Harpreet Singh (87 kg), Hardeep (97 kg), Naveen (130 kg)
(Reuters)
Women's freestyle: Vinesh Phogat (50 kg), Pinki (53 kg), Pooja Dhanda (57 kg), Sakshi Malik (62 kg), Divya Kakran (68 kg), Kiran (76 kg)
WUSHU
Men: Santhosh Kumar, Surya Singh, Narender Grewal, Pardeep Kumar, Mayanglambam Singh, Anjul Namdeo, Mayanglambam Suraj Singh, Chirag Sharma, Sajan Lama, Mayanglambam Meitei
Women: Sanathoi Yumnam, Roshibina Naorem, Sanatombi Leimapokpam